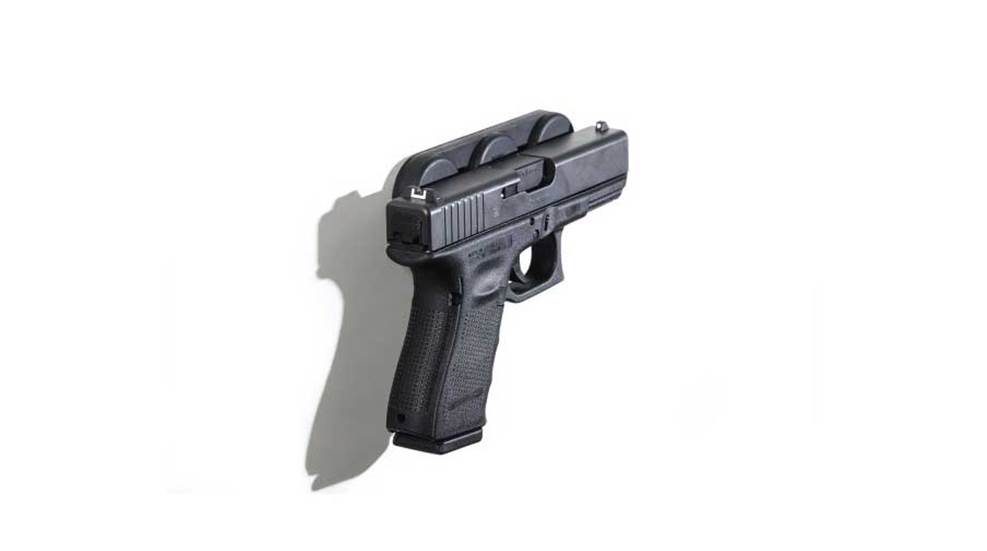 Having ready access to a home- or personal-defense gun is one of the most essential aspects of personal protection, since threats can emerge within seconds. Depending on the situation, different levels of security are available to defense-minded consumers. These options range from biometric lock boxes to items like the new Pachmayr Pac-Mag gun magnet, available from
Lyman Products
.
Right off the bat, there are some noticeable drawbacks to the Pac-Mag gun magnet. For one, the product doesn't provide any kind of security against unauthorized access, and the magnet's universal design means that guns are stored on the magnet without covering the trigger. For gun owners with families or who live in areas that are often accessed by others, the gun magnet is neither a particularly safe nor secure method of stashing a personal-defense gun. However, for individuals who have secured areas inaccessible to all others, this magnet provides fast access and an unprecedented level of versatility not seen in nearly any other gun-storage method on the market today.
The Pachmayr Pac-Mag gun magnet contains three powerful magnets inside of an overmolded-rubber outer coating, which protects the finish of any firearm stored on the device. Each gun magnet ships with mounting screws, drywall anchors and adhesive tape, so the only limiting factor to any attachment surface is whether or not a firearm will fit. The magnets combined will hold up to 30 pounds securely, so this unit can handle anything from handguns to shotguns to fully loaded precision rifles, if needed. 
When used in secure areas, the Pac-Mag gun magnet can be applied to stash firearms under desks, nightstands or vehicles. The magnet could even be applied to the inside of gun safes to keep guns stored on the interior surface of the safe's door. The total weight of the unit is 4 ounces, and the suggested retail price on the Pachmayr Pac-Mag gun magnet is $19.98.