Support NRA Shooting Illustrated
DONATE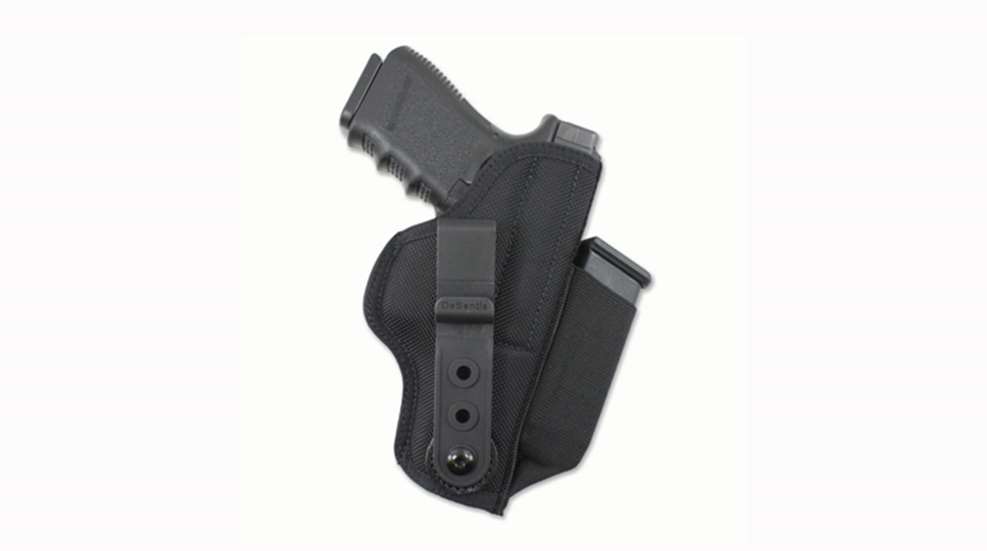 For many years now, DeSantis has been designing and manufacturing some of the best gun holsters that money can buy, including models such as the Pro Stealth, which is made from heavily padded 1050D black senior Ballistic nylon and is lined with slick pack cloth, this holster comes with a 1¾ inch, powder coated black spring clip. This clip keeps the holster securely anchored to your belt and can be removed and inserted on the opposite side for left hand carry. A spare magazine pouch is standard for auto loader models. MSRP for the Pro Stealth is $45.99, and an optional thumb break is available separately.
The Tuck-This II holster is built from heavily padded 1050D black senior Ballistic nylon and lined with slick pack cloth. The tuckable 3600TM clip can swing from cross draw to FBI-strong side carry, and can be carried at the small of the back. The tab also allows the shirt to be tucked down in between the gun and trousers affording nearly total concealment. Auto loader versions of this holster will have a magazine pouch built into the front holster spine. MSRP for the Tuck-This II holster is $59.99
The Nemesis holster keeps your holster in one spot, no matter how you move around, making it an excellent solution for pocket carry. Once in place, your gun will not move as you move in your daily routine, creating a stubborn grip in your pocket. Your gun, however, can be quickly easily accessed inside the holster, thanks to an inner surface that is covered in slick pack cloth for the ultimate low friction draw. On top of all this, the foam core bends in natural, flexible way, which means you'll have to squint if you want to see the outline of your gun. MSRP for DeSantis Nemesis holster is $26.99.
Like a fly on the wall, the exclusive Super Fly pocket holster's exclusive rubberized fabric helps you stick to your guns, and your gun to stick to you. A removable outer flap on the holster helps reduce any visible lines while carrying in a pocket and better disguises your firearm. Body reinforcement is achieved with a special polymer, and the interior's slick pack cloth coating ensures quick draws on the fly. Super Fly is available in separate custom back or front pocket designs and has an MSRP of $49.99.
More information on these holsters and other products from DeSantis is available at desantisholster.com.