by
Shooting Illustrated Staff
posted on April 26, 2023
Support NRA Shooting Illustrated
DONATE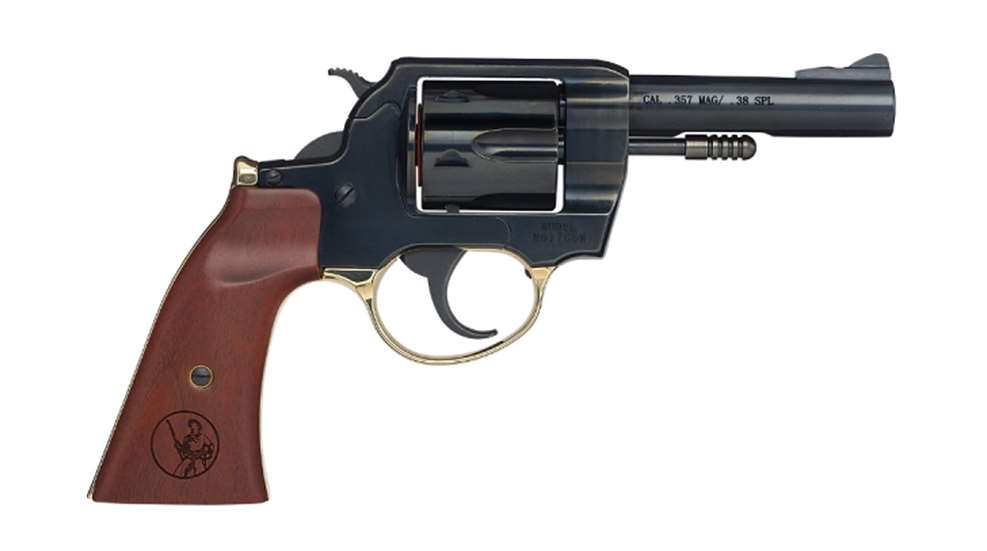 Henry Repeating Arms recently debuted a handful of new firearms, including the new Henry Big Boy Revolver chambered for .357 Mag., and two new lever-action rifles chambered for the modern .360 Buckhammer straight-walled, lever-action rifle cartridge. 
The new Henry Big Boy Revolver is a historical first for Henry Repeating Arms, which traditionally has manufactured lever action rifles, carbines and shotguns. The Big Boy Revolver is a traditional double-action revolver chambered for the venerable .357 Mag. cartridge—but like any other .357 Mag. revolver, the Big Boy may also safely shoot .38 Spl. ammunition as well. The Henry Big Boy Revolver is available with two different grip styles, a full-size option known as the Gunfighter which is larger and more flared, or the more compact, old-school-style rounded Birdshead style. Henry Repeating Arms took some design cues from their lever action rifles and integrated them into the design of the Big Boy Revolver as well. Deep, polish bluing is found throughout the medium sized steel frame and six-round cylinder. Whether small or large, the Big Boy's stocks are cut from American walnut wood. Like many classically fashioned guns from this point in history, the trigger guard and back strap of the Henry Big Boy are accented with brass. 
Big Boy Revolver Specifications:
Caliber: .357 Mag. and .38 Spl.
Action: Double Action
Capacity: 6 rounds
Safety: Transfer Bar
Barrel Length: 4 inches
Frame: Medium Size, Blued Steel 
Stocks: American Walnut, Birdshead or Full Size
Weight: 34 ounces
Overall Length: 9 inches
Sights: Screw-on Post front sight and fixed rear notch
With .360 Buckhammer ammunition rolling out nationwide, Henry is bringing the first rifles chambered for the new caliber to market with the Henry Steel Lever Action .360 Buckhammer and the Henry Lever Action X Model .360 Buckhammer. Sharing the same matte blued steel receiver and 5-round capacity between them, differences between the two models are most notable with the furniture. The X Model variant sports durable black synthetic stocks with M-Lok and Picatinny accessory slots, while the Steel Lever Action version uses checkered American walnut.
Please visit henryusa.com for more information on these guns and other products from Henry Arms.