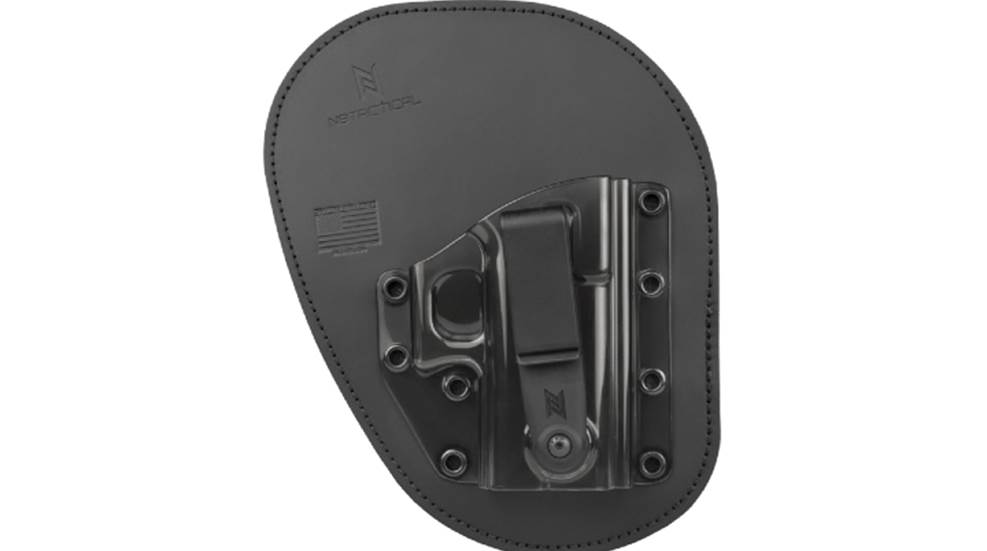 N8 Tactical has released new fits in its Professional series line of holsters for the popular SIG Sauer P365 and Springfield Armory Hellcat. Recognizing the impact of this new breed of double-stack, micro-size pistol, N8 Tactical has adapted its comfort-based holster line to include models for these smaller handguns.
The Professional line of holsters is designed around N8 Tactical's Original holster concept, which features a hardy leather backer that provides complete coverage of the holstered firearm to optimize concealed-carry comfort by covering any place where the holster or firearm might press against the body during normal use. Adding to the all-day-comfort wear of the Professional Holster is a moisture-resistant neoprene center behind the leather backer in addition to a soft suede lining intended to reduce irritation caused by friction from normal movement.
Unlike the Original holster series, the Professional holster line features a distinct, molded polycarbonate pocket that maximizes support for the holstered firearm. Engineered for one-hand holstering, the Professional holster uses what N8 Tacticall calls its Secure Twist Release retention system. With this system, the firearm cannot be released without applying a slight twist prior to draw, adding an additional level of retention safety.
The Professional Holster's LockDown Clip allows shirts to be tucked for a cleaner appearance. Another key benefit of the LockDown Clip is it allows for cant adjustment to suit the individual's carry preference. Simply unlock the clip, rotate to the desired position, and then lock it into place.
The N8 Tactical Professional holster comes with N8 Tactical's "Two Week, Try it Free Guarantee" in addition to a lifetime warranty. Go here for more information on the Professional Holster. MSRP on the Professional holster line starts at $54.95.
To learn about the Professional holster and other holsters in the N8 Tactical product line, visit N8Tactical.com.