by
Shooting Illustrated Staff
posted on August 16, 2021
Support NRA Shooting Illustrated
DONATE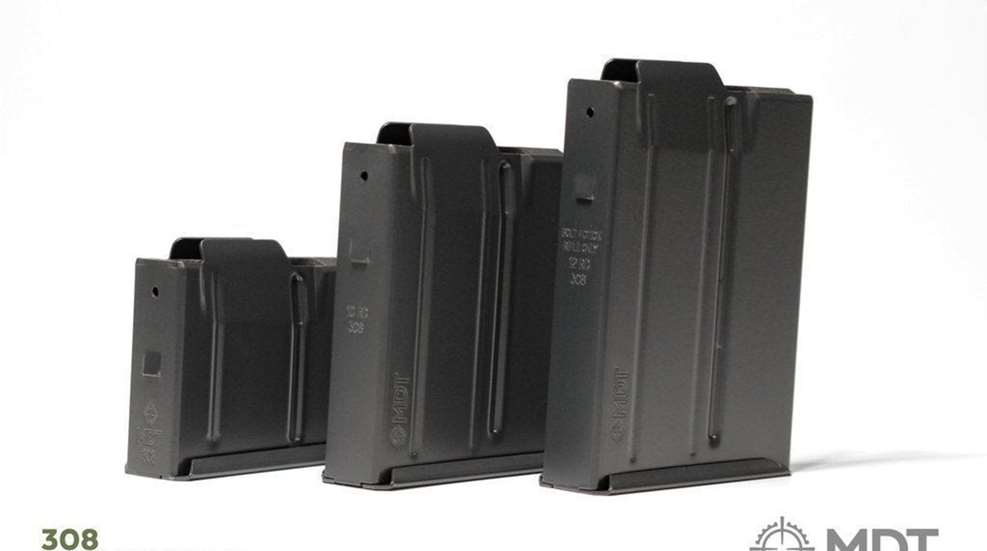 Modular Driven Technologies, or MDT, is known for making some of the highest-quality precision rifle gear available today. MDT has the gear that high-level shooters demand, from their wide variety of chassis systems to accessories such as scope rings and muzzle brakes. They also have a complete lineup of magazines based around the Accuracy International Chassis System, or AICS, which is the de facto standard for precision bolt-action rifle magazines. The AICS standard provides for a reliable feeding system and a solid design that can handle the abuse of a long deployment, an extended hunt or a challenging stage at a match.
Now MDT is adding a 10-round .223 Rem. metal AICS magazine to their lineup of heavy-duty  metal magazines. MDT AICS-pattern Metal Magazines are manufactured from high-strength steel, nitride-finished, and are coated with Cerakote Elite for even more durability and performance.
MDT AICS magazines are designed with a unique Double Stack to Single Feed (DSSF) transition design for reduced overall height compared to similar AICS compatible magazines and are available for either short and long action calibers. The polymer feedlip inserts of the magazine extend approximately 0.5 inch past the end of the metal feedlip backer, thus retaining the round longer and helping ensure the tip of the round has entered the chamber before the rear of the round is released.
MDT Metal Short Action Magazines are available in either .223 Rem., .308 Win., .300 WSM, 6.5 PRC, or 6 BR cartridges, and the Long Action version is available in either .300 Win. Mag., .338 Lapua Mag. or  300 PRC.
10-Round Magazines for .223 Rem. Specifications
3.055 inch outside length
3.90 inch rear height (same height as MDT 10-round .308 Win. metal magazines)
2.50 inch max cartridge overall length (COAL)
MSRP for the 10-round .223 Rem. metal AICS Magazine is $69.95, and more information on this item and other products from MDT is available at mdttac.com