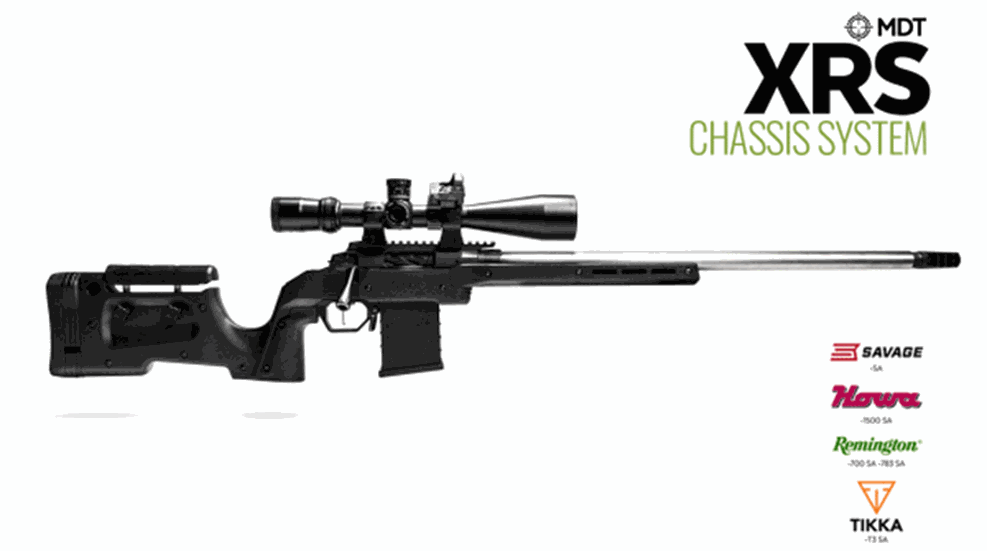 MDT is adding the Savage short action, Tikka short action, Howa 1500 short action and Remington Model 783 short action to the initial offering of the Remington 700 short action as options for the MDT XRS Chassis System.
The XRS is designed for shooters who want the fit and feel of a traditional-shaped rifle stock with all the benefits of a modern precision-rifle chassis system. Each XRS chassis is built from a core of full-length CNC machined aircraft-grade aluminum with textured polymer panels for added insulation from the elements. The precision aluminum bedding system ensures fit and function to maximize the accuracy of your chosen rifle action. The XRS also features a replaceable over-molded and textured grip system that has both an angled grip and a vertical grip, right out of the box.
It is one of the most advanced and configurable crossover stocks on the market and is the ideal performance upgrade for any factory rifle.  Additionally, it also works well as a foundation for a custom rifle build. The chassis weighs just 3.9 pounds (depending on the model of action), making it ideal for both hunting or target rifles. The XRS features an adjustable length-of-pull from 13.25 inches to over 15 inches and has an easily adjustable cheekpiece to correct for scope height overbore. The XRS accepts standard AICS pattern magazines and has an ambidextrous magazine latch. The generous 12.12 inch long fore-end comes with M-Lok slots built in for accessory mounting and attachment of ARCA-compatible accessories or Picatinny rails.
The Savage short action, Tikka short action, Howa 1500 short action, Remington Model 783 short action and Remington 700 short action versions of the MDT XRS chassis system are currently only available in right-hand versions. MSRP for the MDT XRS Chassis System begins at $499.95. More information on this chassis and other products from MDT is available at mdttac.com.