by
Shooting Illustrated Staff
posted on February 9, 2023
Support NRA Shooting Illustrated
DONATE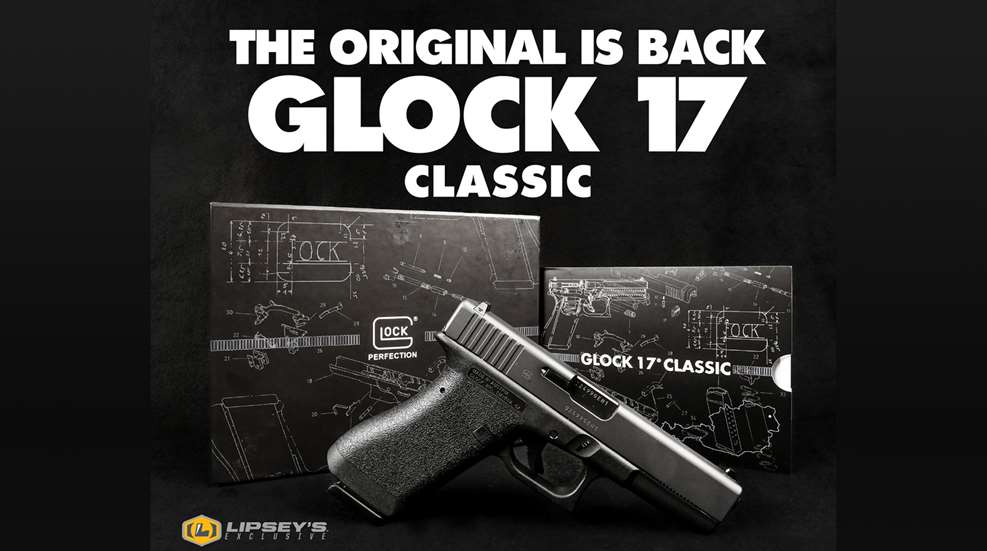 Lipsey's, a major American gun distributor based in Baton Rouge, LA is going retro," all the way back to 1986 with its "new" throwback first generation Glock G17 handgun release.
"The Glock G17 Gen 1 Classic is a tribute to the pistol that revolutionized the American handgun market in 1986. Now collectors and shooters alike can own a piece of history," says Jason Cloessner, Lipsey's Vice President of Product Development.
The exclusive Lipsey's Glock G17 Gen 1 Classic is true to the first-generation original 9mm pistols which are now considered desirable collector's items. These guns were only sold for about two years until Glock introduced the Gen 2 models in 1988. The guns sold exclusively through Lipsey's are not only made in the Glock factory in Austria, but are authentic and original to most details found on the first-generation Glock G17 built in1986. The two major differences from the original Glock G17 and the new Lipsey's version is that the latter uses the more modern drop-free magazines and captured recoil spring assemblies.  
The original Glock G17 was the Austrian company's commercial version of the P80, the handgun it developed and manufactured for the Austrian military starting in 1982. While this handgun was not the first ever polymer framed 9mm, it was the first design to enjoy a large amount of success not only in military and law enforcement markets, but also in the civilian/competitive shooting markets. The company still carries a good amount of market share to this day, due in part from the success of the Glock G17 when it was first launched in the United States.  
Lipsey's Glock G17 Gen 1 Classic Specifications 
Caliber: 9mm
Original "Tupperware" peel lid box with a collectible overbox
No front serrations, flat extractor, Gen 1 single pin frame
Original grip pebble texturing
Each pistol includes certificate of authenticity
Each pistol will include "GEN1" as S/N Suffix
All details true and correct to the original 1986 pistols
Please visit lipseys.com for more information on the Glock G17 Gen 1 Classic.