Support NRA Shooting Illustrated
DONATE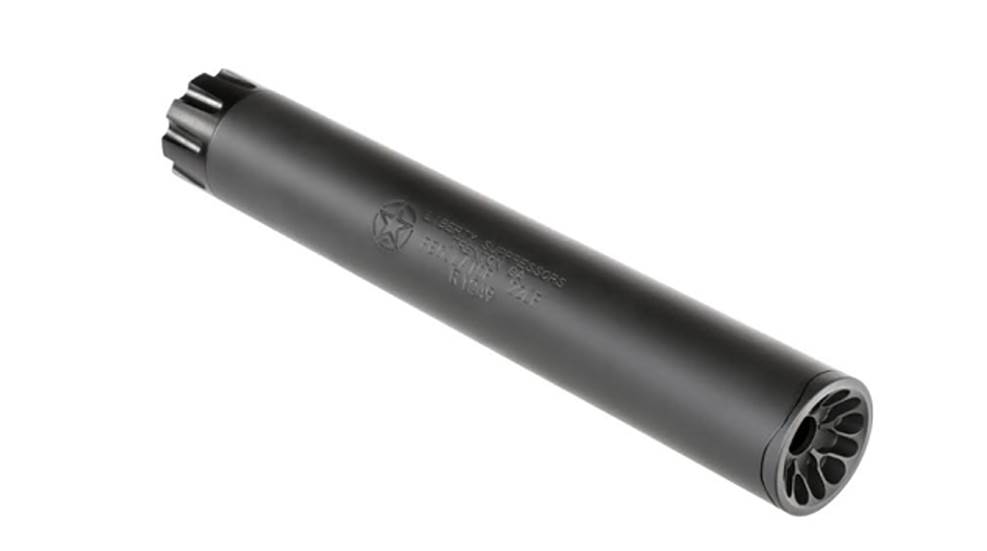 Liberty Suppressors, a division of Saylors Machine & Design Works, LLC who design and manufacture a range of various types of suppressors for a variety of firearms amnunfacturers, is now offering a titanium version of the Regulator rimfire suppressor. The new Liberty Regulator Ti weighs approximately four ounces less than the standard Regulator, without sacrificing structural integrity or functionality.
Liberty Suppressors Regulator Ti Specifications:
Suitable rimfire calibers: .22 LR, .22 WMR, .17 HMR
Length: 6.5 inches
Weight: 3.8 ounces
Mounting: ½ x 28 inch direct threads
Diameter: 1 inch
Materials: Titanium and Stainless Steel
Approximate dB Overall: 115.1 dB including 1st round pop
Approximate dB Reduction: 38-42 dB
Finish: C-Series Cerakote
This new suppressor is a product of Liberty Suppressors listening to their customer and the lessons Liberty learned during the last ten years when it came to manufacturing rimfire suppressors. The outer titanium tube lightens the overall weight of the unit, without putting the serialized part of the suppressor at risk. The core of the suppressor has also been changed to titanium for even more weight savings. Liberty Suppressors also added that redesigned the core of the suppressor to help eliminate "first round pop" while still maintaining noise reduction in the 40-46 Decibel range.
The Regulator Ti not only offers some of Liberty Suppressor's most-valuable technology but is also is the result of striving to make sure the Regularor Ti is one of the most user-friendly cans on the market, while still being a real featherweight. No tools needed for disassembly, and Wavelok technology make this can easy to use and maintain.
The Liberty Regulator Ti suppressor's retail price starts at $595. For more information on the Regulator Ti or to explore other suppressors designed and sold by Liberty Suppressors, please visit their website at libertycans.net.