by
Shooting Illustrated Staff
posted on February 5, 2019
Support NRA Shooting Illustrated
DONATE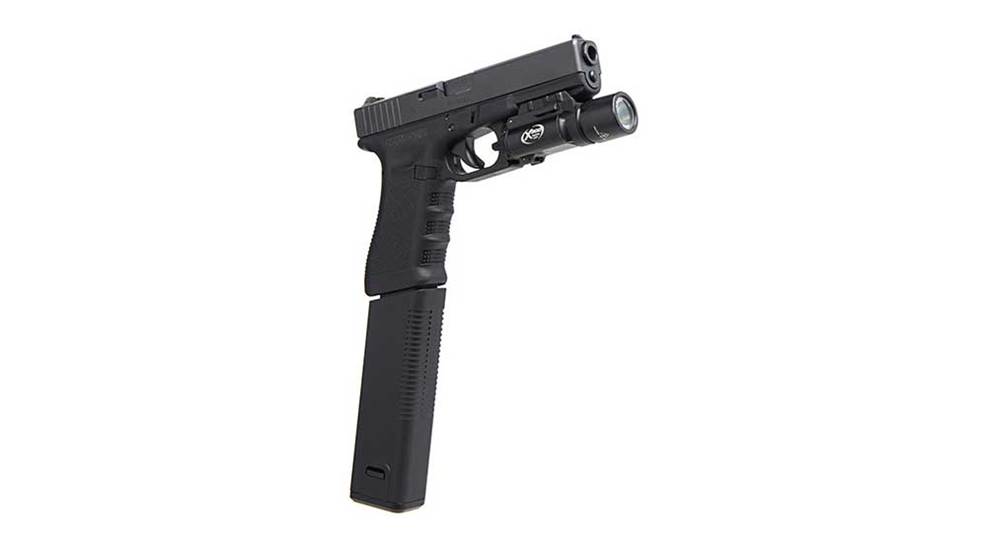 Owners and fans of Glock double-stack handguns, as well as enthusiasts in the growing market of Glock magazine-fed pistol-caliber carbines, have always enjoyed the novelty of having factory-produced 33-round magazines. Standard-capacity magazines for the Glock G17 top off at 17 rounds fully loaded, making the 33-round magazine a true, "high-capacity" option for these particular models.
KRISS USA
took this expanded capacity a step further in 2019, thanks to the rollout of the company's MagEx2
Glock
magazine extensions.
Two models of the KRISS USA MagEx2 magazine extension are available, one sized to fit OEM Glock magazines designed for the G17 chambered in 9mm, as well as another model that fits factory-produced magazines for the Glock G20 chambered in 10mm Auto. With the extension installed, 9mm magazine capacity increases from 17 rounds to 40 rounds, and the 15-round capacity of the OEM G20 10mm magazine increases to 33 rounds.
Each MagEx2 magazine extension produced by KRISS USA is particularly designed for use in the company's 9mm and 10mm Vector carbines, but the company notes that the magazine extensions are also compatible with all standard Glock pistols designed to accept G17 and G20 pistol magazines. The extensions are also compatible with the growing number of pistol-caliber carbines on the market that are produced with either Glock-specific magazine wells or use Glock-style magwell adapters.
The MagEx2 extension itself is built with an inner sleeve covered by a separate outer sleeve, both constructed from high-strength polymer composite material. The extension is paired with a redesigned magazine spring, which is specifically designed to provide reliable function and feeding combined with optimized capacity when paired with a factory G17 or G20 magazine. The magazine extensions are not compatible with aftermarket magazines designed for use in the Glock G17 or G20, nor will the spring provide reliable operation when paired with different-size magazine bodies, like 15-round or 33-round OEM Glock magazines.
Owners of Glock G17 or G20 magazines can order a DIY kit from KRISS USA to convert their existing magazines to an extended model, but the company also plans to sell complete extended magazines as well. The MagEx2 kit retails at a suggested price of $35.99, while complete extended magazines retail at a suggested price of $66.95. KRISS USA also plans to release a .45-ACP magazine extension designed for use with Glock G21 pistol magazines as well, which will increase G21 magazine capacity to 30 rounds. This .45 ACP variant is planned for a Q2 2019 release. These magazine extensions cannot be shipped to any state with magazine-capacity restrictions in place.