by
Shooting Illustrated Staff
posted on October 23, 2017
Support NRA Shooting Illustrated
DONATE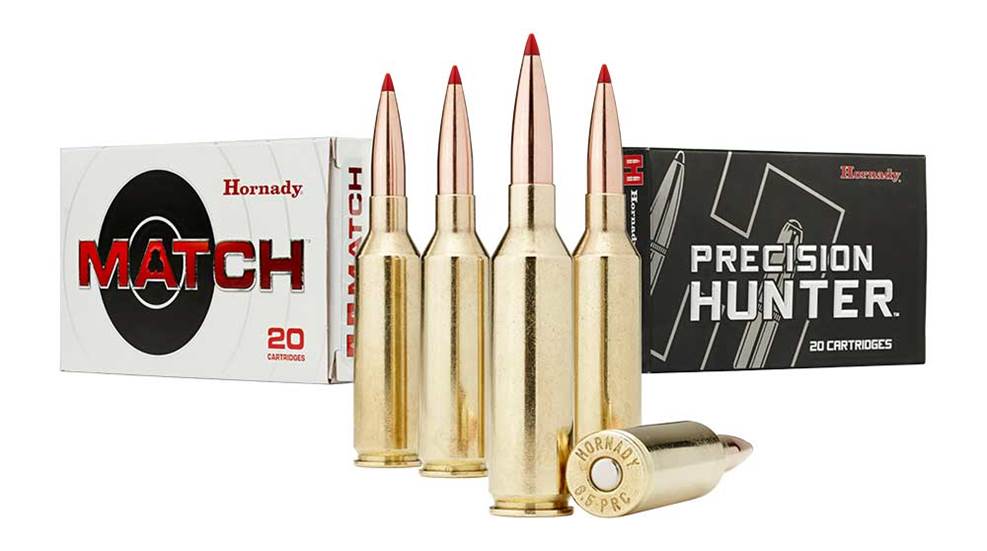 A brand-new cartridge offering from
Hornady Ammunition
entered the market in late 2017. Called the 6.5 PRC, the PRC stands for Precision Rifle Cartridge, and the new round is considered by Hornady to be the "big brother" of the 6.5 Creedmoor, a cartridge that has become a popular go-to cartridge for long-range shooters.
Engineers and ballisticians designed the Hornady 6.5 PRC to provide precision shooters with the most accuracy possible, along with enhanced performance at longer ranges. The cartridge also provides a flatter trajectory than most go-to long-range rifle cartridges, making it easier to dial in at distance. All of these features are packed into a cartridge that can operate in most short- or medium-action rifles on the market. The case is compatible with standard 0.532-inch magnum bolt faces and features a 30-degree case shoulder.
Hornady loads the 6.5 PRC with what it calls a "moderate" powder charge, claiming that the load will produce consistent accuracy, especially at longer distances. In addition, the load provides shooters with a low-recoil option that also doesn't burn through barrels, ensuring that rifle owners get the most out of their barrels. With all of these benefits, the company also ensures shooters that the cartridge produces high velocities that allow the round to perform effectively far beyond 1,000 yards.
With the introduction of the 6.5 PRC, Hornady announced the rollout of two different cartridge options, bringing the new round to both hunters and match shooters. The Hornady Match load is offered with a 147-grain ELD match bullet that features a sectional density of .301, along with a G1 ballistic coefficient of .697 and a G7 BC of .351.
The Hornady 6.5 PRC ELD Match load produces a muzzle velocity of 2,910 fps and 2,764 foot-pounds of energy. At 500 yards, velocity measures 2,275 fps, energy measures 1,689 foot-pounds and the drop measures -36.5 inches at the same distance. The numbers were recorded after firing through a 24-inch test barrel.
The Hornady 6.5 PRC Precision Hunter offering is loaded with a 143-grain ELD-X bullet, which features a sectional density of .293 and a ballistic coefficient of .625 (G1) and .315 (G7). Hornady classifies this as a round designed for use on medium-to-large game weighing up to 1,500 pounds.
The Precision Hunter offering produces a muzzle velocity of 2,960 fps and a muzzle energy of 2,782 foot-pounds. At 500 yards, velocity measures 1,604 fps and projectile energy measures 1,604 foot-pounds. Ballistic trajectory at 500 yards was recorded at -36.2 inches.