by
posted on September 1, 2021
Support NRA Shooting Illustrated
DONATE
I'm guessing, from the number of features on the new Advanced Enclosed Micro Sight (forever here on known as AEMS, because that's a lot quicker to type…), that Holosun was trying to see just how many cool features the company could cram into a single reflex sight. Multiple reticles? Check. Auto or manual brightness? Check. Automatic shutoff, with instant-on triggered by motion? Check. Solar or battery power? Check. Ten daylight and two night-vision settings? Check. Want a green dot instead of red? That's a different AEMS, but check.
Best of all? It's a compact package that, despite all of the above, is quite intuitive to use. Sure, you might need to consult the manual to remember exactly which buttons to press to toggle between the three reticles (hint: hold the "-" button—decrease brightness—for 3 seconds), but it's a simple learning curve indeed. Add in built-in lens covers, a 1.63-inch tall mount (for 1/3 co-witness, which works quite well as far as my testing has gone) and a super crisp 65-MOA circle/2-MOA dot aiming system, and this is a well-equipped sight indeed.
The AEMS joins the 510 and 512 in Holosun's rifle-centric reflex sights, as well as Holosun's more traditional line of red-dot sights for carbines. It's a clear departure from the standard round-tube dot or open-emitter pistol-based reflex sight, and clearly draws aesthetic inspiration from the angular, closed-emitter pistol dot 509 red-dot. Controls are large, easy-to-access and use and don't require advanced engineering degrees to master, while windage and elevations changes are made in ½-MOA increments. Sights are pre-zeroed at the factory, so little more than minor tweaks should be needed.
Exploring the different options on the AEMS, the multiple reticle system and auto/manual brightness are the two most likely areas where folks' personal preferences will diverge. I'm a fan of circle/dot reticles on defensive carbines, whereas others might prefer the more precise dot and still others like the faster circle. To each their own, right? Auto or manual brightness, well, I'm the first to admit that the technology is smarter than I am, so why not let the AEMS manage brightness?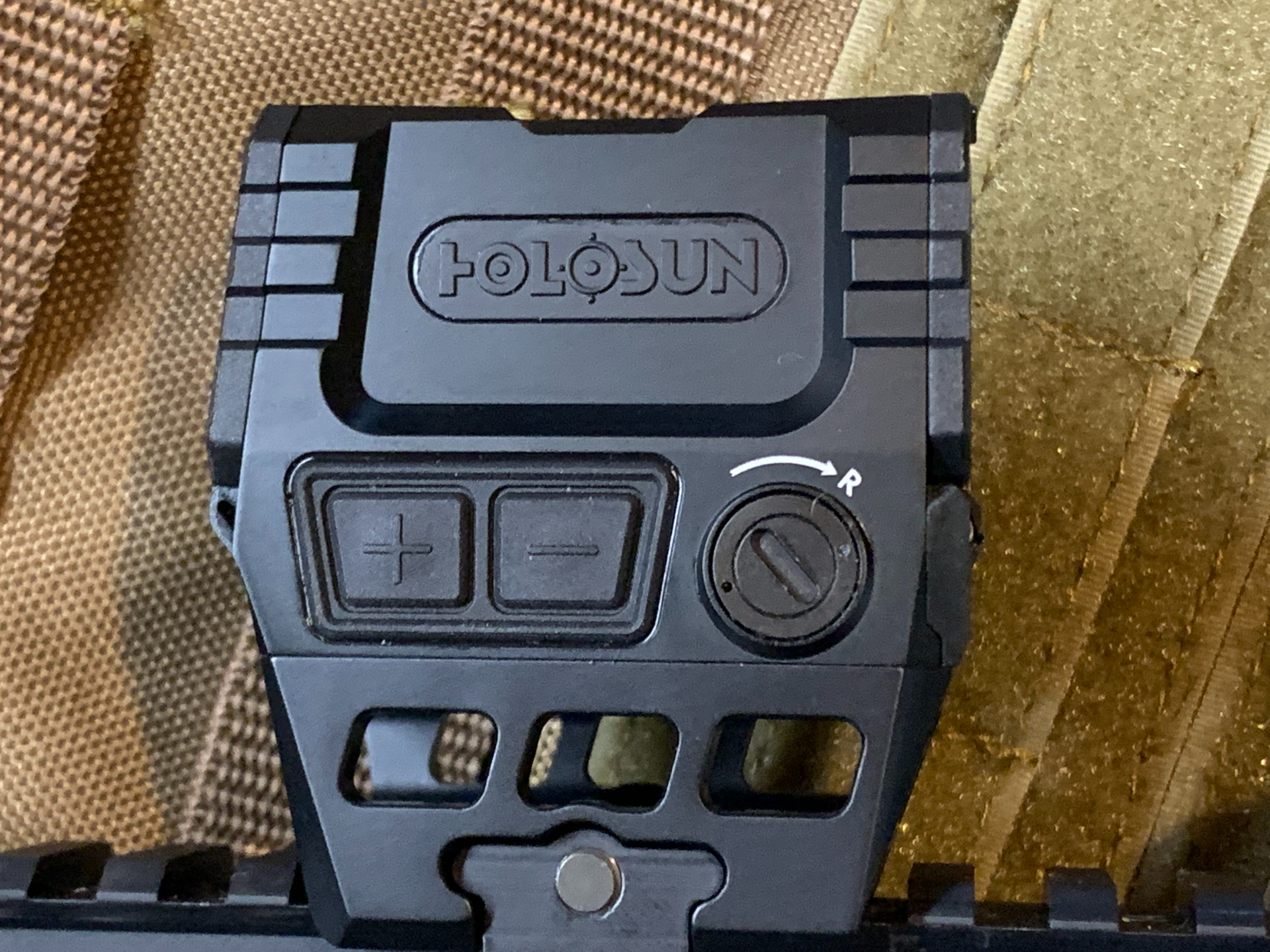 Everything else is more or less automatic. If you're shooting outdoors, the solar panel takes care of the power. Low-light conditions? The battery takes over. If you've got the AEMS on automatic brightness detection, you don't even have to adjust the reticle when transitioning from light levels. Even mounting the AEMS is made easier with the clear instruction manual—which lists not only the correct driver (T10), but also the torque (20 in.-lbs.) While you can flip the lens covers down and out of the way, they don't hinder acquiring the dot at all, so keep them in place protecting the glass.
Should the co-witness not work, Holosun is working on a 1.4-inch mount as an option to lower the AEMS, and has been working with aftermarket companies for other options as well. In any case, though, once the AEMS is mounted on your AR's rail and dialed in, it should be in for the long haul with little more than infrequent battery changes through the convenient side-mounted tray. If you're in the market for a solid reflex sight for your carbine, the AEMS should definitely be up for consideration.
Specifications
Manufacturer: Holosun; holosun.com
Magnification: 1X
Display Window Dimensions: 27.9x22.1 mm
Reticle: 2-MOA dot, 65-MOA circle, 65-MOA circle/2-MOA dot combination
Eye Relief: Unlimited
Length: 2.2 inches
Width: 1.5 inches
Height: 2.5 inches
Weight: 3.9 ounces
MSRP: $470.58 (red), $505.87 (green)
For more information on this new sight, visit holosun.com.