by
Shooting Illustrated Staff
posted on March 8, 2023
Support NRA Shooting Illustrated
DONATE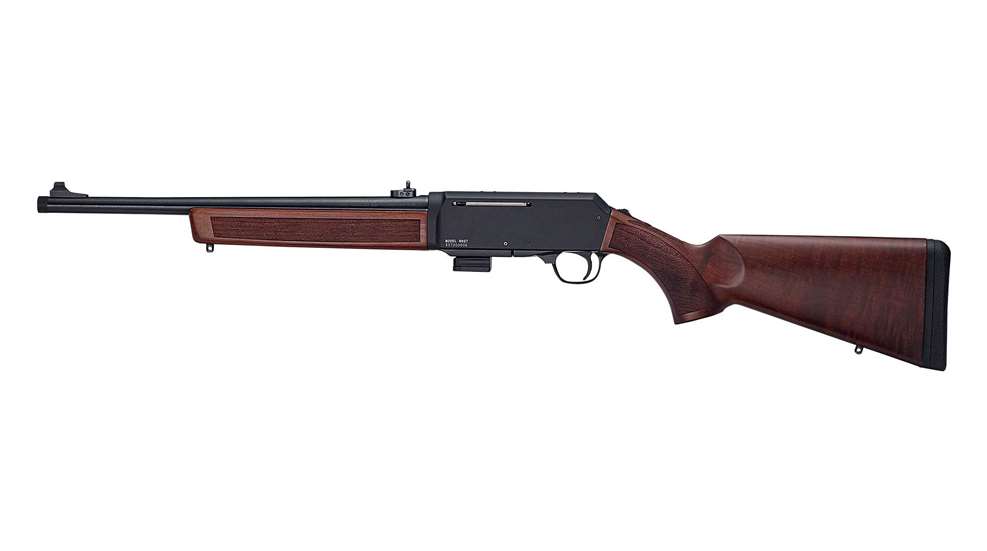 Henry Repeating Arms is introducing a new 9mm-chambered, traditionally configured semi-auto carbine with a wooden stock set. The Henry Homesteader is ideal for the protection of property, the home and livestock and is also fun for weekend gun range shooters as well, especially considering it's chambered in 9mm.
The Homesteader has an adjustable full aperture rear sight and screw-on front post sight for intuitive and quick target acquisition. For those that prefer illuminated or magnified optics, the receiver is drilled and tapped for a Weaver 63B base. In close quarters, the Homesteader is highly maneuverable, weighing just 6.6 pounds and under 36 inches in overall length. Perceived recoil is counteracted with a reciprocating mass inside the forearm, getting you back on target faster from shot to shot and inspiring confidence for the recoil sensitive. For even greater control, leather-like texturing on the genuine American walnut stocks and a soft rubber recoil pad provide non-slip contact points.
The Henry Homesteader makes use of magazine adapters to make use of the most popular handgun magazines found on the market today. These include magazines from leading companies such as Smith & Wesson, SIG Sauer and Glock. The Homesteader also includes factory 5- and 10-round proprietary magazines. For maximum reliability, Henry recommends the use of double-stack 3rd, 4th, or 5th Gen OEM Glock G17 or G19 magazines, OEM SIG P320 magazines, and OEM M&P double-stack magazines with their respective magazine well adapters. The Homesteader's receiver is made from black anodized aluminum and has a tang safety. The 16.37-inch barrel has an adjustable rear peep sight, and the Homesteader ships with a drilled and tapped receiver.
Henry Homesteader Specifications:
Caliber: 9mm
Action: Semiautomatic
Overall Length: 35.75 inches
Unloaded Weight: 6.6 pounds
Barrel Length: 16.37 inch
Muzzle Threading: ½ x 28 tpi
Barrel Twist: 1:10-inch
Drilled and Tapped: Yes
Stock Material: American Walnut
Length of Pull: 14 inches
MSRP for the Homesteader carbine is $928, and for more information on the new on this gun or to learn more about Henry Repeating Arms' other products, please visit henryusa.com.