by
Shooting Illustrated Staff
posted on January 2, 2018
Support NRA Shooting Illustrated
DONATE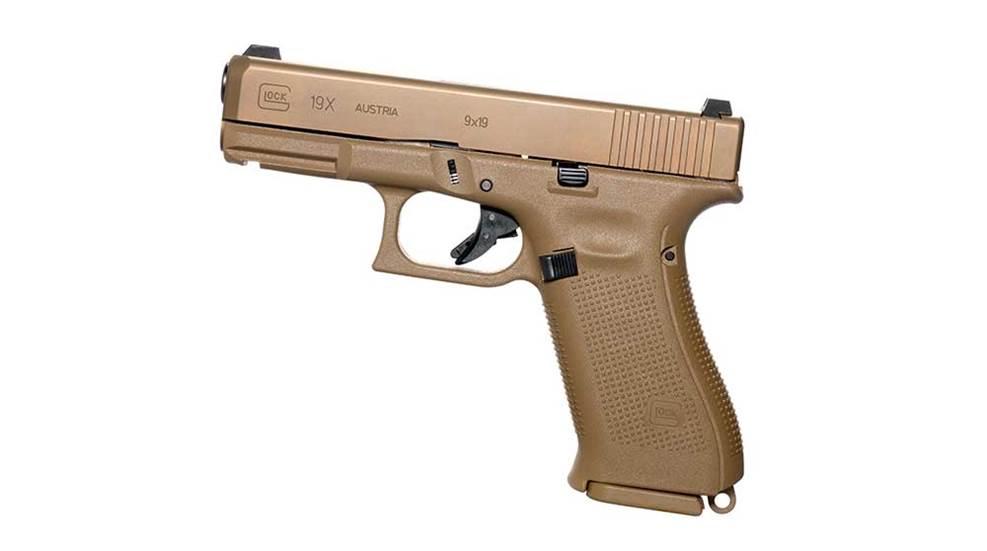 Following the completion of the Modular Handgun System trials in 2017,
Glock
brought its G19X submission to the consumer market, giving Glock lovers an opportunity to get their hands on the gun designed for military use.
"The G19X was developed for the military and is a practical everyday pistol that will do what you need it to do, when you need it to; every time, in every condition," Glock VP Josh Dorsey said.  "Using Glock's combat proven experience with consideration to efficiency, dependability and durability, and through rigorous testing, the G19X stands out above the competition and has the ability to function in harsh climates and all conditions with increased accuracy and ultimate reliability.
The Glock G19X is a combination of the frame and slide from two of the company's most popular pistols, bringing together the full-size frame from the G17 and mating it with the compact slide of the G19. In addition, the new gun is also the first-ever offering from the company that comes with a coated, colored slide straight from the factory. The coyote-tan color comes from the specially formulated nPVD treatment designed to stand up to corrosive environments, giving owners protection from the elements while standing up to harsh cleaning chemicals.
In addition to the novel colored frame and slide, the Glock G19X also incorporates some of the developments seen on the company's new Gen5 pistol series. The frame lacks the finger grooves found on earlier models, and the company's Marksman Barrel sits inside the slide, providing owners with enhanced polygonal rifling and an improved barrel crown for better accuracy. The pistol also features an ambidextrous slide stop and a lanyard loop located on the bottom of the frame.
Our goal was to meet the demanding needs of the military while maintaining our standard of perfection," Dorsey said.  "With proven testing results and fewer parts than our competitors' pistols, the G19X has maximum efficiency, reliability and is easy to maintain."
The Glock G19X ships with two 17-round magazines and comes with a coyote-tan hard-sided case to match the finish found on the pistol. The gun will be available at select Glock dealers starting Jan. 22, 2018.