by
Shooting Illustrated Staff
posted on September 24, 2018
Support NRA Shooting Illustrated
DONATE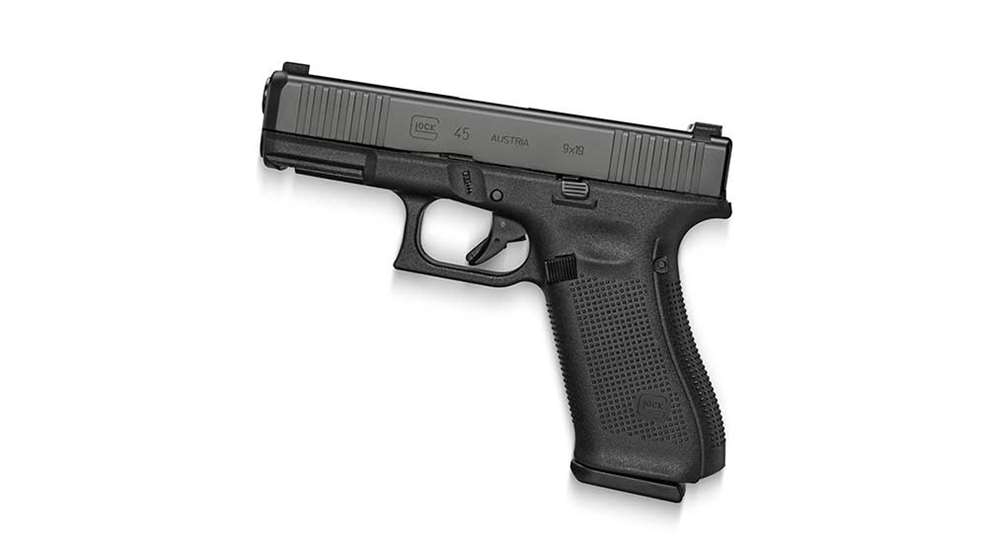 Glock expanded its handgun lineup yet again in 2018 with the launch of the Glock G45. Building on the popularity of the "Crossover" design of the G19X, which sold more than 100,000 models during its first six months on the market, the company built its G45 with a similar design configuration. This setup combines the compact length of the G19 slide with the full-size grip frame of the G17.

"After the release of the G19X, we saw a strong interest from the law-enforcement community for the design in a black model," GLOCK, Inc. VP Josh Dorsey said. "The G45 is the result of a design that meets the demanding level of reliability with distinctive Gen 5 design enhancements to improve durability, accuracy and performance to those who go into harm's way where fractions of a second matter."

In addition to the melding of features from the G19 and G17, the Glock G45 also builds on the popularity of limited-edition models sold only in the summer of 2017 that incorporated slide serrations on the front and rear of the slide, a departure from the traditional Glock handgun configuration that only included vertical striations on the rear of the slide. On the G45, forward slide serrations will be a permanent feature, giving consumers the ability to manipulate the slide in a number of different ways.

The Glock G45 also includes all of the latest Gen 5 features, such as the match-grade Marksman barrel complete with an enhanced hexagonal bore in a right-hand twist, improved trigger assembly, ambidextrous slide stop, reversible magazine catch and the smooth, groove-free grip with an enhanced texture. Of course, one of the other stand-out features of the G45 is the nDLC black finish, which is another distinguishing feature that sets the G45 apart from the G19X. Like all Gen 5 pistols, the Glock G45 also ships with the company's Modular Backstrap System, which includes three different backstrap inserts to allow users to customize the fit of the gun to their hands.

Dimensionally, the Glock G45 measures 7.44 inches long, 5.47 inches high and 1.34 inches wide. The sight radius on the gun is 6.02 inches, and the barrel measures 4.02 inches long. Unloaded, with an empty magazine installed, the gun weighs 24.48 ounces, and trigger-pull weight measures in at an average of 5.8 pounds, according to factory specs. The suggested retail price on the Glock G45 is $699.