by
Shooting Illustrated Staff
posted on April 18, 2023
Support NRA Shooting Illustrated
DONATE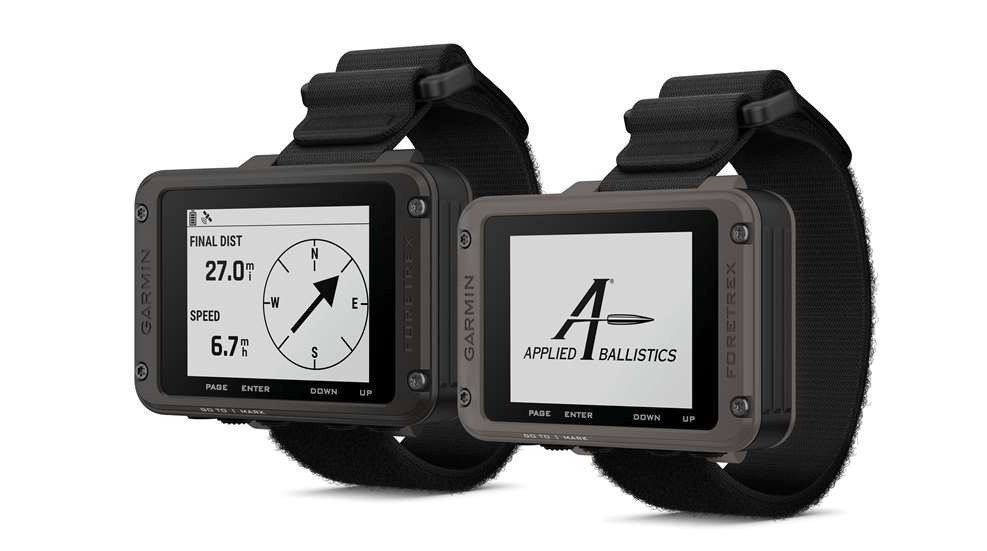 Garmin is rolling out the Foretrex 801 and Foretrex 901 Ballistic Edition, the latest additions to its wrist-based GPS navigators for outdoor and tactical applications. These new navigation aids have multi-band signal reception technology for improved positional accuracy, dedicated tactical and ballistic features and up to 100 hours of battery life in default tracking or up to 1,000 hours in expedition mode.
"Foretrex is an essential piece of kit for adventurers, tactical personnel and competitive rifle enthusiasts who need robust, dedicated features that can be quickly accessed while keeping their hands free. Now with enhanced positional accuracy and dedicated features for special applications, the Foretrex 801 and 901 will be indispensable tools whether on assignment or at your next competition," said Dan Bartel, Garmin Vice President of Global Consumer Sales
Foretrex 801 and 901 models now provide a stealth mode and have a kill-switch feature to support users located in sensitive areas. The stealth mode ensures customers can use these devices and even upload logged data, without concerns about revealing location information. Activating the Kill Switch hot key quickly resets a unit to factory settings, discarding any stored data. Users may find this option useful if they work in a position where data saved to their unit could be considered sensitive.
The Foretrex series is a trusted tool for competitive shooters within Precision Rifle Series (PRS) and Extreme Long Range (ELR) events. In addition to the Applied Ballistics Elite solver, Foretrex 901 is now compatible with the AB Synapse - Garmin app to provide users with more streamlined shooting solutions. When downloaded to a compatible smartphone, this app allows users to manage ballistic profiles on their Foretrex 901 while the integrated Applied Ballistics solver to provides firing solutions for long-range rifle shots.  
When paired with a compatible inReach device, users can receive inReach messages directly on their Foretrex 801 and 901 units and, if needed, trigger an interactive SOS to the 24/7 Garmin-staffed Garmin ResponseSM Center. Foretrex 901 users can also pair their device with compatible rangefinders to receive range data as well as provide a ballistic solution back to the rangefinder.
Users can navigate terrain with advanced sensors on Foretrex 801 and 901, including a 3-axis accelerometer, 3-axis compass and barometric altimeter. The units also are multi-GNSS, which allows them to receive signals from more than one satellite constellation, improving performance in challenging environments.
When paired with a compatible smartphone, both units can leverage the valuable features the Garmin ExploreTM app to plan, navigate and review their next adventure. Even when off-the-grid, the app allows users to load routes and waypoints to their units with or without Wi-Fi or cellular service.
Both the Foretrex 801 and 901 use two, field-replaceable AAA batteries (not included) and have a battery life of up to 100 hours in one-second tracking, and up to 1,000 hours in expedition mode.
The on-screen data on the 2.2 inch monochromatic display can be seen in a variety of lighting conditions, even when using night vision goggles. These devices are constructed to a military standard (MIL-STD-810) for thermal, shock and an IPX7 water-resistant rating.
The Foretrex 801 has a suggested retail price of $249.99 and the Foretrex 901 has a suggested retail price of $599.99. To learn more about these devices or other products from Garmin please visit garmin.com.