by
Shooting Illustrated Staff
posted on July 13, 2021
Support NRA Shooting Illustrated
DONATE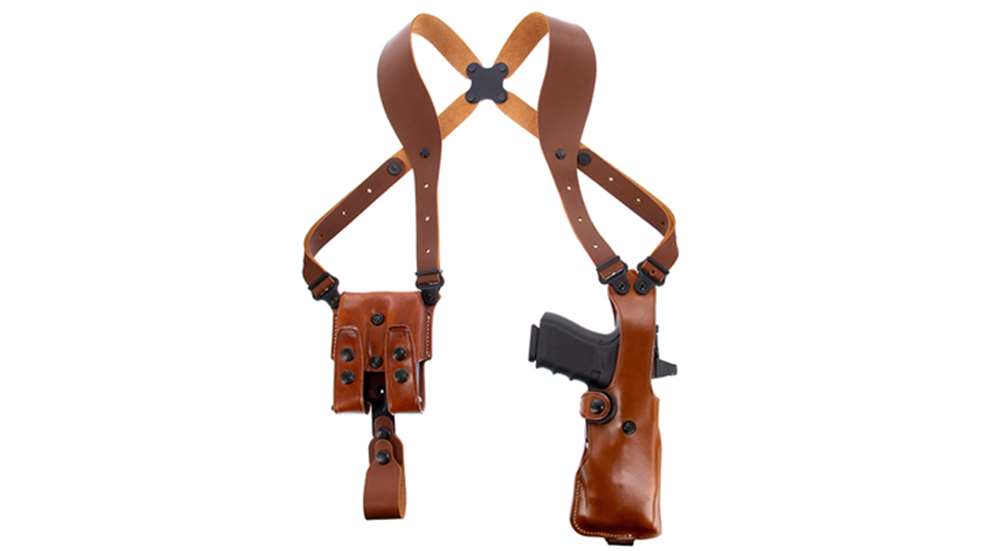 Galco's VHS 4.0 shoulder holster system is now available for Glock 17 or 19 series pistols that are equipped with a Streamlight TLR-1 and TLR-1 HL, Viridian X5L, or Inforce Wild2 weaponlight. The holster also works with pistols that are equipped with a red dot optic on the slide.
Galco's original VHS (Vertical Holster System) is field-proven design that has seen service from Afghanistan to America. The VHS series provides a very comfortable alternative solution for those who like Galco's world-famous Miami Classic but prefer the traditional vertical carry style shoulder holster. 
The VHS 4.0 updates the VHS design with re-contoured shoulder straps for added comfort and concealment, a new harness fastener system, an innovative new tie-down system and a new spare ammo carrier for revolver-compatible models.
The harness is key component of all Galco shoulder systems, and thus includes the VHS 4.0. The VHS 4.0 uses a four-point harness that pivots independently and is connected by the clover-shaped, trademarked Flexalon swivel back plate. This works in conjunction with the patented swivel connectors and results in a perfect fit and lasting comfort for virtually all body sizes and shapes. The new tool-free harness fastener system offers better security, ease of assembly, and greatly reduced chance of fastener loss.
The VHS 4.0 comes complete with vertical holster, harness, double ammo carrier, tie-downs and harness fasteners. The system is fully modular and optional interchangeable accessories and components can be purchased separately to create a unique shoulder system all your own. With this latest update, the VHS 4.0 works with most-current models of one of the most popular firearms in the world, allowing you to continue to use a holster you know and trust with the newest firearms on the planet.
MSRP for the VHS 4.0 shoulder holster system is $264.00, and more information on this product and other gear from Galco is available at galcousa.com.