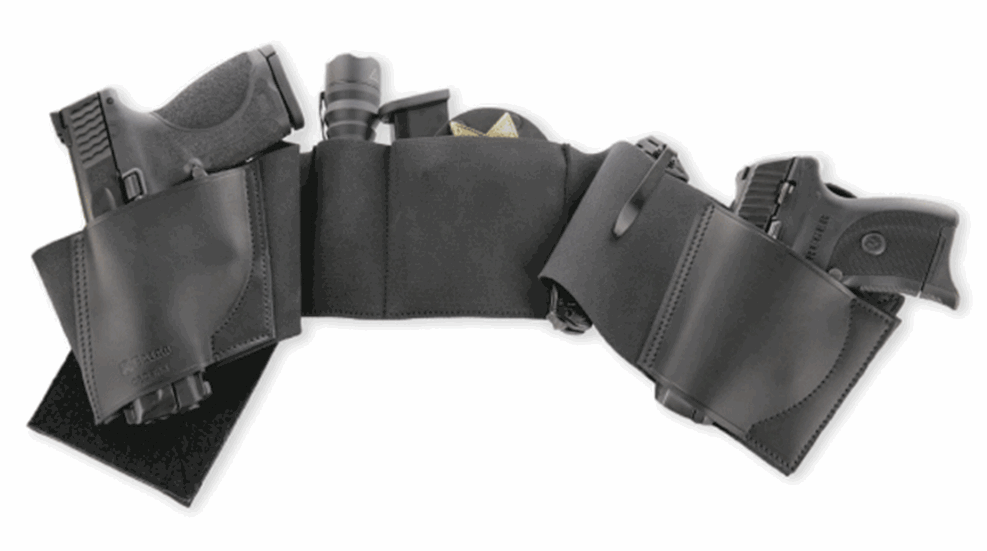 Galco is announcing an improved version of its best-selling belly band holster, the Underwraps, the new Underwraps 2.0.
The Underwraps 2.0 is an update of Galco's belly band holster which allows for the concealed carry of multiple weapons and accessories around your torso. Just like the original Underwraps, this newer version does not require a belt, letting you carry in a nearly infinite variety of configurations. Dual holster pockets on the wrap provide both butt-forward and barrel-forward cants allowing you to carry in right- and left-hand draw, strongside, crossdraw or in the appendix position.
Two leather holster pockets in the wrap facilitate the stable positioning of one or two firearms simultaneously, while two additional accessory pockets accommodate spare ammo, flashlight, knife, badge, handcuffs or other EDC items. The latest improvements to the holster pockets provide for the carry of an even greater variety of popular carry guns than ever before.
The UnderWraps can be worn like a traditional belly band (low on your waistline, partially under your beltline or just above it), and it can also be worn at your torso's mid-section (around the solar plexus area). No traditional belt is required, so it can be worn with virtually any type of clothing, including gym clothes or the beltless slacks. A sturdy hook-and-loop closure on the ends ensures that the band stays closed and in position, while the 4-inch wide elasticized construction gives you comfortable all-day concealed carry.
Available in four sizes to fit just about any size and body type who carries a firearm, black or khaki are the color choices. MSRP on this new holster solution is $62, and more information is available at galcogunleather.com.