by
Shooting Illustrated Staff
posted on August 14, 2017
Support NRA Shooting Illustrated
DONATE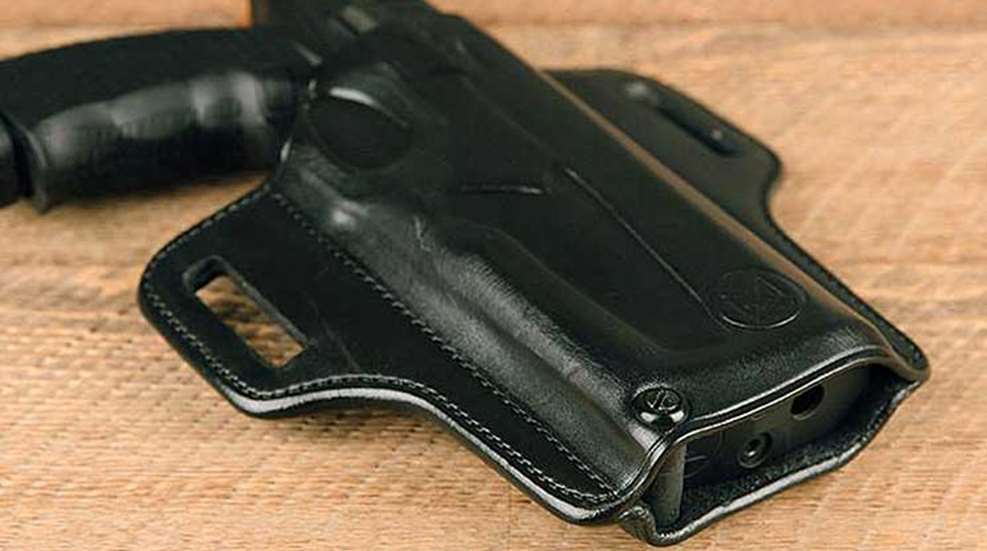 SilencerCo
and
Galco Gunleather
teamed up to offer new holster fits for the integrally suppressed Maxim 9 pistol, giving users the option of a handcrafted leather holster for their gun.
The new holster comes in two models, long and short, both sized to fit differing lengths found in the Maxim 9 handgun lineup. The holster is constructed from high-grade leather and is built in a traditional outside-the-waistband design, giving users a pancake-style holster with two solid belt loops.
The holster is fully ambidextrous and features custom embossing, highlighting the Maxim logo on the outside of the holster. The rig also features customizable retention through the use of an adjustment screw located at the bottom of the holster. Like all Galco products, the holster is made in the USA. The suggested retail price on the leather holster is $139.99.
The SilencerCo Maxim 9 was designed as the world's first integrally suppressed pistol that can be holstered easily while still providing hearing-safe shooting for shooters using both subsonic and supersonic 9 mm ammunition. The gun ships in a full-length long configuration, but it can be shortened by the end user by more than an inch, giving them a more compact carry option. In the gun's shortened configuration, it is still hearing safe when used with subsonic ammo.
The SilencerCo Maxim 9 measures 10.75 inches long in its full-length configuration and 9.54 inches long in a shortened setup. and features an overall diameter of 1.58 inches. The total weight of the gun is 37 ounces. When used in its full-size configuration, SilencerCo says that the Maxim 9 is capable of reducing noise to 136.3 decibels when using 147-grain 9 mm. When shortened, the company claims a noise-reduction rating of 139.9 decibels when used with the same 147-grain ammunition. 
The suggested retail price on the SilencerCo Maxim 9 is $1,499. All NFA laws apply.