Support NRA Shooting Illustrated
DONATE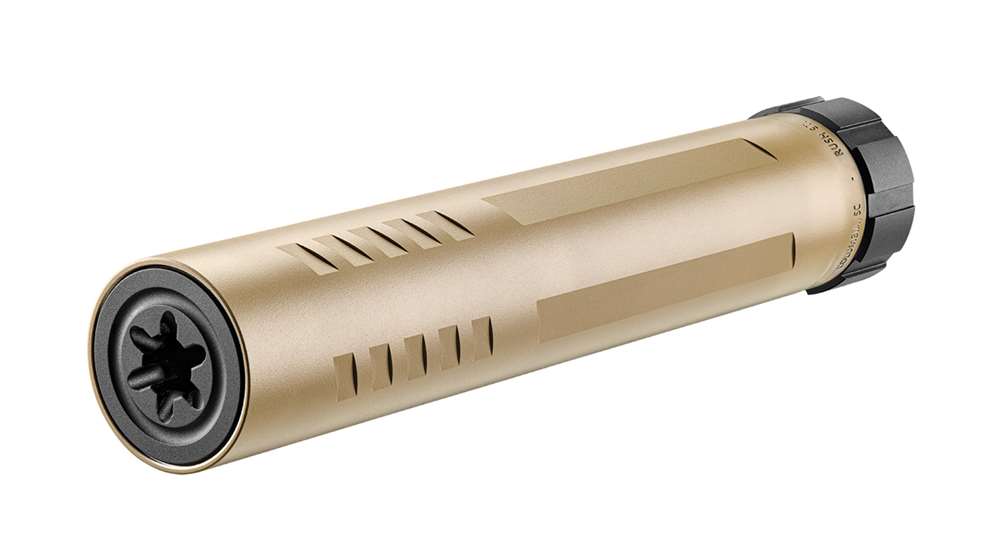 FN America, LLC, the American branch of the world renowned and legendary Belgian gunmaker, Fabrique Nationale de Herstal (FN) is announcing the release of its first commercial pistol suppressor in the United States.
The FN Rush 9Ti is titanium hybrid 9mm pistol suppressor designed to be paired with the FN 509 Tactical family of polymer striker fired pistols and other pistols with a 1/2 x28-tpi threaded barrel. The FN Rush 9Ti features a unique blast baffle and baffle stack design along with a booster assembly that provides a tight gas pistol seal and distributes gas evenly to reduce back blast to the shooter's face. This also aids in recoil mitigation, faster follow up shots and better sound suppression.
FN Rush 9Ti Specifications:
Caliber: 9mm
Overall Length: 7.3 inches
Tube Diameter: 1.375 inches
Tube Construction: Titanium
Baffle Construction: Aircraft grade aluminum
Weight: 10.8 ounces
Includes 1/2x28 tpi-threaded piston
Includes end cap assembly tool
Finish: Flat Dark Earth or black heat treated cerakote
Limited lifetime warranty
"The FN Rush 9Ti is the first introduction in FN's portfolio of firearm accessories that enhance the end user's shooting experience," said Chris Cole, Vice President of Sales and Marketing for FN America, LLC. "Our goal with developing the Rush 9Ti was to give consumers a reliable and durable 9mm suppressor that met FN's rigorous quality standards and would integrate seamlessly with the FN 509 and other 9mm hosts. We tackled some of most common complaints about suppressor performance like blowback and recoil reduction to deliver a final product capable of mitigating both."
"When selecting a suppressor, customers often have to choose between effective sound suppression, reduced blowback or felt recoil; you very rarely get all in one," said John Ryan, Director of Product Management for FN America, LLC. "Our team developed a suppressor that delivers an unmatched shooting experience straight from the box. You no longer have to settle for one or the other with the Rush 9Ti."
For more information, please visit fnamerica.com.