The
FN America
509 Compact Tactical, available in black and flat dark earth (FDE), is small enough to be carried every day with the standard 12-round magazines. On the range, the full-size 15-round or extended 24-round magazine mean lots of shooting time compared to magazine-loading time. Or, carrying the extended, 24-round magazine as a backup to the 12+1 means 37 rounds of ammunition between what's in the pistol and the single spare.
With a 4.3-inch, cold-hammer-forged, threaded barrel, the new FN 509 Compact Tactical is compatible with a wide range of popular aftermarket accessories like compensators or suppressors. With FN's proprietary Low-Profile Optics-Mounting System, in excess of 10 miniature red sights can be mounted to this pistol. The compact frame features FN's signature enhanced-grip texturing for greater purchase, an accessory rail for lights or lasers and interchangeable backstraps to tailor the 509 to the shooter's hand.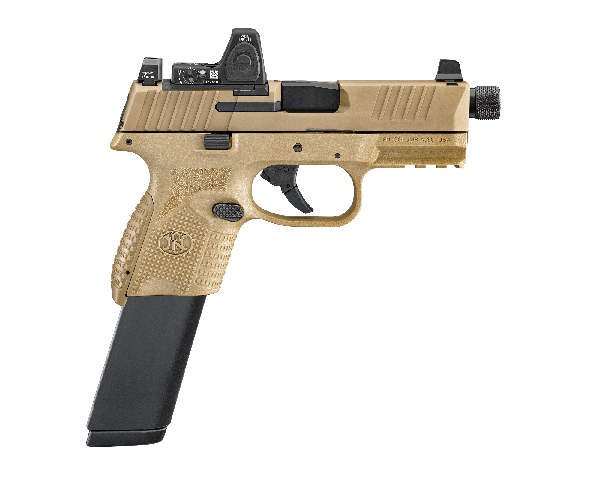 Additional features like suppressor-height night sights permit co-witnessing with miniature red dots and also while sound suppressors are attached. When he optics system is not in use, the protective slide cap provides a serrated surface for racking the slide from any surface and ensures iron sight alignment.
The FN 509 Compact Tactical ships in a soft-sided case with the optics-mounting kit, one each of the 12-, 15- and 24-round capacity magazines with the appropriate grip sleeves (or in states that require them, three 10-round magazines). MSRP is $1,049, and visit
FN America
for details.
Specifications
Caliber: 9 mm

Barrel Length: 4.32 inches

Magazine Capacity: 12, 15, or 24+1 rounds

Overall Length: 7.4 inches

Trigger Pull weight: 5 pounds, 8 ounces to 7 pounds, 8 ounces
Weight: 26.2 ounces

Barrel thread: 1/2 x 28 tpi
Finish: Black or FDE