by
Shooting Illustrated Staff
posted on April 15, 2021
Support NRA Shooting Illustrated
DONATE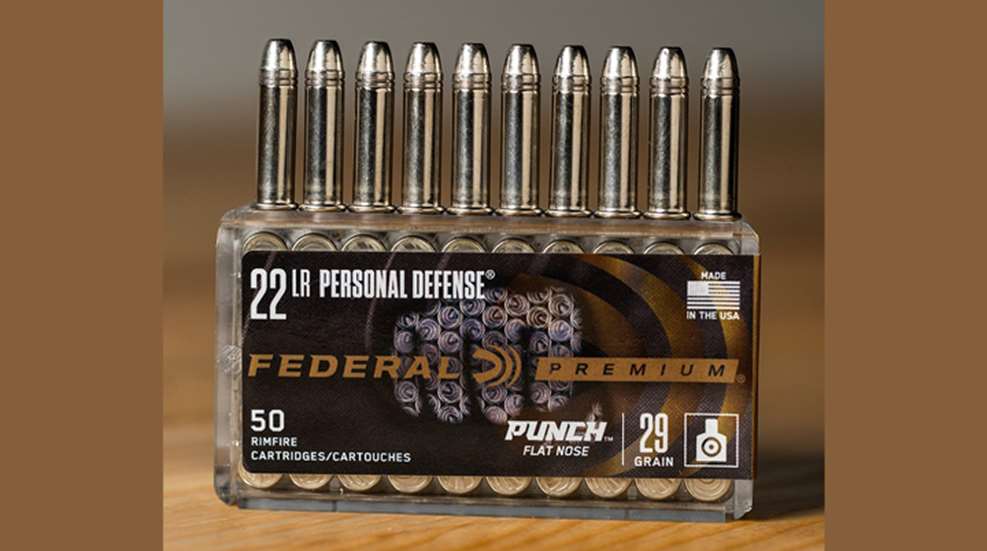 While the merits of the
.22 LR for personal defense
are often debated, there's a new load from
Federal Premium
that's specifically designed to make the .22 LR a viable defensive round choice. 
"Self-defense isn't one size fits all. So, whether shooters want to carry a .22 LR handgun as a backup gun, do not feel comfortable with centerfire pistols, or simply want to get more versatility from a rimfire handgun," said Federal's Rimfire Product Manager, Dan Compton, "Punch makes the .22 LR cartridge a viable defensive choice for the first time ever."
The Punch .22 LR load features a 29-grain nickel-plated lead-core bullet that travels at maximum velocities (1,070 fps from a 2-inch barrel) for deep penetration from short-barreled handguns. Somewhat of a departure from standard .22 projectile designs, the Punch bullet features a flat nose and heavy jacket around a lead core, thus increasing velocity and minimizing expansion so as to increase penetration depth. 
"We've talked about making a .22 LR defensive load for some time. We finally decided that people are already carrying .22 LRs, so we might as well build a .22 bullet optimized for protection," said Compton. "After much research, we decided that for a .22 LR defense bullet, penetration was more important than expansion."