Support NRA Shooting Illustrated
DONATE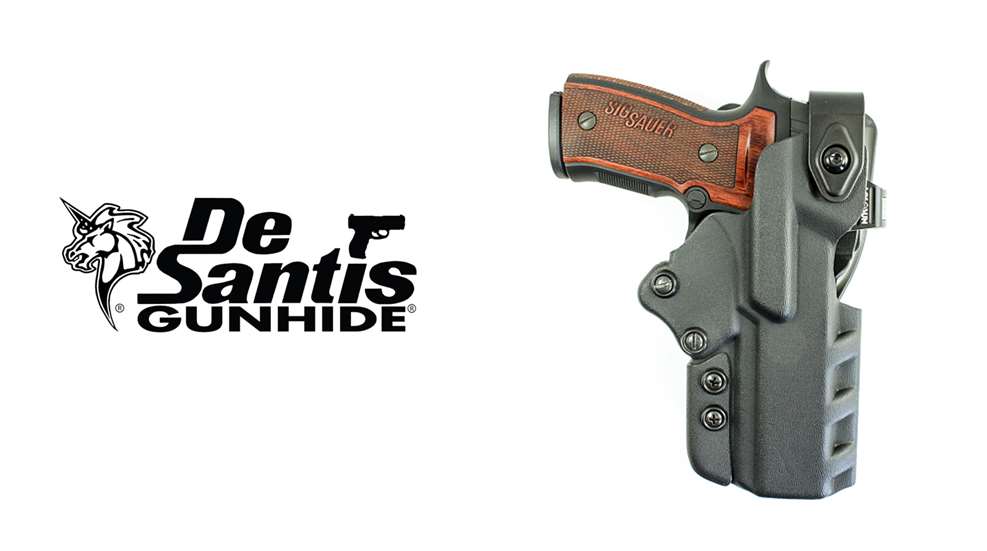 DeSantis Gunhide is now offering its Just Cause 2.0 synthetic polymer holster for the SIG Sauer P320 and P250 pistols. The Just Cause 2.0 holster is an outside-the-waistband (OWB) duty oriented holster that offers two additional forms of retention. It has a thumb-activated trigger guard lock in addition to a rotating hood. The Just Cause 2.0 comes standard with a border-patrol style back that will accommodate belts measuring 2 ¼ inches wide. All of DeSantis' Tap Out accessories are also work with this model of duty holster. Thermoformed Kydex and glass reinforced polymers are used in the Just Cause 2.0's assembly to provide a lightweight but sturdy holster shell. 
The SIG Sauer P320 and P250 pistols are both designs known for their modularity since their trigger modules possess the actual serial number of the firearm. This means that from a practical standpoint, a shooter can switch around their compatible trigger group to any number of different frame and slide combinations while only maintaining responsibility for one actual firearm. For example, a shooter can buy a P320 Compact pistol and go through the normal steps of the transaction through a dealer, but they could also buy all the parts needed to build, say, a competition pistol without the necessity of having to go through a dealer again. A simple switch of the trigger module from the previously obtained P320 into the frame other build would do the trick. The hammer-fired P250 model precedes the P320 since its original inception in 2007; the P320 has been available since 2014.
The De Santis Gunhide Just Cause 2.0 holster retails with an MSRP of $83.99. For more information on this holster and all of the specific makes and models of handguns that are compatible with it, and for additional information about other gear sold by DeSantis Gunhide, please visit their website at desantisholster.com.