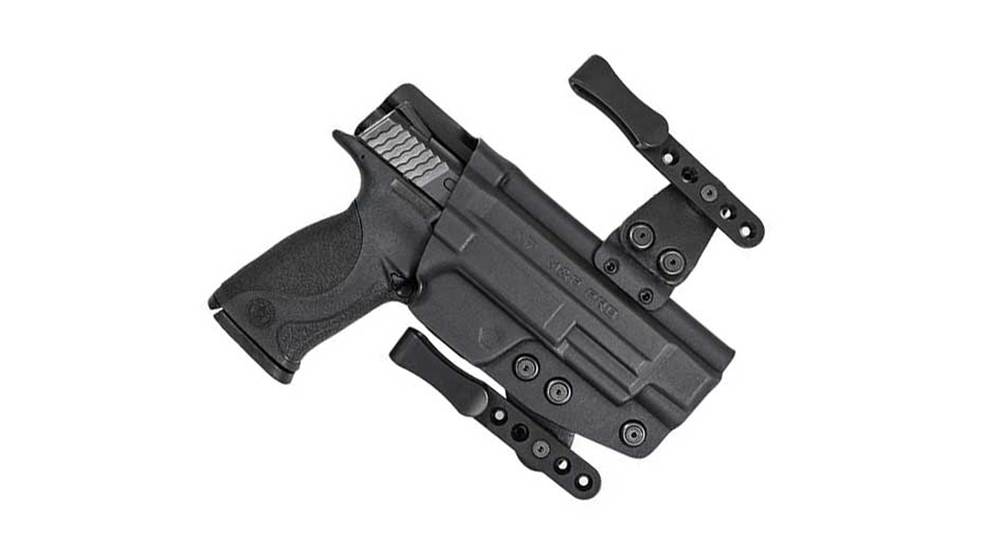 Concealed carry in warmer months and hot, humid climates tends to be more difficult than carrying concealed in wintertime, since moisture and heat contribute to discomfort in and around a user's carry rig. With the launch of the
Comp-Tac
CTAC IWB holster, consumers have access to another CCW holster designed to provide comfortable carrying capabilities in sweltering heat.
The all-Kydex design of the CTAC holster makes it conducive for carrying in warmer months, since the polymer construction is impervious to sweat and body oils. Additionally, unlike leather-backed carry holsters, the CTAC won't provide an insulated area on the body for heat and moisture build-up to occur. The Kydex construction is form-fitted to the contours of a specific carry pistol and features a smooth interior that offers lower friction for a fast draw once the user breaks retention.
The Comp-Tac CTAC IWB holster is designed for strong-side carry between the 4-5 o'clock positions inside the waistband and attaches to the belt with two clips secured to leather tabs on either side of the carry holster. The wide spacing of the belt tabs distributes the weight across a wider area of the belt, ensuring that the weight of a loaded carry gun doesn't cause a wearer's pants to sag or the carry holster to shift positions during daily wear. An added benefit of the belt-clip tabs is the ability to adjust ride depth or cant adjustment, thanks to multiple mounting holes.
One of the unique elements of the CTAC is its compatibility with several different belt-clip designs. The standard clips offered through Comp-Tac is a P-shaped design that clips over the top of the user's gun belt and hooks underneath the belt lip. Also available are the company's C-clips, which attach to the top and bottom of the gun belt, providing a low-profile belt-attachment option that is less visible than the P-shaped belt clip.
Both of the belt-clip attachments are tuckable, enabling wearers to cover a concealed pistol and the mouth of the holster with their shirt. Comp-Tac offers specific holster fits for multiple 1911 pistol models and specific guns from 16 manufacturers. Left- and right-handed designs are available, and the suggested retail price on the holster starts at $76.99.