by
Shooting Illustrated Staff
posted on August 5, 2021
Support NRA Shooting Illustrated
DONATE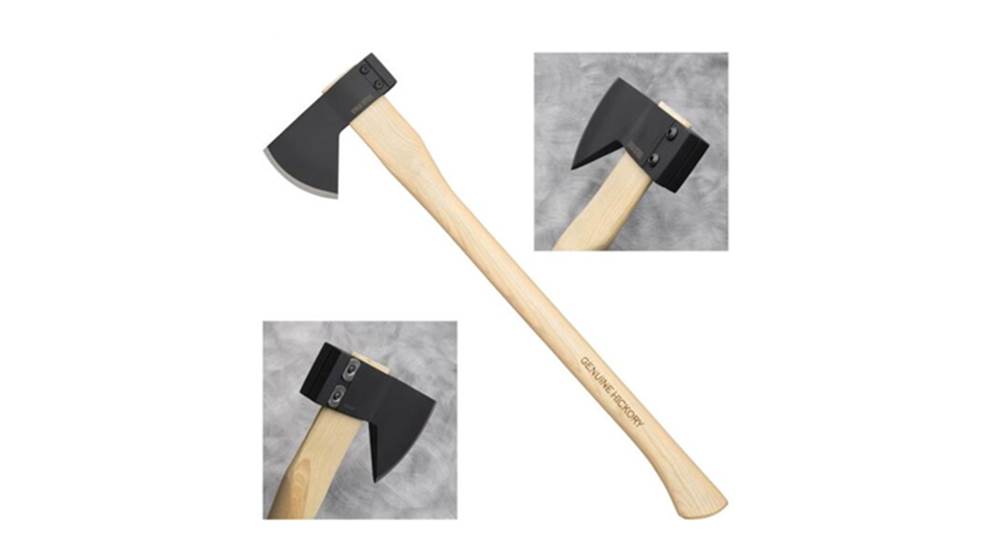 Cold Steel is announcing a new, modern interpretation of the iconic Hudson Bay axe. The Cold Steel Hudson Bay Camp Axe follows the centuries-old style of the Hudson Bay axe with both subtle and significant design updates to improve performance and overall functionality.
The axe is sized to be convenient to carry on every outdoor adventure as an essential tool for any journey into the woods
The hallmark feature of the Cold Steel Hudson Bay Camp Axe is the ground-breaking locking mechanism that secures the axe to the handle without driven wedges. Instead, the poll is split to allow a broken handle to be easily removed and a new handle installed. This clamping system is exceptionally strong, ensuring the axe not only stays firmly attached to the handle during hard use, but can be repaired in the field if necessary.

What's more, if you're caught in the wilderness, a field-expedient replacement handle can be improvised from nearly any piece of wood available. Additionally, it's possible to change out a broken handle in less than two minutes.
The Hudson Bay Camp Axe features a curved bit to strike deeply and efficiently into wood while the straight beard adds structural rigidity to manage hard blows. Blade length measured from the toe to heel is 4 1/8 inches, which makes this axe suitable for general cutting chores around the camp, farm, or home. The handle is made of solid hickory for maximum strength and impact resistance, with a thick shoulder to prevent cracking or shearing and a prominent knob to optimize grip.
Cold Steel Hudson Bay Camp Axe Specifications
Blade Length: 4-1/8 inches
Head Weight: 1 lb., 7.5 ounces
Handle Material: solid hickory
Overall Length: 27 inches
Additional Feature: Quick-change locking mechanism
MSRP for the Hudson Bay Camp Axe is $74.99, and more information is available at coldsteel.com.