by
Evan Brune, Associate Editor, Shooting Illustrated
posted on December 15, 2016
Support NRA Shooting Illustrated
DONATE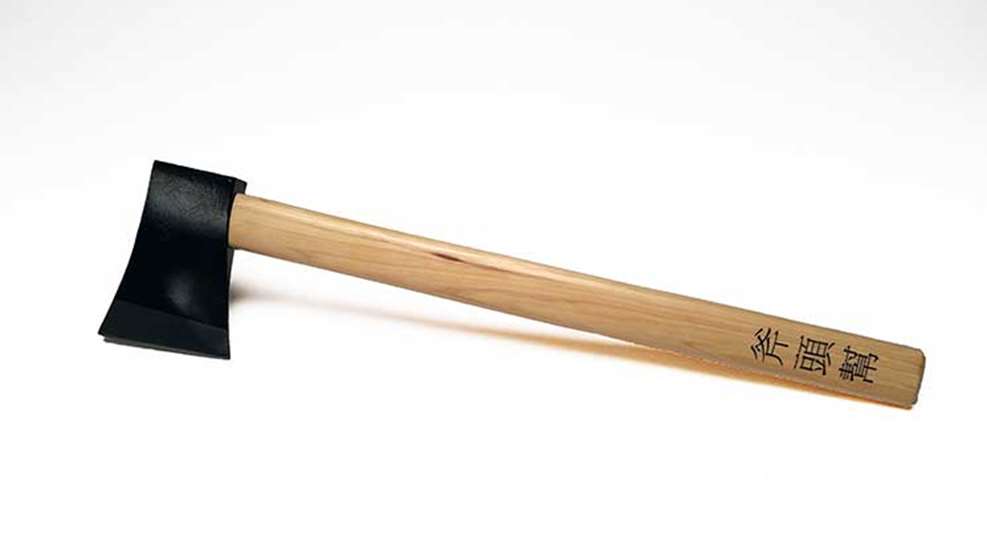 In October 2016, a particularly gruesome scene took place in the season premiere of AMC's popular TV show, "The Walking Dead." Suffice it to say, without divulging too many details, that the
Axe Gang Hatchet
from
Cold Steel
showed up front and center.
"Of course, seeing our Axe Gang Hatchet as Rick's axe totally made my day," said Cold Steel CEO Lynn Thompson. "I love how he's been carrying it on his hip using a cut up old cell phone holder."

The Cold Steel Axe Gang Hatchet is no movie prop, though. The hatchet features a differentially heat-treated and drop-forged 1055 carbon-steel head that is capable of holding a razor-sharp edge. The body of the hatchet head is made from soft steel in order to better absorb impact.

The handle is a solid piece of hand-picked straight-grain American Hickory, and at the bottom of the handle, Kanji characters spell out the phrase "Axe Gang." The total length of the hatchet is 20.25 inches, and the overall weight is 32 ounces.

According to Cold Steel, the idea for the Axe Gang hatchet came from the company's love of martial arts. Many team members at Cold Steel have worked in Hollywood as weapons consultants, stunt men and fight choreographers. The iconic Chinese hatchet has always been a staple in Kung Fu movies, and it was an easy leap for the company to start making a version.

Want to practice some Kung Fu hatchet skills without fear of serious injury or death? Well, Cold Steel has a perfect sister product that pairs well with the Axe Gang Hatchet. The Axe Gang Hatchet Trainer is designed to fit the size and feel of the original, allowing users to train safely and effectively. The trainer is made from polypropylene and is the same size as the real deal. However, the trainer weighs slightly less, coming in at 20.3 ounces.

The Axe Gang Hatchet retails at a suggested price of $39.99, while the trainer can be had for $22.99.