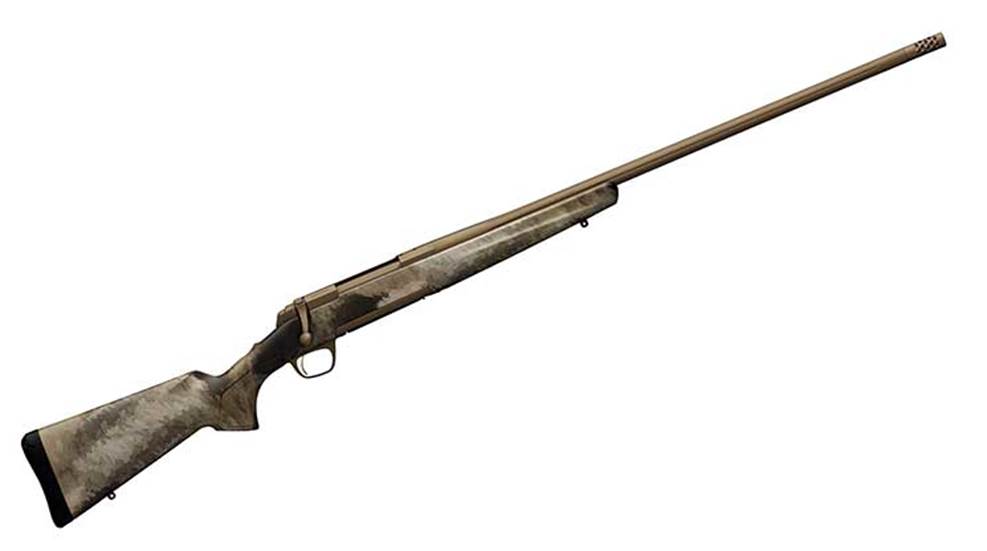 Browning
announced the launch of the new X-Bolt Hell's Canyon Long Range rifle, building on the company's success with the popular Hell's Canyon Speed rifle. The new rifle is designed for shooters and hunters who use their rifles for shooting at extreme ranges, and the features of the new gun are designed to maximize long-range performance.
The main change on the new Long Range is the addition of a free-float , hand-chambered, heavy sporter-contour rifle barrel that helps to promote accuracy at longer ranges, giving shooters a farther reach than they had with the Hell's Canyon Speed. The barrel also features fluting in order to reduce overall weight and assist with cooling the barrel between shots. Otherwise, the rifle includes many of the same features found in the company's popular Speed model.
The Long Range rifle features Browning's unique A-TACS AU camouflage pattern, which features a mixture of patterns that aid in concealment from many different perspectives. The camouflage stock also features the tough DuraTouch Armor coating, which works to provide shooters with a solid grip in hot, cold, wet or dry conditions.
The action and barrel on the rifle are finished in a burnt-bronze
Cerakote
coating, which helps to provide improved cooling and won't reflect or be susceptible to corrosion, making it an ideal finish for guns that spend time in harsh environments.
The Browning X-Bolt Hell's Canyon Long Range rifle features a threaded barrel and includes a muzzle brake to help mitigate recoil, but the threaded muzzle also allows owners to attach the suppressor of their choice to the gun, enabling them to protect their hearing. Other features of the gun include the company's adjustable Feather Trigger, recoil pad, 60-degree bolt lift and a bolt-unlock button.
The rifle feeds from a detachable rotary magazine and is available in the following calibers: 6 mm Creedmoor, 6.5 Creedmoor, .270 WSM, .300 WSM, 26 Nosler, 7 mm Rem. Mag., 28 Nosler and .300 Win. Mag. The suggested retail price on the rifle starts at $1,229.99.