by
Shooting Illustrated Staff
posted on July 29, 2021
Support NRA Shooting Illustrated
DONATE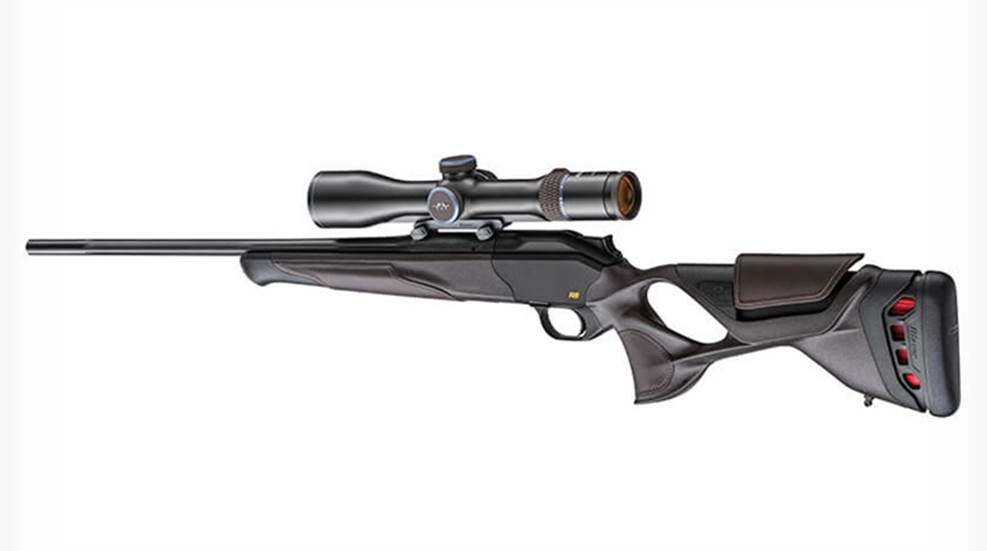 Blaser is pleased to now offer its iconic R8 modular rifle chambered for the 6.5 PRC cartridge. The 6.5 Precision Rifle Cartridge is, in essence, a magnum version of the 6.5 Creedmoor. Both cartridges are known for their accuracy and long-range performance, while the flatter trajectory and higher impact velocity of the 6.5 PRC makes it a favorite of long-range precision shooters.
The straight-pull R8 bolt-action rifle is renowned for its reliability, repeatability, speed, and precision. The rifle offers shooters a vast number of configurations to meet their needs in the field or at the range. Options include a wide array of stock options, a recoil reduction system, adjustable comb, adjustable length of pull, and numerous barrels and bolt heads to facilitate quick conversions to different calibers, depending on the type of shooting scenario. 

"If you combine all the different standard options on an R8, you can build over 47 million unique rifles and that does not even include custom shop options," said Jason Evans, CEO, Blaser Group. "The interchangeability makes it incredibly easy to convert your rifle from one caliber to another by simply switching out the barrel and bolt head.  This can be done in less than a minute. The engineering and craftsmanship is so extraordinary, after any barrel change, the rifle will shoot to within 1/2 MOA every time."
The Blaser R8 offers distinct advantages to shooters who travel frequently. The compact overall length and modularity of allows them to carry one rifle with several different barrels instead of transporting multiple guns around the world. The Blaser Saddle Mount system gives them easy and precise mounting of a riflescope by allowing the one-piece base of the mount to fit into notches that are machined into the top of the free-floating barrel. 

The barrel and saddle mount then become one accurate unit, ensuring absolute repeatability once the scope has been zeroed, regardless of how many times the scope is removed from the barrel. The R8's concentric locking lugs with 14 locking surfaces provide 360-degree bolt engagement which further enhances accuracy. This rifle also features one of the safest actions in the world thanks to its well-regarded manual cocking mechanism.
The R8 is available in numerous calibers from .204 Ruger to .500 Jeffrey. For more information on this product or other items from the Blaser Group, please visit www.blaser-usa.com.