Support NRA Shooting Illustrated
DONATE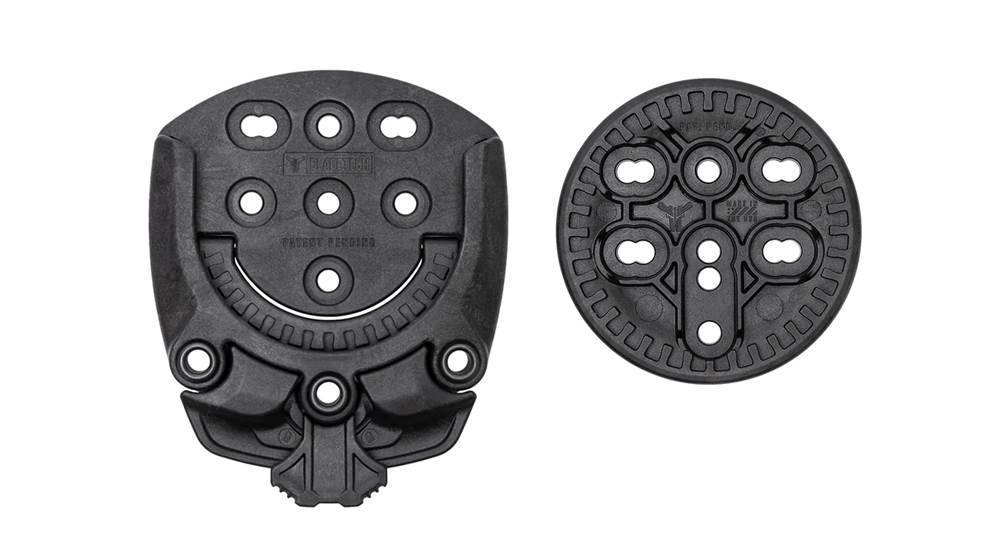 Blade-Tech Industries, Inc. is now shipping the new Tek-Mount quick connect mounting system created for holsters, magazine carriers and other accessories. The system allows users to more easily attach or remove these items from their belts, plate carriers, thigh rigs, MOLLE webbing packs, load bearing equipment or any other surface that can take a Tek-Mount receiver plate.
At its core, the Tek-Mount system is made up of two main components, the receiver and rotating disk. The receiver affixes to the wearer's load bearing equipment or belt, and the rotating disk mates up first to the receiver and then to whatever holster or piece of kit the user needs. According to Blade Tech, the Tek-Mount system works similarly in concept to Safariland's popular QLS mounting system but with the added ability to rotate in order to adjust the cant or tilt of the holster or accessory to each user's individual needs and preferences.
The Blade-Tech Tek-Mount system also negates the use of screws and posts which the QLS requires. The Tek-Mount's rotating disk is unique in that it will rotate into 36 different positions until it makes a complete turn, so users can adjust their cant levels in 10 degree increments. Since Blade-Tech designed the Tek-Mount to be suitable for hard, duty use and modularity, it is also compatible with major duty grade holsters from other companies. Depending on specific holster models and styles, these may require extra accessories which Blade-Tech has made available on their website.
The basic Blade-Tech Tek-Mount kit retails for $22.99 and is available for purchase online through Blade Tech's website. To see comprehensive list of the Tek-Mount's capabilities and specifications or to see purchasing options, extra accessories and other assorted gear please visit Blade-Tech Industries website at blade-tech.com.