Now shipping from Faxon Firearms, and associated dealers, are their new GUNNER MSR bolt carrier groups.
These new bolt carriers are extremely lightweight—the stripped carrier with key weighs in at 6.4 ounces—and maintain maximum utility. The GUNNER MSR bolt carrier groups are manufactured with MIL-SPEC or improved materials and finished with QPQ Salt Bath Nitride for increased surface ruggedness, lubricity, corrosion resistance and it makes cleaning a breeze. The GUNNER bolt is constructed of 9310 tool steel and the extractor is comprised of S7 tool steel. The bolt and extractor are heat-treated, shot peened and coated.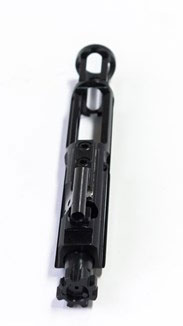 The key is made of 4140 steel material and the carrier of MIL-SPEC 8620 steel. They feature forward assist serrations, grade 8 fasteners, they're Permatex sealed and M16 fully-auto compatible.
You can order both stripped (MSRP $199) and complete (MSRP $249) series of the GUNNER MSR bolt carrier groups.