by
Evan Brune, Associate Editor, Shooting Illustrated
posted on October 18, 2017
Support NRA Shooting Illustrated
DONATE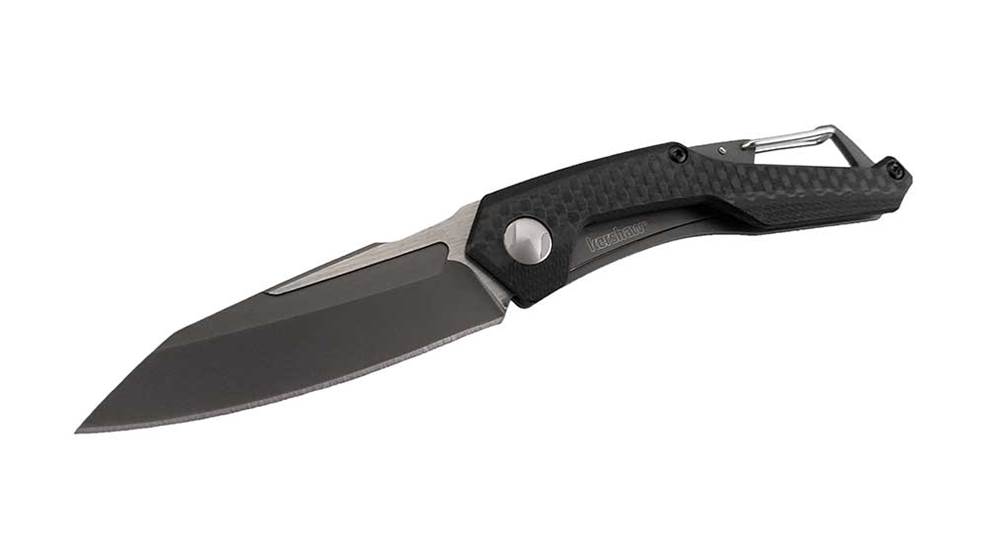 When it comes to choosing an ideal every-day carry knife, a host of variables come into consideration. Size, construction, weight, mechanisms and carry methods are all part of the process. Luckily, the
Kershaw
Reverb knife, introduced in 2017, makes for an easy carry option that'll tackle most of your everyday situations.
Kershaw classifies the Reverb as a great lightweight knife perfect for outdoor activities like backpacking, camping and hiking. While the Reverb would be a great choice for any of these activities, it also fits perfectly as an everyday-carry, utilitarian tool, thanks to several design features.
First, the Kershaw Reverb can be carried multiple ways, making it easy to ensure that you always have the knife on you or your EDC pack when you need it. In keeping with the company's aim to create an outdoor tool, the Reverb features a built-in carabiner clip that latches on easily to any backpack, harness, belt loop, keychain or more. In addition to the carabiner clip, the knife also features a slim, single-position pocket clip that allows for tip-up carry.
Kershaw designed the Reverb as a minimalist, discreet, unobtrusive knife, so the blade features no thumb studs or flipper that can catch on or protrude from clothing. The edges on the knife are rounded and angled to provide for easy pocket carry, save one sharp ledge located on the edge of the 8Cr13MoV blade. This angled edge provides enough area for users to open the knife easily with their thumb, despite the lack of an assisted-opening mechanism.
Once open, an internal frame lock secures the blade into its deployed position, ensuring that it won't fold under pressure. In keeping with the Kershaw Reverb's sleek, snag-free design, the frame lock doesn't protrude from the blade opening. Rather, the side of the handle features a cutout that exposes the lock, enabling users to push their thumb into the lock to allow the blade to fold. To prevent users from cutting their thumb, the frame lock features a detent that stops the blade from closing fully, enabling owners to get their thumb out of the way before securing the blade.
The Kershaw Reverb features an open-frame design that features a two-piece handle separated by aluminum spacers. The front handle is constructed from G10 fiberglass laminate with a carbon-fiber overlay. The back of the handle is made from stainless steel. The stainless-steel handle and the steel blade both feature a PVD coating combined with satin-finished flats.
Size-wise, the Kershaw Reverb features a 2.5-inch blade that fits inside a handle measuring 3.25 inches long. The overall length of the knife when deployed is 6.1 inches long. The knife weighs just 1.6 ounces, making it nearly unnoticeable when carried inside of a pocket. The suggested retail price on the Reverb is $48.99.