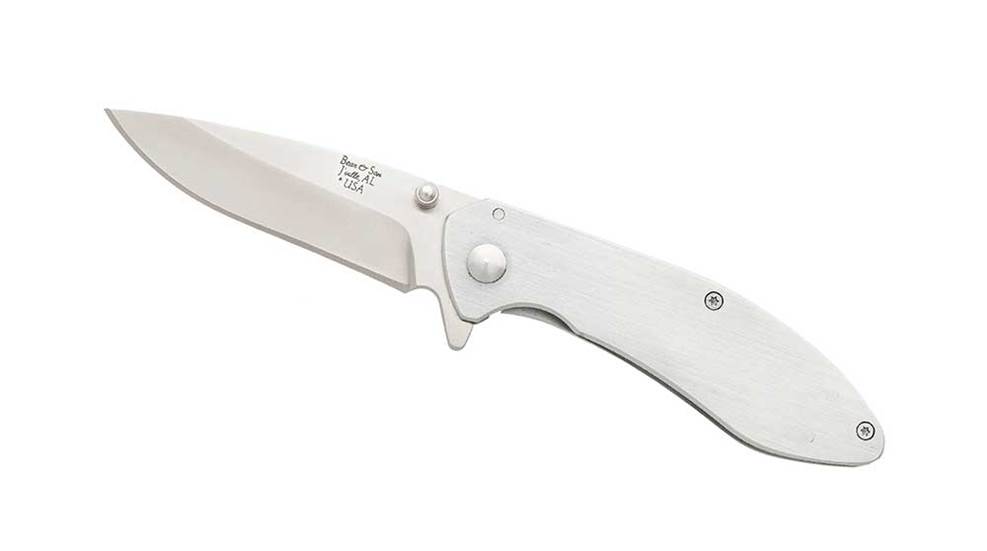 The knife is one of mankind's oldest tools, and keeping a knife with you wherever possible is just plain old common sense. A knife solves so many of life's little problems, it should be a part of your everyday carry wherever you can have one on-hand. To help you carry a knife in style, Bear & Son Cutlery is now offering its new American-made pocket knife: the Executive Stainless-Steel Knife Model 112. This 4-inch liner-lock model features minimized snagging points and a narrow design for comfortable carry and super-smooth action, all at an affordable price.

The Model 112 is simple to maintain and easy to keep sharp. The drop point 440 stainless-steel blade measures 2 7/8 inches long and deploys quickly, requiring minimal applied effort to the flipper or dual thumb studs to open, and it locks firmly into place using a frame-lock mechanism. Narrow stainless-steel handles are hand polished with smoothing edges to provide a comfortable fit in both pockets and hands.

The 112 is compact and unnoticeable while closed in the pocket, measuring 4 inches and weighing under 2.5 ounces. An engraved Bear & Son Cutlery pocket clip is added to allow for "tip-up" carry for added convenience, and the just like all Bear & Son Cutlery knives, the Model 112 is made in America and backed by a lifetime warranty.

Bear & Son Cutlery Model 112 Specifications

Blade Material: Stainless Steel
Handle Material: Stainless Steel
Closed Length: 4 inches
Blade Edge: 2 7/8 inches
Overall Length: 7 inches
Weight: 2.4 ounces
Extras: Dual Thumb Studs, Pocket Clip, Lifetime Warranty
MSRP: $39.99

To learn more about Bear & Son Cutlery's Model 112 pocket knife, visit their website at bearandsoncutlery.com.