by
Shooting Illustrated Staff
posted on November 16, 2016
Support NRA Shooting Illustrated
DONATE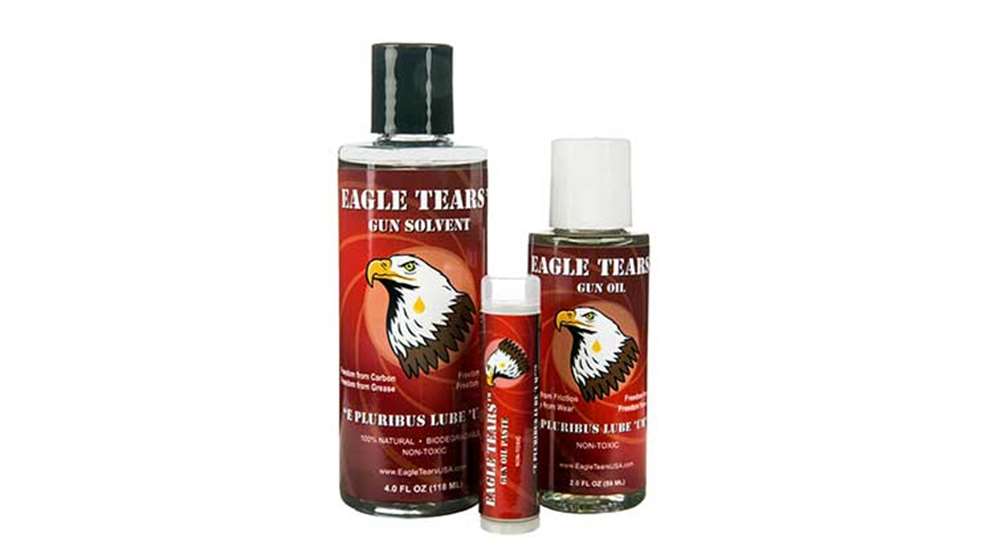 Eagle Tears,
a Virginia-based company, developed a line of gun care products with an eye toward removing hazardous chemicals and toxins found in many common gun cleaners. Simultaneously, the company wanted a product that effectively protected against friction, wear, corrosion, rust, jams and carbon build-up.
The resulting product lineup features a paste, oil and solvent that combine to provide a complete gun care package for any firearm. The company's gun oil is made from a blend of food-grade oils that work to combat friction, wear, jams and carbon build-up. Simply apply the oil and wipe the firearm down with a clean rag, and the oil will work to eliminate the accumulation of sand, dust and other particulates. A 2-ounce bottle of Eagle Tears Gun Oil retails at a suggested price of $5.98.
The company also offers its gun oil paste that is a concentrated paste version of the company's gun oil. This particular product is designed for use in high-friction areas of a firearm, like pistol slide rails or rifle bolts and bolt lugs. As an added benefit, the paste is made from the same food-grade oils as the gun oil base and can be used safely as lip balm. The Gun Oil Paste retails at a suggested price of $4.99.
Finally, Eagle Tears offers a solvent option for bio-friendly firearms cleaning. The solvent is made from distilled citrus oil and the company's own blend of "emulsifying oils," which produces an all-natural, non-toxic solvent that completely degrades in 28 days. The solvent is designed to cut through carbon and grease build-up and can be diluted with up to 50 percent water. In addition to cleaning smokeless powder arms, the solvent works on black powder build-up. A 4-ounce bottle of solvent retails at a suggested price of $9.98.