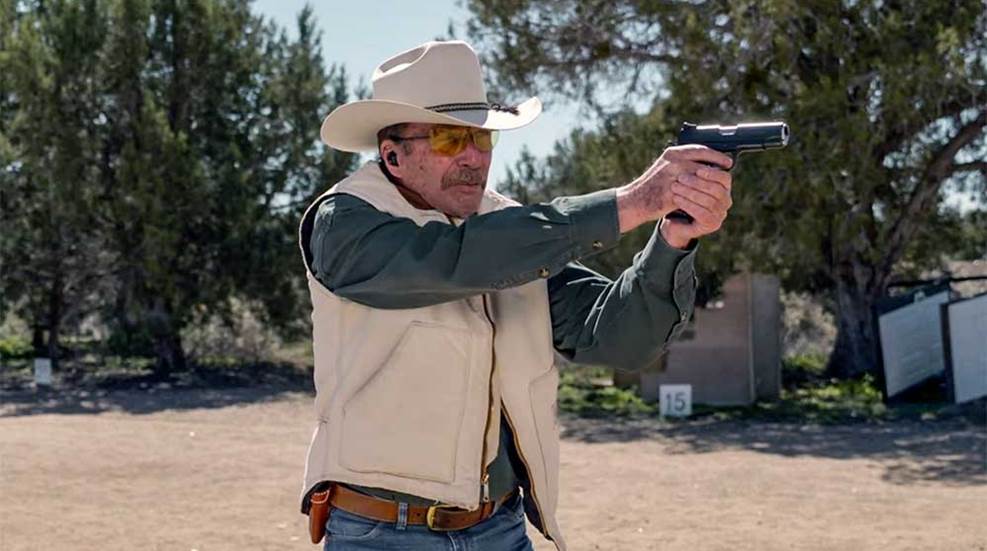 Panteao Productions has turned the video cameras on a pair of Shooting Illustrated's longest-term contributors who, although more accustomed to working behind the camera, eagerly and skillfully share their knowledge on all things gun—and more.
Panteao worked in conjunction with Nighthawk Custom to produce a short film available on Amazon Prime—"Up Close with Sheriff Jim Wilson." The 37-minute documentary is focused on Shooting Illustrated's field editor, who's also a singer, gunslinger and legend of the great American southwest. It features a jam session with gun writer Richard Mann, in which Sheriff Jim Wilson plays and sings. He also talks about growing up in Texas, becoming a peace officer, and writing for gun magazines, while sharing some of his best tales about southwestern lawmen.
After graduating college, Wilson began his law enforcement career as a patrolman in Denton, TX. From there he moved to southwest Texas as a Chief Deputy and later became Sheriff of Crocket County, TX. After serving two terms there, he began writing regularly for gun magazines, and has released three country western albums.
An Amazon Prime feature documentary on one of the iconic members of the gun world is a first for the firearm industry. Shooting Illustrated Ammo Editor Richard Mann, who hosts "Up Close with Sheriff Jim Wilson," said "It was an honor to produce this project and spend time playing music and visiting with a dear friend."
"Make Ready with Richard Mann: Defensive Pistol Fundamentals"—also from Panteao Productions—takes viewers through proper stance and grip, presentation from a holster, holster options, ammo selection, sight alignment, trigger pull, carry positions, shooting positions, reloads, shooting while moving, lights and lasers and more. Mann's background in both military and law enforcement shows in the video, along with the expertise he's accumulated at Gunsite Academy. He has also authored numerous books, including "Rifle Bullets for the Hunter," "Handgun Training for Personal Protection," "Shooters Guide to the AR," "Cartridges of the World," "Under Orion" and "The Scout Rifle Study."
"Make Ready with Richard Mann: Defensive Pistol Fundamentals" is available streaming for Panteao subscribers. It can be watched online via a PC or Mac, on a smartphone or tablet using the Panteao Make Ready Android and iTunes apps, or on television with the Panteao Make Ready channel on Roku, Amazon Fire TV and Apple TV. Visit
Panteao
for more information.