Fans and sportscasters aren't the only ones who watch professional athletes. Because of their fame and the public knowledge of their rather hefty salaries, criminals often target stars of the playing field for robberies, home invasions and a multitude of other offenses. Sometimes, these crimes have tragic results, like the 2007 home invasion and murder of Washington Redskins defensive back Sean Taylor. In response, National Football League Players Association (NFLPA) Executive Director DeMaurice Smith tasked the organization's Director of Security, Tim Christine, a former Secret Service Agent, to develop and implement a comprehensive training program designed to protect its members. The result, after several years of consultation, is the NFLPA/SIG Sauer Academy Training Cooperative.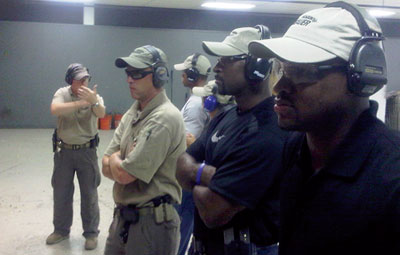 "Our research indicates our members own handguns at a similar rate to other areas of American society," Christine said. "Being responsible means to possess the knowledge and skills required to be safe, proficient and legal." To that end, SIG Sauer Academy developed a customized training manual for each participant in the program, all of whom are active or former professional football players. The two-day course covers key areas of instruction, including handgun safety, familiarization, safe-handling procedures and ammunition basics. But, it's not simply a safety class. Fundamental shooting techniques, presentation from the holster, loading, unloading and reloading, and dealing with stoppages and malfunctions are also taught by the Academy's cadre of instructors. Furthermore, equipment selection, legal issues associated with self-defense and concealed carry, maintenance and cleaning, proper storage, and the NFL's policies regarding firearms possession are additional topics taught to players attending the class.
After a pilot course in 2011, the inaugural training event was held in April 2012 at SIG Sauer Academy in Epping, NH. Twenty active and former players participated, including former New England Patriots Pro-Bowl tackle Matt Light. "Light was instrumental in the development of this program," Christine said. "Matt is an outdoor enthusiast and firearms owner, and also an expert in handgun sportsmanship proficiency." Other participants included Houston Texans (now Chicago Bears) safety Troy Nolan, former San Diego Chargers cornerback Scott Turner, Patriots center Ryan Wendell, guards Dan Connolly and Nick McDonald, tackle Nate Solder, defensive end Rob Ninkovich, and former linebacker and current Patriots chaplain Don Davis. Based on the number of New England offensive lineman who attended the class, one can assume Tom Brady is very well protected.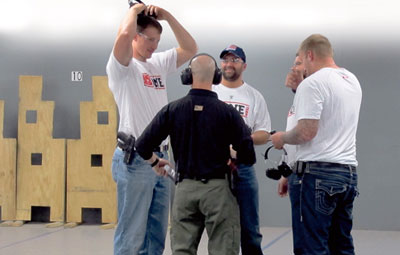 SIG Sauer provided P226 and P229 handguns, which, according to SIG Sauer Academy Director Adam Painchaud, "looked like pocket guns in the pro-football players' massive hands." Though some players, like Light and Wendell, had previous experience with firearms, most did not. Yet, Painchaud said everyone in attendance proved an excellent student. "The nice thing about working with professional athletes is they pick up on instruction really quickly. They were very capable and had a lot of natural skill, which is not surprising because they are world-class athletes."
Likewise, the players found the instruction indispensable. Solder said, "I had…basic safety questions answered as well as many new safety and legal issues illuminated that I had never thought of before, all which I believe make me a safer, more well-informed citizen and potential gun owner." Several players also endorsed the Academy to anyone looking for firearm instruction. "I would definitely recommend the class to anyone who owns [a handgun] or [a] future owner of a handgun," Ninkovich said. "The instructor was very informative about everything a person needs to know when handling a gun safely." Nolan added, "The SIG Sauer Academy really had a huge impact on me. I really gained a lot of valuable information." McDonald added, "Many people own a gun and don't properly know how and when to use a firearm. [The SIG Sauer Academy] will provide a foundation for those with no experience with firearms."
According to Christine, plans are in place to hold the NFLPA class on at least an annual basis at SIG Sauer Academy, with an additional class scheduled at a West Coast location to better serve NFLPA members who might have difficulty traveling to New Hampshire.
In contrast to the NFLPA's proactive efforts to help its members learn firearm safety and proficiency, the League has a candid—if not misguided—policy regarding firearms. NFL Senior Vice President of Communications Greg Aiello provided Shooting Illustrated with the League's official policy on guns. "Whether possessed legally or illegally, guns and other weapons of any kind are dangerous," the policy begins. "You and your family can easily be the losers if you carry or keep these items in your home." It goes on to list the various prohibitions put in place by the League, summarizing with the admonition: "...recognize that you must not possess a gun or other weapon at any time you are performing any service for your team or the NFL."
While the League recognizes some situations where players may have access to firearms and does not actively discourage players from participating in legal shooting activities, it puts heavy weight on alleged negatives of firearm ownership: "Any weapon, particularly a firearm, is dangerous—especially when it is in a vehicle or within reach of children, or around others who are not properly trained in its use."
Christine responded to the League's policy with a simple statement: "The NFLPA recognizes the Second Amendment rights of our members." He added that, "The NFLPA feels we have an obligation to ensure our members benefit from having access to [expert] training and information offered by the SIG Sauer Academy."