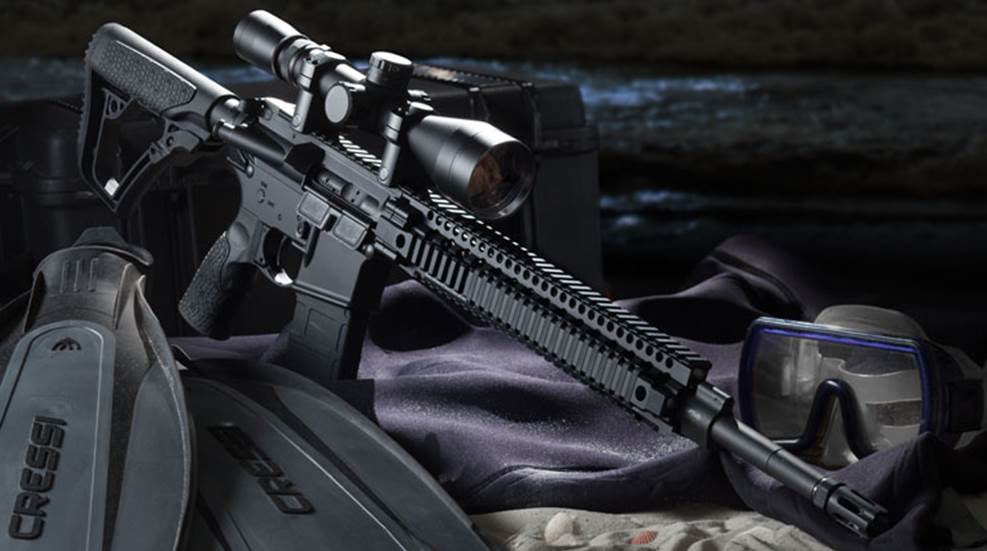 The term "SPR" has become the AR world's generic term for both an accurized, 18-inch-barreled, 5.56 NATO-chambered rifle and the specific contour of the barrels for rifles of the same designation. Militarily, SPRs are used by spotters from two-man sniper teams and for primary sniping duties in situations where larger-caliber sniper rifles are either unavailable or impractical. In private hands, SPR-type ARs hold dominion over prairie dog towns and are often found in 3-gun and precision-rifle competitions. The title originally referenced a Special Purpose Receiver that was a component of USSOCOM's SOPMOD kit. The SPR upper receiver was developed to provide Special Operations Forces with more reach for its 5.56 NATO-chambered weapon systems. The demand for this capability eventually became strong enough that it was classified as the MK12 family, and is now commonly referred to as a Special Purpose Rifle. Various people and military factions lay claim to hatching the MK12 concept, but the platform actually traces its lineage to accurized, highly modified CAR-15s used by select Special Operations troops at least as far back as the early 1990s.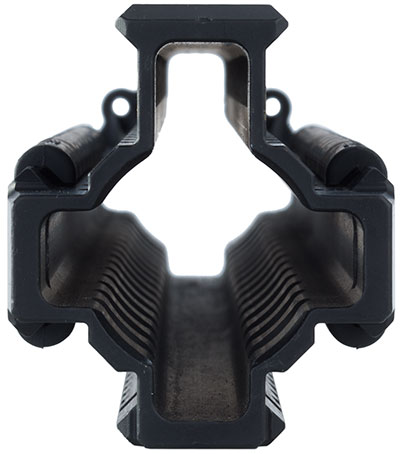 The important point is the MK12 remains a viable platform wherever there is a need to place accurate fire out to the mid ranges from a reasonably portable rifle. Several commercial firearms manufacturers have offered their own versions of the SPR platform, but most mimic the naming scheme and general features more so than the required performance. Daniel Defense takes an authentic approach with its MK12, however, bringing to market a rifle that lives up to its lineage, and then some.
This take on the MK12 generally follows the familiar military configuration, but with a few extras thrown in to sweeten the pot. The 18-inch, stainless steel, cold-hammer-forged barrel has a nitride surface treatment, which provides the dual benefit of extending barrel life and providing a nearly corrosion-proof black finish. Daniel Defense's own "Improved Flash Suppressor" is a quasi-birdcage design I found actually helped manage recoil nicely. Another company-specific touch is the inclusion of its beefy 12-inch quad-rail freefloat tube, providing ample real estate for gun lights, bipods, inline night-vision devices, lasers, smartphone cradles, vertical grips, drink holders and a kickstand. Three ladder-style rubber rail covers are included for those weight-conscious shooters who avoid attaching everything under the sun to their guns. The fore-end also has fore and aft quick-detachable sling-mount sockets on each side of the freefloat tube.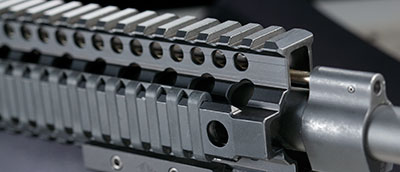 The MK12's upper receiver appears to be a standard forged-type flattop with feedramp cuts and slot markings for the top rail. The lower receiver is likewise pretty standard, but with a slightly exaggerated flare to the magazine well to help guide magazines during rapid reloads. An enlarged trigger guard provides winter-friendly space for gloved hands, while Daniel Defense's partially rubberized pistol grip is comfortably angled and textured. The grip has a trapdoor for storage that is frustratingly difficult to open. I found that the tip of a cartridge is most useful to pry the cap open, but it went flying each time I pulled it off. I suppose the reasoning is, if you are frantically attempting to retrieve that critical last bullet or pack of survival crackers, you will not much care about where the cap ends up. I cannot argue with that logic—I've been hungry enough while pulling security on a cold winter's night to chew through the cap to get to my pistol-grip snack stash.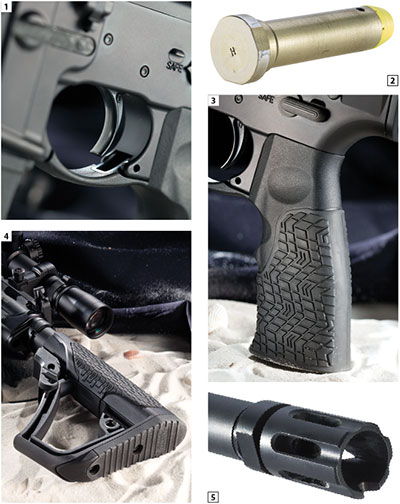 A rear-facing QD sling-attachment point is provided just under the receiver extension in the endplate. This position works well for single-point sling fans, but is nearly invisible if unused. More company-specific flair is evident on the collapsible stock, which shares the same soft rubber-panel inserts found on the pistol grip. QD sockets are provided on either side of the stock, as is a slot for old-school sling routing. The stock's release button for making length-of-pull adjustment is well designed and placed. Though it sits near the traditional location of M4 and CAR stock latches, it is placed high and shaped so that it will not be inadvertently pressed by a prone shooter's support hand or a sand sock. The stock's toe is sufficiently long enough that use of a support hand or sand sock for rear stabilization is easy. Not many collapsible stocks work equally well in both prone and upright shooting positions, but this one does.
A rifle's fire controls can make or break its performance in the hands of a shooter, and the MK12 does not let down here, either. A Vltor/BCM Mod 4 charging handle provides just the right-size latch to grab under a long riflescope and redirects gas away from the shooter's face by way of a raised shield on its topside.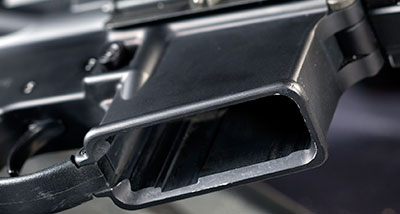 Daniel Defense chose Geissele Automatics' Super Semi-Auto (SSA) two-stage, match trigger as standard issue on the MK12. This is a great choice, as the 4.5-pound SSA provides the perfect balance between precision-fire capabilities and a trigger that is not so light it will lead to trouble under stress. The second stage's 2.5-pound break weight is perfect for a wide range of shooting situations. Geissele triggers are found in the guns of many serious shooters who require both precision-shooting capability and unfailing reliability in extreme environments. Since retiring from the U.S. Army in 2008, I have fired more than 80,000 rounds through AR platforms alone. The vast majority of those rounds were fired with Geissele SSA and SSA-Enhanced triggers—it is a damn good trigger, and a perfect fit for this rifle.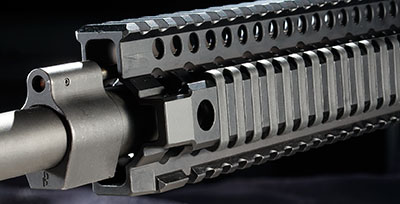 Two other popular internal features are an "H" (heavy) buffer and full M16 bolt carrier. Both items add weight to help slow down the bolt carrier and reduce the slamming recoil impulse that results when the buffer is fully rearward during the cycle of operation. I am not sure the extra mass is really needed in an 18-inch barrel with a rifle-length gas system, but this is one smooth-shooting rifle, so it certainly does not hurt anything here. A Carpenter 158 steel bolt is the final touch on an already stellar setup. Carpenter is generally re-garded as being less brittle—and hence less likely to crack—than the more common 8620 steel found on most AR bolts. Both steels are considered acceptable per U.S. military specifications for M16-family bolts.
Fun in the Sun
Running this new rifle through its paces in both prone/slow-fire and standing/rapid strings did not yield a single hiccup in the 130 rounds fired. I ended up testing the MK12 on one of the last hot days of summer. With temps in the 90s and 80-percent humidity, I expected to find some cratered primers or other signs of pressure spiking common at this time of year. However, all cases were in good shape when the shooting stopped, and brass distribution on the ground was consistent for each ammo type. Even a magazine's worth of steel-cased Russian fodder cycled through the dirty rifle without a hiccup. That is hardly a high-endurance test, but I shot more than enough ammunition through the MK12 to see it shine during the accuracy portion of my evaluation—and shine it did.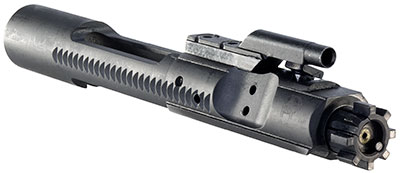 I chose three loads covering a wide range of the bullet-weight spectrum. The low end was represented by a 55-grain load for hunting and/or defense, and a 77-grain load sat on top. Not surprisingly, the 1:7-inch-twist barrel favored the heavier and longer projectiles, but it shot very well across the board. The average of all ammo types and groups fired through the gun for accuracy was .96 MOA. That is sub-MOA out of a factory rifle and with the worst-firing ammo factored in. However, this is a $2,000 factory gun, so sub-MOA should be the norm. The real story comes when you look at how the MK12 did with the round that was designed specifically for this type of rifle: Black Hills Ammunition's 77-grain MK262 load. An average of .71 MOA over all 77-grain groups is very impressive. The best group of the day—.42 MOA—was testament to the rifle's capabilities with the right ammo. This was no surprise to me, having consumed a large quantity of Black Hills' 77-grain commercial and military loads over the past decade-plus. It is my hands-down favorite accuracy load for any 5.56 NATO or .223 Wylde-chambered rifle with a 1:8- or 1:7-inch twist.
Shooting the MK12 upright and up close was a breeze. The 18-inch barrel handled very well both when transitioning from one target to another and for follow-up shots. While the fore-end was a little bit on the heavy side for my liking, the rifle was very pleasant to handle and shoot.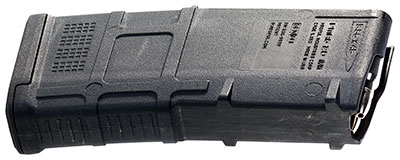 I have heaped much praise on Daniel Defense's version of the MK12, and for good reason: It is a good rifle. Although priced in the custom-rifle realm, the performance provided is right on par with what you should expect for your money. I do not say that lightly. I am a licensed firearm manufacturer and spend the majority of my time squeezing the maximum possible performance out of ARs of every style and flavor. I turn a very critical eye toward ARs—especially expensive ones—because I know exactly how well they are capable of performing. Therefore, any really good factory rifle is a real treat for me to shoot. My only complaints about the MK12 are nitpicky and entirely related to personal preference. I'd swap the heavy quad rail for a smooth/customizable fore-end, switch to a suppressor adaptor and add an ambi safety and some backup sights. That is all. This gun performs as advertised right out of the box and should raise the bar for high-end, factory 5.56 NATO rifles. 
If Daniel Defense can turn out every MK12 to perform like my production sample, the company will have hit a home run. I have added this rifle to the short list of guns I would have happily carried in harm's way back when I was in uniform.