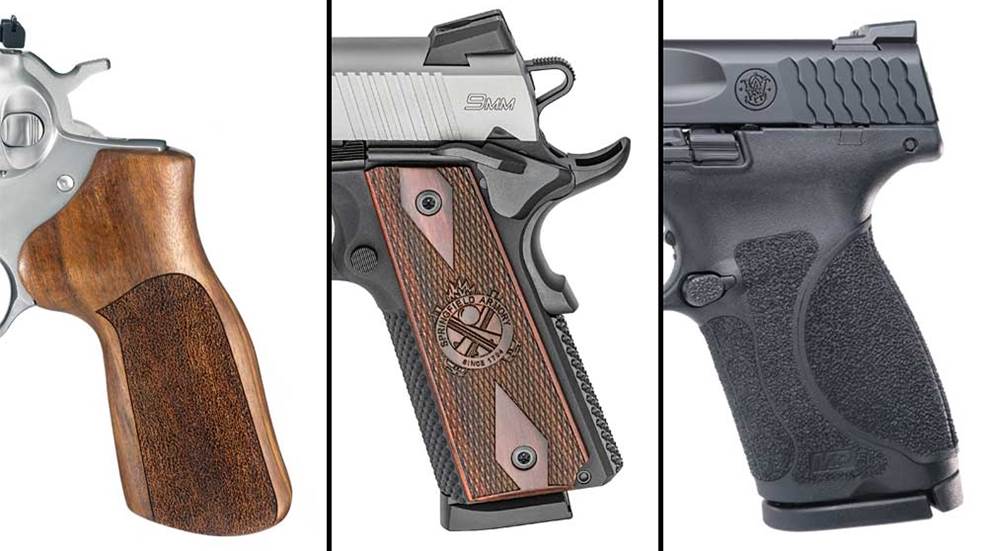 The basics of mastering a handgun never change. They have been in place since the first handgun was designed centuries ago. It really doesn't matter whether you're shooting a flintlock or a striker-fired semi-automatic pistol, the elementary standards of proper handling remain in place. Those standards are sight picture, trigger control and proper grip of the handgun.

While all of the aforementioned basics are equally important, I believe proper grip of a handgun is a factor often taken for granted by some shooters. Prior to the advent of polymer-frame pistols, most handguns were equipped with stocks that could be changed easily by the shooter. This is so with revolvers and semi-automatics such as the 1911, Browning Hi-Power and many other models.  The chance to easily change grip styles and shapes was, and is, a great benefit to the shooter. The ability to replace the grips quickly and easily allows shooters to customize handguns to their personal tastes while adjusting the grips to their hand size and comfort level. 

Out-of-the-box revolvers are sometimes fitted with factory-made stocks that are often too bulky for many shooters to handle comfortably. Engineers and manufacturing companies make attempts at designing grips that fit most shooters universally, but frankly, they are rarely a good fit, at least for me. 

Each shooter has personal tastes regarding the fit and feel of the grip in their hands. Personally, I like a very thin grip, though my hands aren't that small. My first carry sidearm when I started in law enforcement was a Smith & Wesson Model 586 .357 revolver. The gun was fitted with custom stocks made by Bear Hug grip company. The late Deacon Deason was the owner of the company, and custom-fit a set of figured walnut grips for my revolver, which were unusually thin. They were what he referred to as "combat grips."  Actually, the grips were designed by my late father, Skeeter Skelton. Dad had taken a pair of Roper grips and modified them to his own liking. Roper was a famous grip maker decades ago. Deacon Deason took on the design and later referred to them as "Skeeter Skelton"-style grips, and sold a tanker load of them, and rightly so.   

The unfortunate passing of Deacon Deason left a bit of a hole in my custom-grip source. Ted Adamovich and his outfit, Blu Magnum, later took over part of Deason's operation and continued the Bear Hug tradition.

Another fine grip maker I had the pleasure of working with a few times was Roy Fishpaw. Roy's work was spectacular. Working with materials such as Dahl sheep horn, French walnut, ivory and other good stuff, Roy fit custom stocks to some of the finest handguns ever built. These days, Rob Rowen of Rowen Custom Grips does grip work that matches the quality of Fishpaw, mainly because Roy Fishpaw taught him how. Rob built a set of walnut stocks to my old Smith & Wesson 629. The fit is incredible and the wood stunningly beautiful.

There are several other outfits making custom grips for virtually any sort of handgun. One of the best out there is Eagle Grips, run by my friend, Raj Singh. Eagle Grips offers a large variety of patterns and materials in its grip lineup, and I've always been satisfied with the ones I've used. Another great company that offers a range of custom grips is Altamont, which has options for pretty much every popular handgun model on the market.

In my estimation, a custom grip should be designed to make the shooter completely comfortable each time he or she grasps the firearm. It's important that the grip be designed to comfortably fit the shooter's hand when he or she grips it the same, every time. Thus the importance of the custom grip. 

During my early law-enforcement career, revolvers were used almost exclusively for police work. I was told by more than one "old salt" that criminals paid attention to an officer's sidearm. A seasoned bad guy, seeing that an officer carried a handgun that bore custom stocks might think twice about pulling a stunt, as the officer might have better than normal skills with a sidearm.

These days, polymer-frame pistols seem to be the norm with not only law-enforcement agencies, but also civilian shooters. At one time, these type of pistols were basically one size only.  Fortunately, many manufacturers have offered pistols with replaceable backstrap inserts of various shapes and sizes—an excellent idea. 

Another popular customization technique for polymer-framed pistols is stippling. This is a relatively simple procedure in which patterns, which can vary in size and shape, are carved or melted into the grip. While this technique doesn't necessarily change the actual grip shape, it does offer the shooter a better purchase on the grip and also can provide an aesthetic improvement.

Personal taste when it comes to a shooter's handgun is all-important. If factory stock suits you, then perfect. If not, don't be shy about customizing your handgun grips to your liking. Custom grips enhance a handgun not only in an eye-pleasing way but also in performance.