Sometimes, it can be difficult to determine whether a knife is a tool or a weapon. In the case kukri-style knife such as the CUMA TAK-RI, however, there are many additional elements to consider.
Patterned after the traditional "khukuri" utility knife/weapon of Nepal, the kukri has a long history of very effective use by the Gurkha regiments of that country's military as well as that of Great Britain. Dating back as early as 1559, kukris continued to see action during the Gurkha War of 1814-1816, the Falklands War in 1982 and even today. On Sep. 2, 2010, Bishnu Shrestha, a Gurkha soldier, effectively demonstrated the lethality of the kukri when he used one in an attempt to stop 40 armed men from seizing control of the train he was riding and robbing the passengers. His actions resulted in the death of three attackers, eight wounded hostiles and a prompt retreat of the remaining criminals.
In addition to symbolizing the bearer's courage and valor on the battlefield—similar to the significance of the Bowie knife at the Alamo—the kukri is used by various ethnic groups of Nepal and is included in wedding ceremonies as part of the groom's ceremonial attire. Its inwardly curved shape of its cutting edge resembles the shape of Nepal, giving the kukri a sort of iconic value as well. The knife also features prominently in the Hindu religion where they are blessed as part of the annual Dashain festival.
So, in addition to having large shoes to fill, what sets the CUMA TAK-RI apart from its historic predecessor? Designed by the founder of Combined Universal Martial Applications (CUMA) SiJo Waysun "Johnny" Tsai studied martial arts for more than 31 years (including 25 years as an instructor). He currently holds the rank of eighth-degree black sash in the Tsai Family System and Tai Kit Kuen (grand snake fist) styles of kung fu, and is considered to be one of the world's foremost experts in practical street defense. Criteria for the design included developing a functional knife capable of close-quarters combat, street defense and utilitarian use by outdoorsmen/sportsman.
To ensure the knife provided maximum durability and strength, he approached TOPS Knives founder Mike Fuller. The company's products are designed to be used as tools and are conceived from the collective real-world experience of 12 military and law enforcement operators with backgrounds in various outdoor professions, martial arts and survival.
Made from 1095 high-carbon steel, the design of the TAK-RI's full-tang blade somewhat retains the traditional kukri shape. I say somewhat because although it doesn't encompass the same distinctive forward drop or a narrowness around the flat portion of the blade between the handle and the sharpened edge—or ricasso—like a traditional kukri, the essence of the TAK-RI lies in the unusual shape of its blade. Measuring slightly more than 6 inches long, 2.5 inches wide at its widest point and an impressive 3/16-inch thick at its hefty spine, it widens in kukri fashion, forming a continuous curve with a large belly that ends in a point. Unlike traditional kukris, however, the TAK-RI sports a double-edge configuration and consists of a partially serrated 7-inch bottom edge, along with an unsharpened 4-inch top edge.
When wielded, its mass and shape works to drive the blade deep into whatever it strikes, enabling you to hack the starch out of something—or someone, for that matter—and still have the utilitarian versatility for everyday slicing or slashing tasks. With regard to chopping, the TAK-RI's massive blade would perform well as a hatchet or small machete. As a thrusting weapon, however, the TAK-RI would be devastatingly effective due to its weight and long, wide blade. The top edge would cause the blade to penetrate deep. Along similar lines, when plunged into an opponent's torso, the blade's geometry would create a deep, wide wound that would widen even more when withdrawn. Its serrated portion is beneficial for cutting things like rope since the angles provide multiple cutting edges each time the blade is drawn across.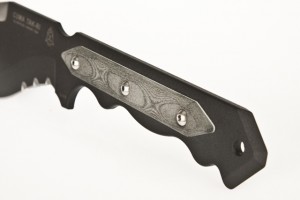 Four finger grooves span the bottom of the TAK-RI's tang, the first of which is extra deep to serve double-duty as the knife's guard. Opposite it, a shallow recess along the top of the knife's spine provides an excellent place for your thumb.
Two narrow micarta strips secured by six hex screws comprise this modern-day kukri's handles. While I understand the appeal of using hex screws compared to other more traditional pins or rivets, bright unfinished components have no place on a tactical knife. Although a minor issue, it appears to have been overlooked. Regardless, it's easily remedied by bead blasting or somehow roughening the screw heads to give them a non-reflective satin finish.
In addition to containing a hole for a lanyard, the pommel is pointed with beveled edges. It would serve well as an impact weapon in instances where nonlethal action is required, or as a glass breaker. As a survival implement, the pommel would be good for scraping tree bark for a tinder bundle.
My primary complaint with the TAK-RI concerns the lack of material in its handle, which, despite my large hands, made handling the knife feel very awkward no matter how I gripped it. Interestingly, several of my coworkers who are also knife enthusiasts voiced the same concern. As I understand it, the sparse amount of micarta was a conscious means of weight reduction. Nonetheless this absence surprises me, since a comfortable grip is of vital importance in maintaining proper knife-handling technique. With that in mind, I believe the TAK-RI would be better if it had a larger-diameter, more hand-encompassing handle to work in concert with the finger grooves. The TOPS-made Tom Brown Tracker offers an excellent example of the best of both worlds. Another alternative for providing comfort and purchase without unnecessary weight would be a simple paracord-wrapped handle. Or, stick with tradition: a handle with a rearward swell would provide optimal hand placement and maximum purchase for hacking and slashing—not to mention resemble classic kukri design. Bottom line: while the TAK-RI's handle proved lackluster for me, it may work fine for others. The only way to know for certain is to try one for yourself.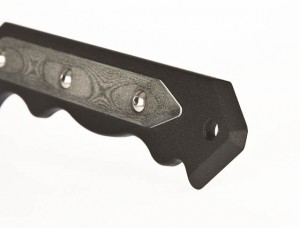 The TAK-RI comes with a ballistic-nylon sheath that can be worn on a belt or secured to load-bearing equipment via numerous eyelets or a strap that spans the underside of the sheath. It also contains a pouch for accessories such as a ferrocerium rod or a whetstone and a paracord tiedown. Four loops enable you to secure the sheath to MOLLE attachments or horizontally to a belt. My only complaint about the sheath is its retention straps utilize hook-and-loop fasteners. Such material is out of place when used with a tactical knife, as it would make unsheathing the knife with any degree of speed and stealth quite difficult and produce a lot of noise.
For fans of large, kukri-style knives, the CUMA TAK-RI is certainly worth a look. The same can be said if you're looking for an outdoor, sporting or survival knife. Given a few minor ergonomic design modifications, I believe the CUMA TAK-RI would be even better suited for tactical use.