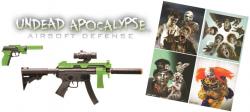 Intended to keep you safe from the living dead, Undead Apocalypse™ Airsoft defends you from the seemingly endless scourge that preys on human flesh. The new brand features everything from automatic electric airsoft rifles to tactical pump shotguns, powerful CO2 air pistols, ammo and spooky, un-lifelike targets.
According to Vice President of Marketing and resident zombie authority, Roy Stefanko, "All you need to successfully guard against impending doom is included in this new category of airsoft products. Undead Apocalypse offers much more resourcefulness than your average back yard airsoft. We created each product to work in conjunction with the others to help you keep the undead at bay long enough to survive until the next sunrise," he said.
To assure long-term human proliferation, it's imperative to consider the many different scenarios that can come into play when zombies attack. "There is an art to deterring the undead," says Stefanko, "and the more practice you have, the better." Undead Apocalypse products take into account the importance of preparation and practice.
Stefanko's faithful assistant Ned (not exactly dead), has a lot of experience in this matter and suggests you create some temporary zombies of your own for practice. "Choose the Zombie Serum Marking BBs to give rise to as many zombies as you can handle, and get a real taste for destruction," said Ned. "Once you've had enough practice with your artificially created zombies, you can cure them with the Zombie Antidote Marking BBs. If you think you still don't possess that edge of confidence required at the moment of truth, consider spending more time with target practice using the Zombie Fun Kit Targets. You'll find a quartet of freaky, lifeless ghouls to take aim at while perfecting your nerve at the same time," Ned commented. http://www.crosman.com/airsoft/undead/ASZKT20
"You won't believe how much fun it is to go zombie hunting with these Undead Apocalypse airsoft guns," says Ned. "For some unexplained reason, the special green finish on the guns scare off the undead as soon as they see them coming!" he said.
According to Stefanko, "With help from my pal Ned, we've formulated exactly what you need for prep, beginning with the Z71 Zombie Eraser." This metal-barreled AEG rifle with a 500 round, gravity fed, see-through hopper and a removable stock and compensator, "is essential when a zombie outbreak requires maneuverability in urban or close quarter areas," says Stefanko. http://www.crosman.com/airsoft/undead/Z71
"When you enter an infected zone," says Ned, "the ZT32 Zombie Terminator leaves no doubt about the victor." It provides pump-and-shoot protection shooting at up to 350 fps. The ZT32 features a pistol grip, adjustable hop-up system and high capacity magazine. http://www.crosman.com/airsoft/undead/ZT32
The CO2 powered TACZ11 is the ultimate undead-eliminating sidearm. This tactical, semi-auto pistol is the ideal protection when stealth is critical. The compensator helps you get in close without alerting nearby zombies, and the quad rail accepts multiple accessories of your choice. http://www.crosman.com/airsoft/undead/TACZ11
The undead can be anywhere, and when you least expect it, a trusty handgun might be your best defense. According to Ned, "make sure you're carrying a reliable backup gun." The Z11 Zombie Eliminator is a compact, heavyweight pistol with an under-barrel, weaver-style rail for adding accessories. The quick-release 16 round clip "allows for fast reloading when they're coming at you fast," said Ned. http://www.crosman.com/airsoft/undead/AMZ11
Keep an eye open for additional zombie killing products that will be added to the category. "While they look rather senseless, zombies can be creative creatures, so it's important to always arm yourself with the newest and most advanced defensive tactics. That's where Undead Apocalypse is here to help you. Get yours today and begin prepping your zombie survival kit with everything you need for a face-to-half-a-face zombie confrontation," says Stefanko.
For additional information on the new Undead Apocalypse airsoft brand, or on any Crosman, Benjamin, CenterPoint precision optics products, Crosman Archery, or Game Face Airsoft products, visit the company's Web sites at www.crosman.com, www.centerpointoptics.com, www.gamefaceairsoft.com, or write to Laura Evans, Marketing Coordinator, Crosman Corporation, 7629 Routes 5 & 20, Bloomfield, NY 14469, email her at [email protected], or call her at (800) 7 - AIRGUN (724-7486).
For up-to-the-minute news from Crosman Corporation, follow us on Twitter (http://twitter.com/crosmancorp) and Facebook (http://facebook.com/crosmancorp).