by
Shooting Illustrated Staff
posted on January 13, 2012
Support NRA Shooting Illustrated
DONATE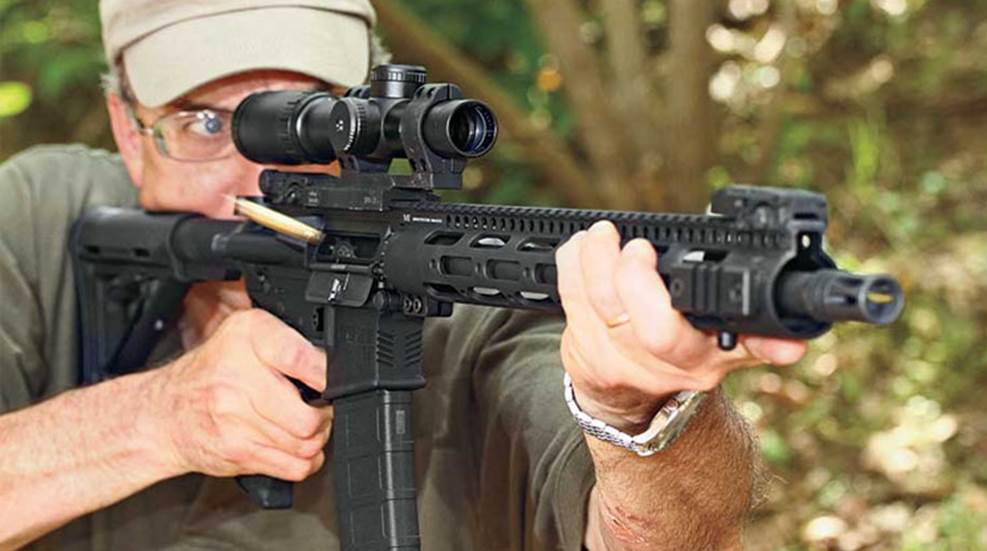 Throughout 2011, Core15 has made significant additions to their product line, personnel complement and manufacturing capabilities.
Unique to the industry, Core15 makes two separate types of enhanced finishes available on every model in their line, to any customer interested in them. Both Cerakote™ and Type III Class II Hard Coat Anodized finishes are available in OD Green, Flat Dark Earth and Foliage, with quick fulfillment lead times.
"In addition, our entire rifle portfolio features the Core15 Hardcore Charging Handle, "stated Israel M. Anzaldua, Vice President of Sales and Business Development. "These tactical charging handles are machined from billet aluminum, not forged. We also manufacture sling adapters and three unique styles of trigger guards - all from billet aluminum."
Bluegrass Armory will also be launching the Moonshiner bolt action rifle chambered in .308 Winchester, .300 Winchester Magnum and.338 Lapua. New additions include 1913 Picatinny rails on the top of the action and on three sides of the fore end along with a new adjustable trigger with a 3.5 lbs. pull set at the factory.
Different from most bolt action rifles, the Moonshiner is a bull pup design with barrel lengths of 20", 24" and 26" respectively for the 3 calibers. The .308 Moonshiner measures the same length as a standard 16" M4 carbine with the stock fully extended, making it very compact while still capable of shooting over 1,000 yards. The .338 Lapua is the premier platform capable of engaging targets beyond 1,500 yards.
"This is another example how Core15 & Bluegrass Armory continue to deliver interesting and meaningful products for our customers, giving them the widest range of product options possible," says Anzaldua. "In addition to our new products, we have re-launched our website, fielded a Mobile Sales and Promotion Unit and made new additions to our staff; all of which gives us the capability to provide even better service to our customers and to shooters."
Come and see Core15 Rifle Systems & Bluegrass Armory at the 2012 SHOT Show in Las Vegas, Nevada, Booth #2331.
About Core15 Rifle Systems & Bluegrass Armory
Core15 Rifle Systems, based in Ocala, Florida, produces a full line of AR-15/M-16 and M-4 Type rifles for Commercial, Law Enforcement, Government and International customers. In addition to quality firearms with good value, Core 15 carries a complete line of parts and accessories. As a wholly-owned subsidiary, Bluegrass Armory manufactures large-bore, bolt action firearms Providing a platform in our Moonshiner Rifle that can shoot 3 different calibers .308 Winchester, 300 Winchester Magnum and 338 Lapua.
Core15 Rifle Systems...where mil-spec is just a starting point