Damascus blades, titanium liners, carbon-fiber scales, or a black cord-wrapped handle, we all have select features that make a knife ideal. Still, there's something to be said for simplicity. In the case of Columbia River Knife & Tool's (CRKT) K.I.S.S. (Keep It Super Simple) Knife proves how a straightforward design, devoid of bells and whistles continues to be the company's best-selling blade for everyday tasks.
Unlike most traditional folding knives, the K.I.S.S.—which sports a 2.25-inch blade with a single-sided chisel-point grind along with a tanto-style point—doesn't pivot into a handle for storage. Instead, when closed, the flat portion of its partially serrated blade rests against its handle. As the blade is extended, the bottom of the knife's frame serves double-duty as its lock.
A thumb stud located along the top rearward portion of the blade facilitates on-handed operation (at least for some). Unfortunately, it yields no benefit for my southpaw affliction, so it's destined for removal—a further tribute to the K.I.S.S.' simplistic design.
The other side of the handle contains a rather hefty pocket clip that contains two stylish elongated holes. Secured by a two screws, it provides ample retention and should alleviate any concern of loss. Should you opt to carry your K.I.S.S. by more traditional means, however, the clip can also serve as super-swank money clip. The handle also contains a hole for attaching a lanyard.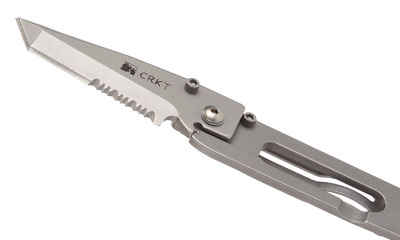 Given its innovative design and handy size I can easy understand the popularity of the K.I.S.S. As such, for my needs I find it best suited for daily utilitarian tasks like opening correspondence and packages, although the serrated portion of the blade will make short work of cutting things such as small-gauge rope and paracord.
From the standpoint of a firearm enthusiast, the blade is just the right size and shape to open stubborn boxes of ammo as well as slicing the seam on bricks of rimfire ammunition. Best of all, at a mere 3.5 inches closed you can stick it in your range bag and forget about it until it's needed.
Sporting an innovative design and a cool look, CRKT's K.I.S.S. proves a knife doesn't need to be fancy or large to accomplish common everyday tasks.