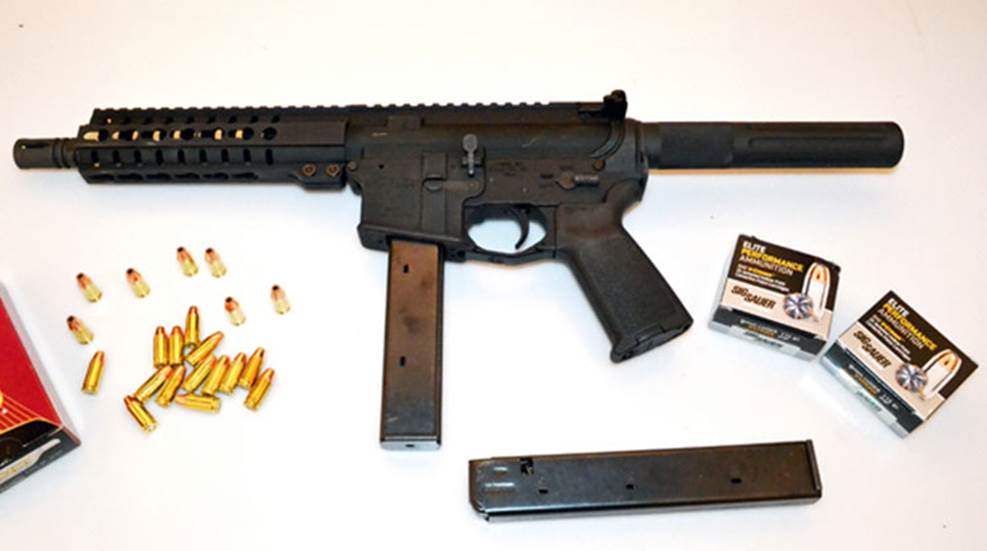 Sometimes, a gun appeals to you even though, logically, it has no right to. The CMMG Mk9 PDW (Personal Defense Weapon) is just such a firearm. It's a pistol based on the AR-15, which means it's larger and heavier than it needs to be for a 9 mm handgun. While it can accept 32-round magazines, so can the much smaller Glock 19—capacity isn't the reason for owning this, either. However, take a trip to the range and you'll understand the appeal.
The Mk9 PDW pistol is just plain fun, and sometimes we need to be reminded that guns can be a lot of fun. Rimfire models often fill this roll, with negligible recoil and (until the past couple of years) cheap and plentiful ammunition. In the case of the Mk9, however, you get centerfire punch (like for knocking over steel plates or bowling pins) with very little recoil. It doesn't hurt that you're likely to draw a crowd with an AR-based pistol at the range.
One thing the Mk9 won't do, however, is attract a crowd because of malfunctions. In well over 500 rounds of varied testing, from procedural velocity and accuracy testing to informal plinking to competitive steel plate dueling tree runs, the Mk9 performed without a hitch. A wide variety of ammunition, from 100-grain frangible +P loads to 147-grain subsonic offerings, as well as standard 115- and 124- grain FMJ fodder all proved no match for the Mk9, which digested all rounds happily and kept on running.
Accuracy was nothing short of outstanding, although with an 8.5-inch barrel and plenty of weight to soak up recoil that's not out of the ordinary. One-inch groups at 25 yards were not uncommon, and it was rare to see a shot that went wide by more than that amount under even rapid fire conditions. The size of the Mk9 PDW gives a lot of real estate to hold onto when firing, leading to a stable platform that shoots very well.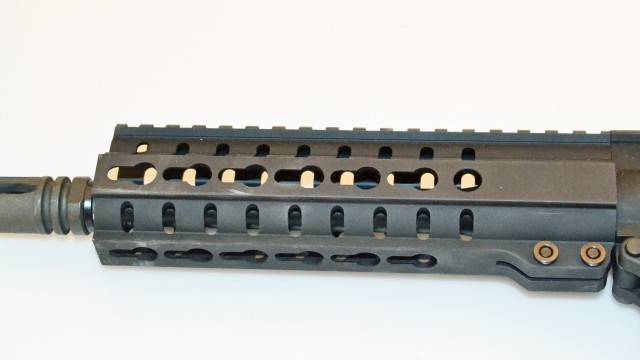 The AR-pistol configuration, if unfamiliar, takes a little getting used to when compared to a standard pistol. When the strong hand is held straight out it's not problematic, but an 84-ounce handgun gets heavy. Once the strong hand bends a bit, the buffer tube wants to burrow its way into the crook of your arm. Resting the 6-slot KeyMod-equipped handguard on a sandbag, range bag or other improvised rest reduces fatigue and assists in accuracy, as does bracing the support hand against the magazine well.

Is it for everyone? Hardly. AR-style pistols are a fairly niche market, whether in the traditional 5.56 NATO chambering, 9 mm or even .22 LR. They're unduly heavy for pistols, are rather awkward for extended firing sessions and are neither fish nor fowl when it comes time to take them off the range. While they can be slung like a rifle, not every jurisdiction is understanding about such types openly carried.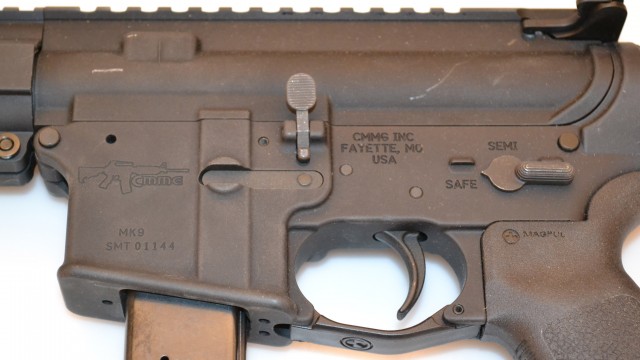 They do offer increased accuracy and power, however. The typically longer barrels in AR-style pistols mean more velocity is wrung out of even pistol calibers than in a standard 4- or 5-inch barrel handgun. Capacity is equal to or greater than a traditional handgun, but really, where the AR-style pistols excel is just plain fun. "Because I want one," "Because it's cool" and "Because 'Merica" are all perfectly valid reasons for getting an AR-style pistol.

In any case, no matter what reason you may have for wanting a pistol based on the AR-15 action, the CMMG Mk9 PDW is a worthy choice.
Specifications
Manufacturer: CMMG; 660-248-2293, cmmginc.com
Type: Semi-automatic, direct-gas-impingement
Caliber: 9 mm
Capacity: 32 rounds
Grips: Magpul MOE
Barrel length: 8.5 inches
Rifling: 1:10-inch RH twist
Sights: None; Picatinny rail for mounting optics or iron sights
Trigger Pull Weight: 6 pounds
Length: 25 inches
Width: 2.375 inches
Height: 7.25 inches
Weight: 5 pounds, 4.8 ounces
Accessories: Magazine, KeyMod handguard
MSRP: $1,099.95

Shooting Results
| | | | | |
| --- | --- | --- | --- | --- |
|   |   |   | Group size |   |
|  Load |  Velocity | Smallest | Largest | Average |
| CCI Blazer Brass 115-grain FMJ | 1,281 | .82 | 1.36 | 1.03 |
| HPR 124-grain JHP | 1,095 | .89 | 1.96 | 1.23 |
| Hornady 147-grain JHP | 1,147 | 1.02 | 1.51 | 1.21 |

Velocity measured in fps at the muzzle for 10 consecutive shots with an Oehler Model 36 chronograph. Temperature: 57 degrees Fahrenheit. Accuracy measured in inches for five consecutive, five-shot groups at 25 yards from a rested, seated position.