by
posted on February 4, 2021
Support NRA Shooting Illustrated
DONATE
While nobody is walking the floor for the 2021 SHOT Show, that hasn't stopped the release of dozens of new handguns. 2020 was a record year for firearms sales with most folks buying something to protect their home. If you have held back on making this purchase, the good news is that you have even more options going into 2021. We scoured press releases and sat in on a handful of digital meetings and were presented with quite a few new innovative designs. Here's a look at some of our favorites. 
Stoeger STR-9S Combat Pistol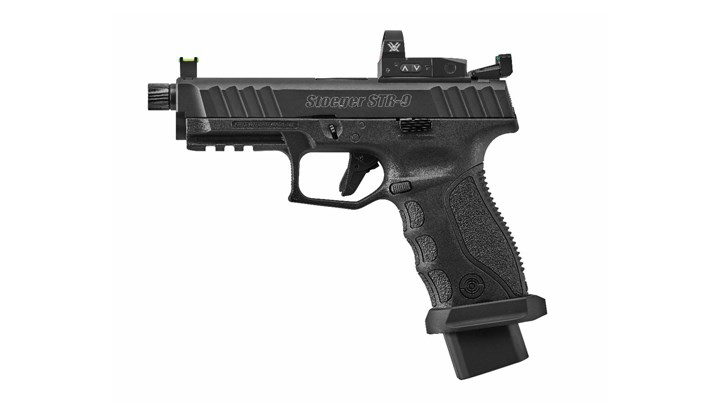 You'd think Stoeger would be content making shotguns these days. After all, it seems to be the quickest answer to "what should I buy to defend my home" at just about any gun store. No, just like those that own Stoeger firearms, the company itself is tough to satisfy. With close to 100 years of manufacturing expertise, it only made sense for the company to explore pistols, and 2021 delivered its newest addition to this platform, the STR-9S Combat. With an optics-ready slide, threaded barrel, suppressor-height sights, and three 20-round magazines all you need to do is sell your soul for a box of 9 mm, throw on your favorite accessories, and hit the range. MSRP: $549 
Heritage Barkeep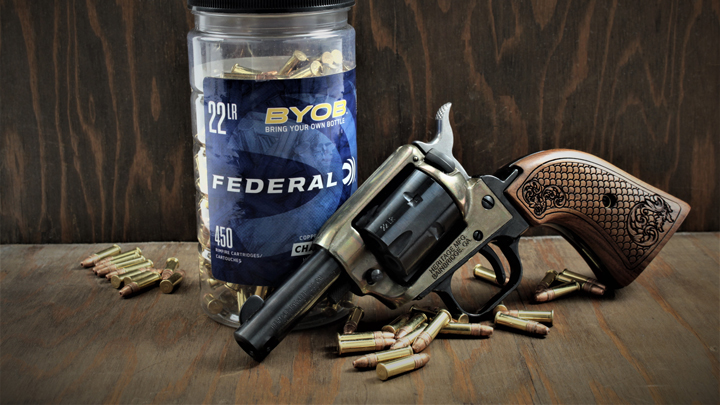 Sometimes the best way to appreciate something modern is to turn your attention to the past. For 2021, Heritage has introduced a gussied-up short-barreled version of its popular Rough Rider single-action revolver. Dubbed "The Barkeep," this old school defensive-style pistol gives the look and feel of a piece carried by your favorite saloon owner in the Old West. Chambered in .22 LR, the Barkeep pays homage to a bygone era. We got to test this one a few days before its release and the fit and function were flawless, with accuracy that is hard to believe out of the short sub-3-inch barrel. An MSRP of just $180.30 easily puts it in your hands and you have the choice of Grey Pearl or Wooden stocks. 
CMMG Banshee 300 MK4 .22 LR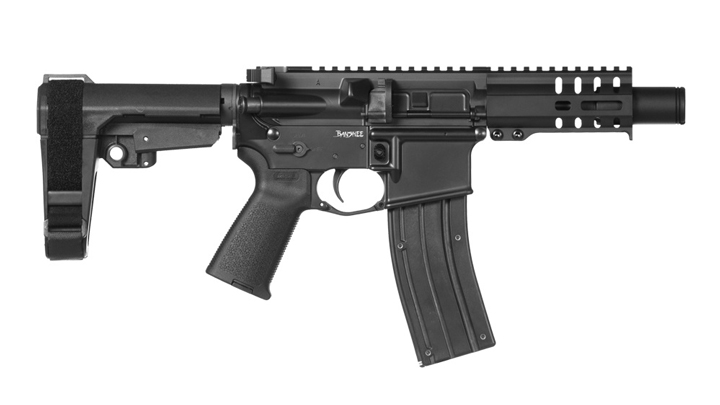 CMMG can probably get by simply cranking out as many Banshee pistols and SBRs as time allows. This popular platform has been a huge hit for the Missouri-based company, with a new chambering introduced just about every year. This lightweight platform is CMMG's shortest firearm, and with the Rip Brace Pistol Brace, it doesn't require a tax stamp. For 2021 the flavor has been .22 LR, but why? Because precious defensive cartridges are hard to find, that's why. Having the .22 LR Banshee allows you to train with your familiar PDW without emptying your pockets. Being that the MK4 .22 LR Banshee pays for itself after just a few bricks of rimfire, it costs you more money not to own one. MSRP: $1,024.95
Arex Delta Gen 2


The Slovenian manufacturer, Arex has continued to grow in popularity since it first entered the U.S. market some years ago. Its initial full-size steel pistols satisfied the needs of those looking to compete or excel in any tactical application. The introduction of the Delta marked the company's entrance into the CCW arena and the Gen 2 is a further refinement to this addition. Small enough to tuck under normal clothing, the Gen 2 Delta features interchangeable backstraps and comes optics-ready for the ever-growing selection of pistol mounted optics. The unique double-action striker-fired system makes the gun inherently safe to carry so you can go about your day with complete confidence. The Arex Delta Gen 2 comes in standard black, gunsmoke grey, or flat dark earth finishes. MSRP: $485
FN 509 LS Edge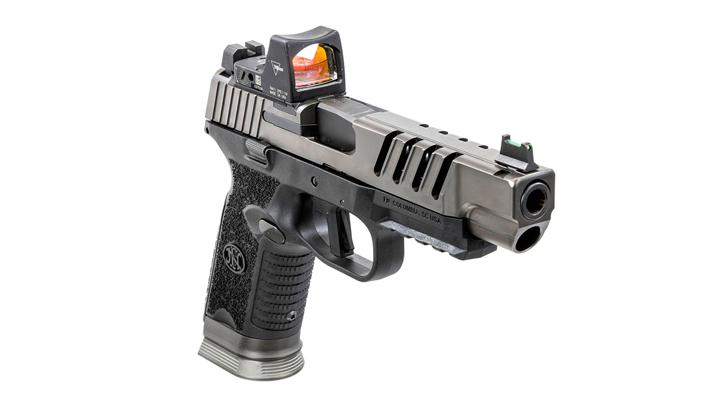 The FN 509 has been one of the company's most successful commercial offerings in its history. For 2021, Fabrique Nationale has stretched things out with the LS Edge, or long slide if you will. This larger version of the 509 sports a full-length five-inch barrel housed inside of an optics-ready slide. A straight bang switch breaks at a perfect 90 degrees to allow for smooth, accurate trigger presses. The grip is clad with the new perimeter texture to maximize purchase in any climate or weather conditions. The 509 LS also comes with two interchangeable backstraps to allow the shooter to custom fit it to his or her hand. MSRP: $1,499. 
Kel-Tec P50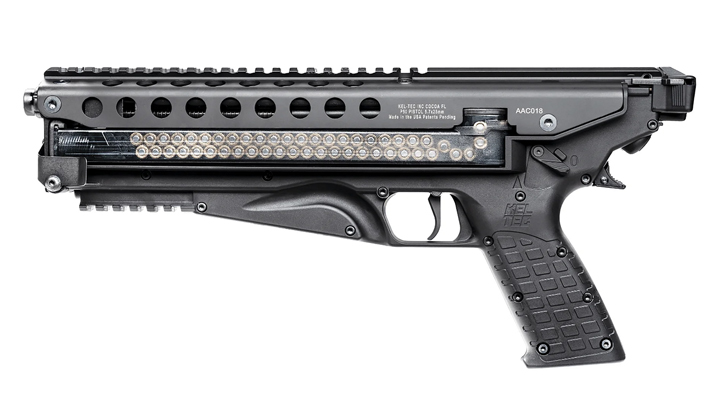 For 30 years, Kel-Tec has introduced something original and unique at every SHOT Show, and minus a physical show to attend, 2021 was no exception for a new product launch. I guess they overheard us in 2020 saying "I wish there were more guns chambered in 5.7 x 28 mm." The new P50 adds to the short lineup of arms capable of slinging this zippy little round down range and it looks like something that was left behind at Area 51. With two 50-round magazines, this compact package is ready to throw a tremendous amount of heat downrange at a moment's notice. No seriously, get off my lawn. MSRP: $995   
SAR 9C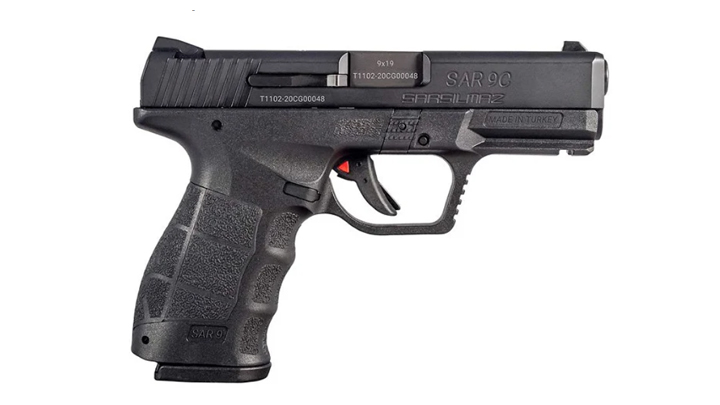 Turkish guns are getting quite a bit of recognition these days. With modern machinery and influence from some of the best European minds, it's no surprise that Sarsilmaz has taken off. The SAR 9 earned a reputation in the American market as a no-nonsense straight shooting pistol. The original polymer-framed striker-fired offering was chambered in 9 mm Luger and met the needs of nearly any target shooter or home defender. As the CCW market has grown exponentially in the past year, SAR has introduced the SAR 9C and yes, the C stands for compact. With a 15-round capacity, blade-in-trigger safety, and interchangeable backstraps and side panels the SAR 9C is a lot of gun for the money. MSRP: $425