by
Shooting Illustrated Staff
posted on May 5, 2021
Support NRA Shooting Illustrated
DONATE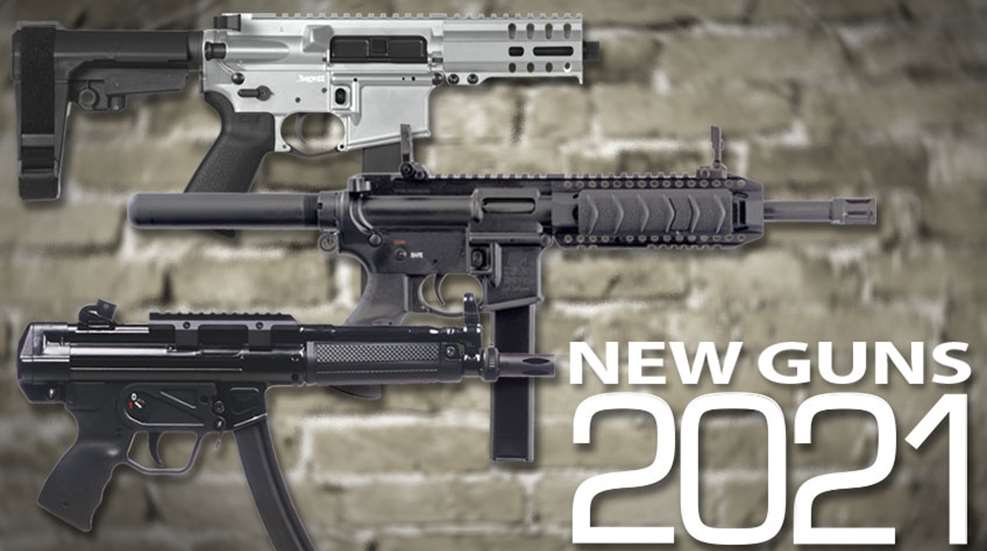 As firearms continue to sell at record pace, manufacturers are struggling to keep up with demand for existing models. Nonetheless, innovation continues. We are seeing introductions of MRDS-ready, striker-fired, polymer-frame pistols, including higher-capacity micro-9s. Also hitting the market with some frequency are large-format pistols in both rifle and pistol calibers. And, of course, super-premium 1911s continue to be unveiled at the aspirational end of the market.
With alarmed citizens looking to protect themselves, first-time buyers now seem to comprise a larger part of the firearm consumer base. As all guns may be new to them, some old standbys are moving well. So, what's the market for sophisticated new designs? Long-range rifle competition and the simple fact that one can never have too many guns.
---


ArmaLite | AR19
The company's first pistol-caliber offering, the AR19 accepts 33-round Glock magazines, which makes it a good candidate for home defense, especially for those who rely on that Austrian pistol for their CCW needs.
▶ ArmaLite TAC Brake
▶ Shockwave Blade brace
▶ M-Lok-compatible freefloat handguard
▶ Wide trigger guard
Caliber: 9 mm
Magazine Capacity: 33 rounds
Barrel Length: 8.5 inches
Overall Length: 29 inches
Weight: 80 ounces
MSRP: $1,112
(623) 780-1050 armalite.com

---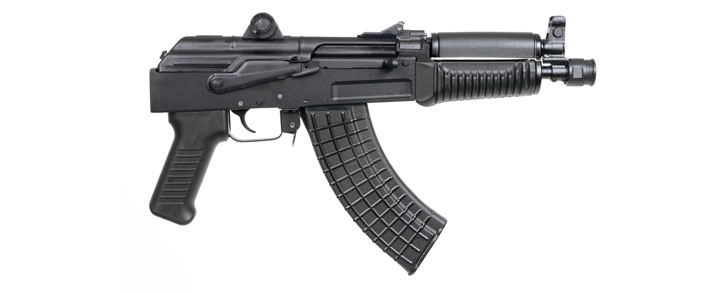 Arsenal Inc. | SAM7K
The Bulgarian-made SAM7K features forged and milled receivers along with a chrome-lined, hammer-forged barrel for enhanced durability and corrosion resistance Though it only ships with a five-round magazine, the SAM7K accepts more capacious mil-spec variants.
▶ AK scope rail for optics
▶ Ambidextrous safety
▶ Hinged dustcover
▶ Dual aperture rear peep sight
Caliber: 7.62x39 mm
Magazine Capacity: 5 rounds
Barrel Length: 8.5 inches
Overall Length: 18 inches
Weight: 90.4 ounces
MSRP: $1,799
(702) 643-2220 arsenalinc.com
---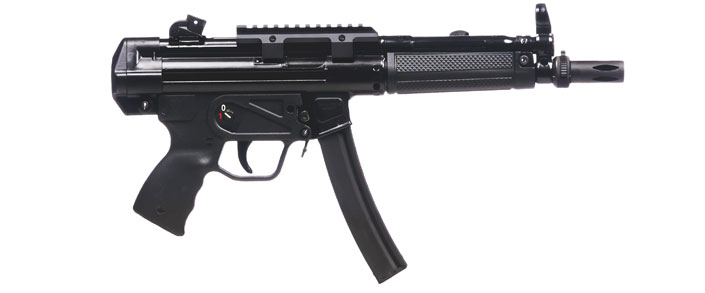 Century Arms | AP5
If this large-format handgun looks familiar, that's definitely by design. Featuring the same roller-delayed blowback operation found on the venerable MP5, this Turkish-made, semi-automatic-only clone promises to be reliable, accurate and fun. It comes with a sling to make handling it easier for range work and home defense.
▶ Picatinny optics rail
▶ Three-lug QD muzzle device
▶ Cold-hammer-forged barrel
▶ Adjustable rear drum sight
Caliber: 9 mm
Magazine Capacity: 30 rounds
Barrel Length: 8.9 inches
Overall Length: 17.9 inches
Weight: 88 ounces
MSRP: TBD
(561) 908-7993 centuryarms.com
---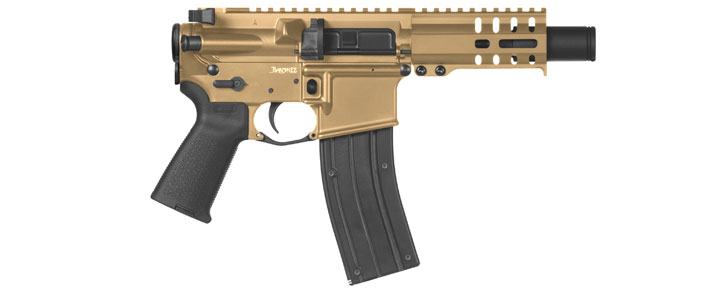 CMMG | Banshee Mk4 .22 LR with QD End Cap
The new Mk4 Banshee is the shortest and lightest Banshee on the Mk4 platform in .22 LR thanks to a QD end cap that provides a wide range of compatibility with accessories.
▶ Shortest Banshee available
▶ QD end cap
▶ Compatible with CMMG .22 LR conversion kits
▶ KAK Slim Flash Can
Caliber: .22 LR
Magazine Capacity: 25 rounds
Barrel Length: 4.5 inches
Overall Length: 14.7 inches
Weight: 57 ounces
MSRP: $1,024.95
(660) 248-2293 cmmg.com
---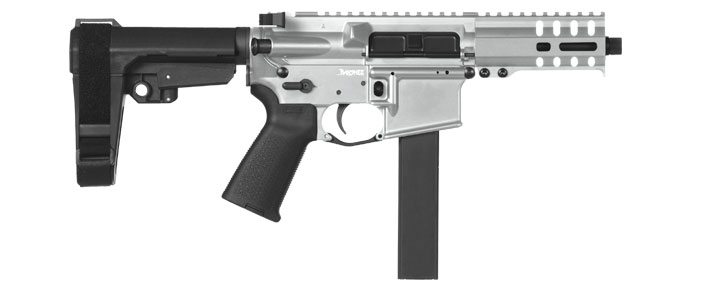 CMMG | Banshee 300 Mk9
The Mk9 gets an update that features the new radial-delayed, blowback-operated system, which offers less recoil in the highly popular 9 mm chambering.
▶ Radial-delayed blowback
▶ CMMG RipBrace
▶ Accepts Colt SMG-pattern magazines
▶ Upgrade kits available
Caliber: 9 mm
Magazine Capacity: 32 rounds
Barrel Length: 5 inches
Overall Length: 18.9 inches
Weight: 74.9 ounces
MSRP: $1,499.95 
(660) 248-2293 cmmg.com
---


Diamondback | DB15 300 Blackout
With a host of features designed for home defense, the DB15 in .300 BLK offers a compact, easy-to-maneuver pistol. With sturdy arm brace, blast-deflecting muzzle device and M-Lok attachment points for accessories, it's great out of the box or for you to customize to your liking.
▶ Gear Head Works Tailhook Mod 2 brace
▶ Magpul MOE K2+grip
▶ KAK Flash Can
▶ M-Lok attachment points on fore-end
Caliber: .300 BLK
Magazine Capacity: 30 rounds
Barrel Length: 10 inches
Overall Length: 31.75 inches
Weight: 100.8 ounces
MSRP: $1,130
(321) 305-5995 diamondbackfirearms.com
---


Kel-Tec | P50
Looking like something out of Blade Runner or Flash Gordon, Kel-Tec's P50 packs some impressive engineering into its futuristic design. Using the FN PS90 magazine, an entire box of 5.7x28 mm ammunition can be loaded at a time.
▶ Picatinny rail for optics
▶ QD sling mounts
▶ Ambidextrous safety
▶ Lower-capacity magazines available
Caliber: 5.7x28 mm
Magazine Capacity: 50 rounds
Barrel Length: 9.6 inches
Overall Length: 15 inches
Weight: 51.2 ounces
MSRP: $995
(800) 515-9983 keltecweapons.com
---


SAR USA | 109T
A large-format pistol, the blowback-operated 109T incorporates an 8.6-inch barrel for maneuverability, and accepts most pistol buffer-tube braces. In addition to compactness, the 109T offers firepower and comes with three 30-round magazines.
▶ Chrome-moly barrel
▶ Picatinny rail system
▶ Freefloat handguard
▶ Non-reciprocating charging handle
Caliber: 9 mm
Magazine Capacity: 30 rounds
Barrel Length: 8.6 inches
Overall Length: 27.8 inches
Weight: 78.4 ounces
MSRP: $1,999
(833) 727-4867 sarusa.com