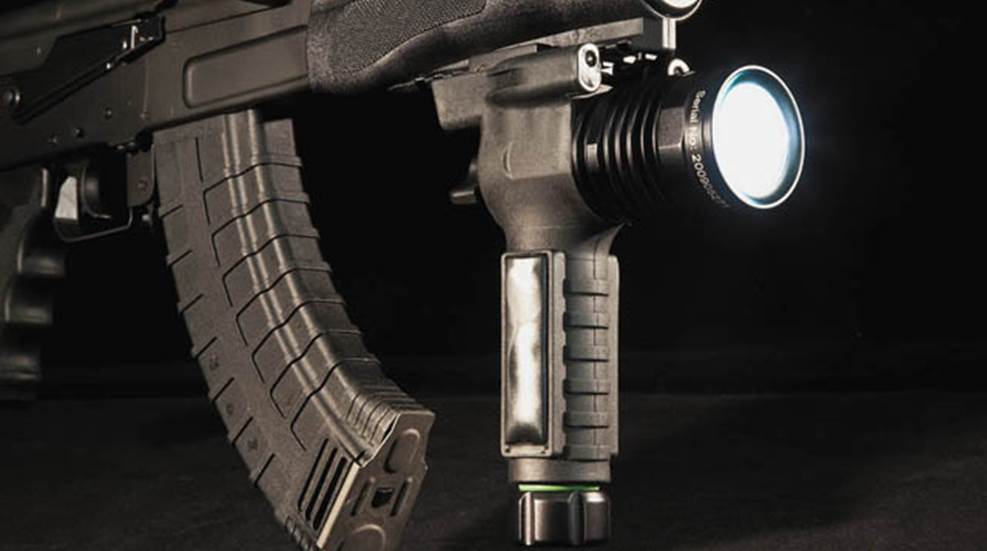 Given the railed handguards on Century's latest rifle, the company smartly decided to offer a product users can attach to its 100 percent American-made AK, the Centurion 39 Sporter. The MTL-225 Tactical Fore-end Weapon Light is a vertical foregrip with a huge, built-in 35 mm Cree XR-E LED light. While one must be careful to mount it well in front of a curved AK magazine, it remains an ideal accessory for a modernized Kalashnikov-style rifle.
The U.S.-made light is extremely bright, producing 225 lumens, and it easily lit a target at 50 yards. Full illumination was instant by simply squeezing the pad switches on either side of the grip, which also provided a comfortable means of supporting the Centurion 39 with the weak hand. Its Canadian-manufactured body is extremely rugged, surviving multiple drop tests onto a hard surface without a glitch. The unit's sealed wiring is one reason for its sturdiness, as is its rather hefty weight—more than 17.25 ounces—compared to similar foregrip/light combinations.
At a suggested retail of $465.95, I would prefer it had a laser sight built-in rather than two, relatively dim LED lamps on both sides of the top of the MTL-225 meant to help aid with navigation while not blinding users wearing night vision goggles. Still, it is a fine addition to any tactical rifle with an accessory rail on the underside of the fore-end, especially a gun as rugged as an AK.