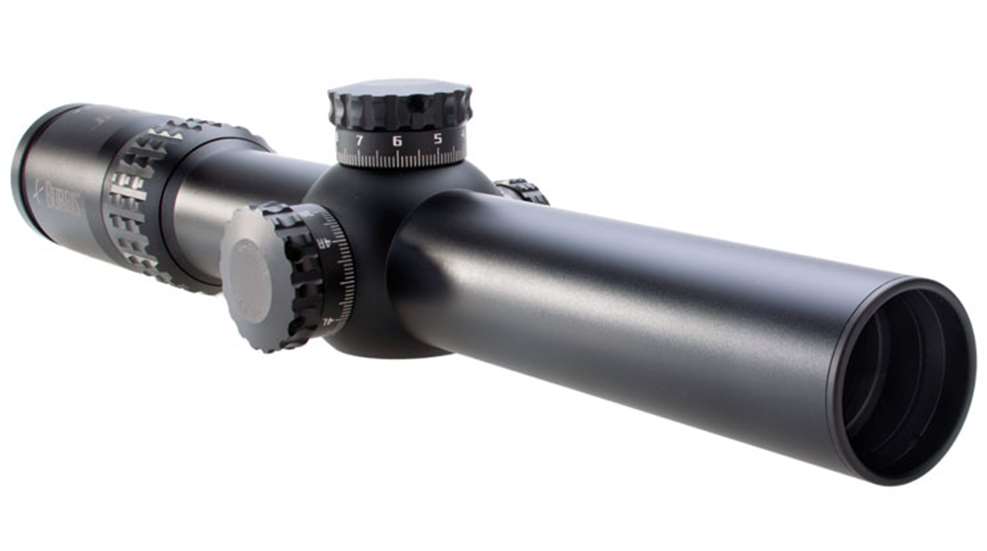 Burris' XTR II 158 is one of the most-versatile optics available. It's right in there with the recent spate of small-objective, 6X zoom scopes like Swarovski's Z6i—the one everyone wants, but few can afford at $2,500—Bushnell's Elite Tactical SMRS ($2,119), Leupold's VX6 ($1,124) and Vortex's Razor HD Gen 2 ($1,899), except the Burris is the least expensive of them at $999. It's still a grand, but it's a scope that with QD mounts can be used on multiple rifles to help justify its cost.
So what's special about Burris' rendition of the do-it-all scope? It's a 1.5-8x28 mm illuminated-reticle optic with a 34 mm main tube. The 34 mm size is strange—don't even try to find rings at your local megamart for it—but company reps said the oversize tube was needed to render tube walls that are 25-percent thicker than normal, thereby lending it strength while providing 90 MOA of reticle adjustment. Order the rings when you order the scope and you'll be fine. Its lenses are of course fully multi-coated, and it's as clear as an Alaskan spring.
Notably, the 158 is offered with a dual-focal-plane reticle system that's the wave of the future. The scope's "Gen 3" ballistic reticle is in the first focal plane—so its hashes and holdover points remain consistent throughout the power spectrum, while its illuminated reticle is in the second focal plane, so it remains big relative to the eye and therefore fast regardless of the magnification level chosen. The only negative to this system is because they're separate reticles, the exact center of the illuminated reticle may not precisely correspond with the exact center of the crosshair of the standard reticle. While it is a flaw, it's not a big deal; when shooting at long range, sight in with the standard crosshair and use it for that purpose, and use the illuminated reticle for close-quarters needs.
The illuminated, .25-mil dot is surrounded by a 270-degree illuminated ring that allows the etched ballistic reticle to be seen under it. It's operated by a rheostat on the left side with off stops between 11 intensity levels. A CR2032 battery provides 600 hours of use. The non-illuminated reticle features three vertical dots atop a tree of seven crosshashes. The center dot is framed by eight windage marks on each side. It's an all-encompassing reticle you can master with practice. 
Windage and elevation turrets are target-type with no covers, although the elevation knob rises only .61 inches above the tube. XTR II optics utilize three erector springs (rather than two) to increase durability and repeatability. I found no flaws in its adjustment even after dropping it five times from four feet on grass, after it was frozen overnight and dunked in water. Regardless, the scope is covered by Burris' Unconditional Forever warranty.
In sum, the XTR II 158 is one of the most versatile riflescopes you can buy. It's expensive, but when compared to similar units, I'm very tempted to go Burris.