A while back, Bryce M. Towsley built a no-holds-barred, featherweight AR-15 for Shooting Illustrated. The rifle came in at 4 pounds, 15 ounces—without an optic. With optic, it tipped the scale at 5 pounds, 5 ounces—with a total cost slightly less than $3,500. In just the short time since that article debuted, however, the market has changed significantly, offering lighter parts at lower cost. After a recent excursion chasing the elusive prairie dog, where carrying a traditional AR-15-style carbine all day long proved taxing on these old muscles, we wanted to see if building an AR-15 in that weight class could be done at a lower cost.

With twin goals of decreased cost and weight while increasing utility, we decided to see what we could build for a lightweight, fully functional AR-15 carbine. The end result, ideally, would be to match or beat Towsley's total weight while significantly reducing cost. Only minor changes were made—extraordinary measures like lightening cuts on receivers were eschewed in favor of traditional parts whenever possible. The handguard's magnesium construction and titanium lower parts represent the only deviation from traditional materials, while the skeletonized BCG is the only other dedicated weight-reduced component.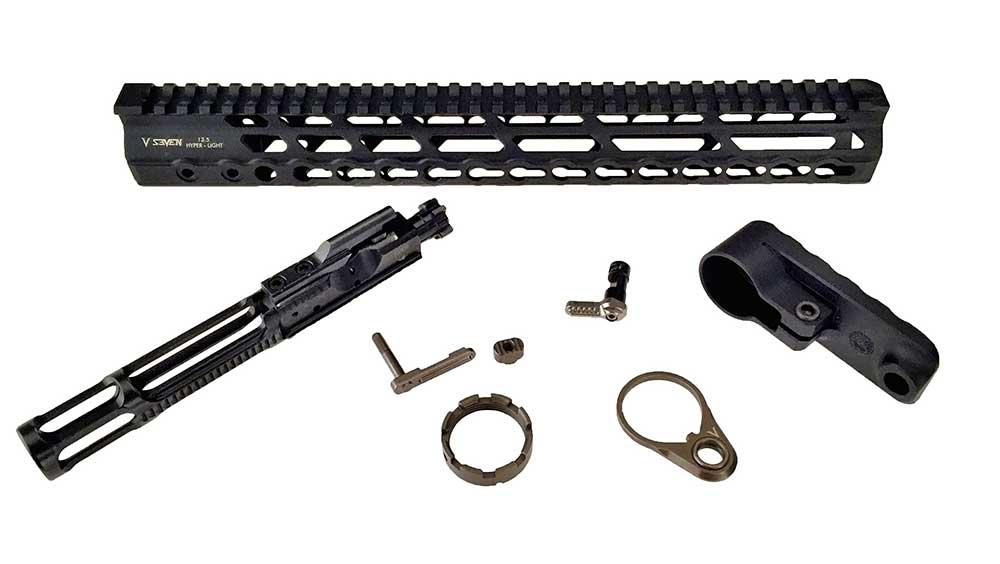 Building an AR-15 from components followed our previous carbine build closely, with only minimal changes needed related to differences in parts. When choosing components for the lower, we mainly went with items that were readily available (a "spare parts AR," like we've mentioned before). In the case of the trigger, pistol grip, trigger guard and other lower parts, a simple postal scale made the determination as to which of the parts got the nod (trying to find out how much a trigger assembly actually weighs, as opposed to what the trigger pull weight is, made it easier to just drop parts on the scale). For future reference, we tested five trigger assemblies and the total weight varied only a half-ounce among milspec, complete and the Geissele SSA chosen.

The final tally on the AR-15 build with Holosun HS403C optic was 4 pounds, 13 ounces. While pleased with the final number, the real proof would come in how the carbine shot—it's not good enough to have a super-lightweight rifle if it can't get through a couple magazines without a malfunction. To this end, we used this setup to test the Holosun for an upcoming red-dot roundup, which entails zeroing the optic at 25 yards, capturing a 10-round group, then firing an additional 250 rounds. At the end of the session, another 10-round group is recorded and compared to the initial to test whether the zero moved under recoil. While ~ 300 rounds isn't a grueling test, it's a good indication of how performance will continue, and zero malfunctions were experienced in this course-of-fire.

Total cost of building an AR-15 under 5 pounds, including the red-dot optic, came to slightly more than $1,800, nearly half the price of the carbine in the article that spawned this exercise. Weight was pared down by half a pound, too, with some exotic components, but no drastic measures. We used a handful of titanium components from V7 Weapons Systems in the lower of this build, which shaved slightly less than 2 ounces off the final tally. It's not a huge savings in weight for a significant increase in price; we included those components as an example of ways to shave every last ounce (and, in our never-humble opinion, because the titanium finish looks pretty darn cool). For those looking for the absolute lightest carbine possible it's another option, of course. Additionally, the fit on the titanium parts was superlative—even the takedown pins, which can be finicky, popped in and out like they were on rails. The components may cost more, but they add value in function and aesthetics.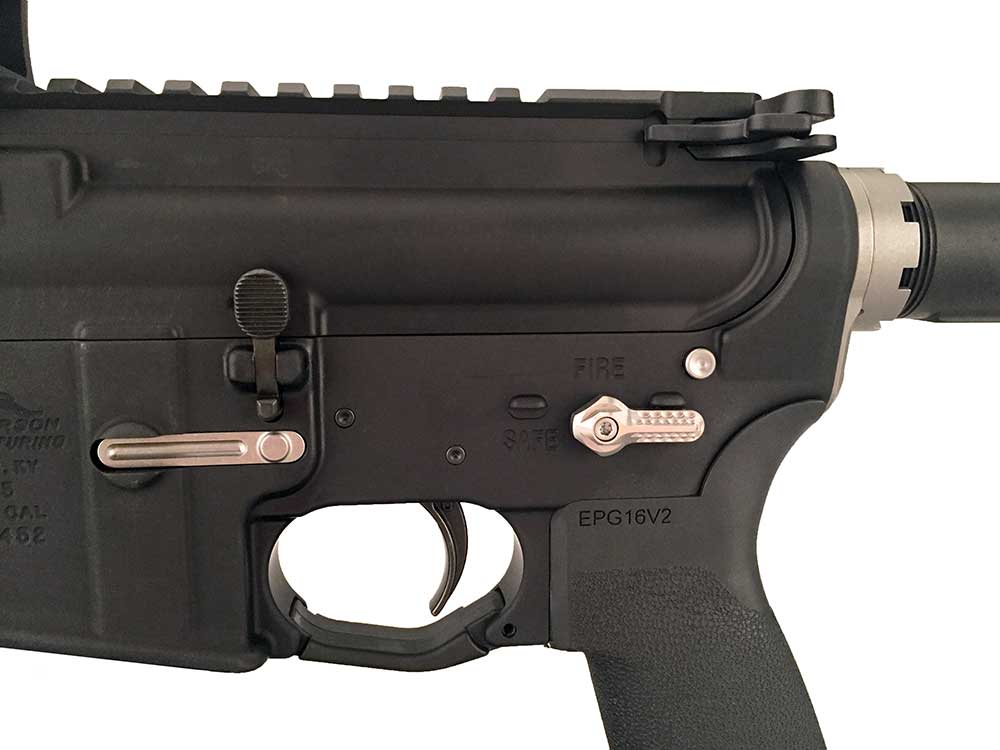 V7 also provided one of the coolest parts for this AR-15 build in its ultra lightweight handguard, manufactured from magnesium and offering a 13.5-inch, KeyMod-ready freefloat handguard. This handguard came in at a serious weight savings, and the cost isn't outside the realm of standard freefloat handguards. Faxon Firearms provided the skeletonized bolt carrier group, ultra lightweight gas block and the GUNNER barrel with pinned flash hider that definitely trimmed a good deal of weight from the final tally (and shot just great, to boot).

In today's market of ever-falling AR-15 prices, $1,800 is on the pricier side when building an AR-15, even a super light one, we understand that. Bear in mind, however, that swapping out the titanium parts for a standard lower kit will save about $150, and leaving the standard MilSpec trigger will shave another $240 off the total price—while still keeping the total weight close to 5 pounds. With that in mind, the total for the build falls to around $1,400—including a red-dot sight. With the red-dot removed, the carbine costs less than $1,200, which is in line with comparable off-the-shelf offerings. Life's too short to shoot carbines with gritty triggers, and we like pretty things. If those aren't your priorities, you can still follow these steps for building an AR-15 to put together a sub-5-pound rifle on somewhat of a budget.

Upper Receiver Parts List

V7 Weapons Systems Hyperlight Handguard $299
Faxon Gunner Lightweight BCG: $249
Faxon SLIM Gunner Barrel/muzzle device: $249
Faxon Ultra Low Profile gas block: $29.99
Faxon mid-length gas tube: $15.99
Brownells receiver: $59.99
Xtreme Precision upper parts kit: $19.99
Brownells charging handle: $19.99

Total for upper: $942.95

Lower Receiver Parts List
Anderson Mfg. stripped receiver: $57 (purchased for $35)
V7 Weapons Systems safety selector: $59
V7 Weapons Systems trigger/hammer pins: $17
V7 Weapons Systems castle nut/end plate: $59
V7 Weapons Systems magazine release: $41
V7 Weapons Systems takedown pins: $29
Geissele Super Semi-Automatic trigger: $240
Mission First Tactical pistol grip: $19.99
Battle Arms Development Lighweight buttstock: $69
Brownells buffer tube assembly: $49.99

Total for lower: $640.98

Optic MSRP: $235.28

Total price: $1819.21