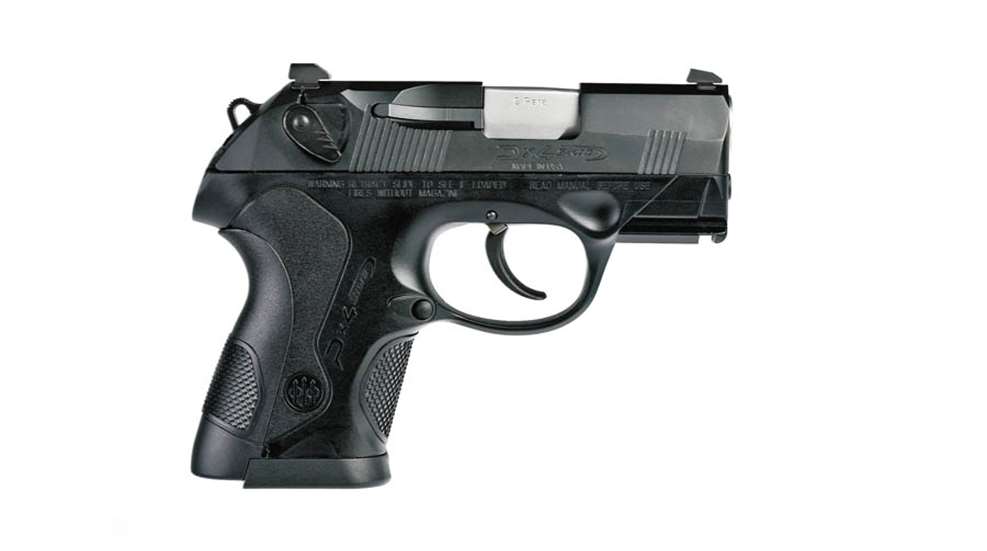 To me, fine Italian lines say "speed." Maybe it's a leftover from watching too much Formula 1 racing at a time when Niki Lauda and his special red ride dominated an unusual era that included six-wheel Tyrrels. The spare wheels may have improved braking, but if you wanted fast, you rooted for the 12 cylinders produced in the boot-shaped country on the Mediterranean.
Most Italian designs look quick, even at rest. The Beretta Px4 Storm Sub-Compact is no exception. Its Bruniton-treated slide is contoured and beveled in all the right places to reduce drag and improve speed of presentation. The company wasn't content simply giving a proper rake to the front and sides of the slide, either—the back end is smartly shaped, another touch ideal for those who carry concealed.
Serrations at the front and back ensure positive purchase for press checks or slide manipulation. Sights are three-dot style, with a pair at the rear and a single, identically sized dot up front. Both are dovetailed into the slide, allowing windage adjustment. They have a sleek forward taper, another nice touch for those who may be drawing from under a snag-prone garment. The front sight rises only 1⁄8 inch from the slide and all three dots are treated with a material called Superluminova, which, once charged by ambient light, glows in low light or in the dark.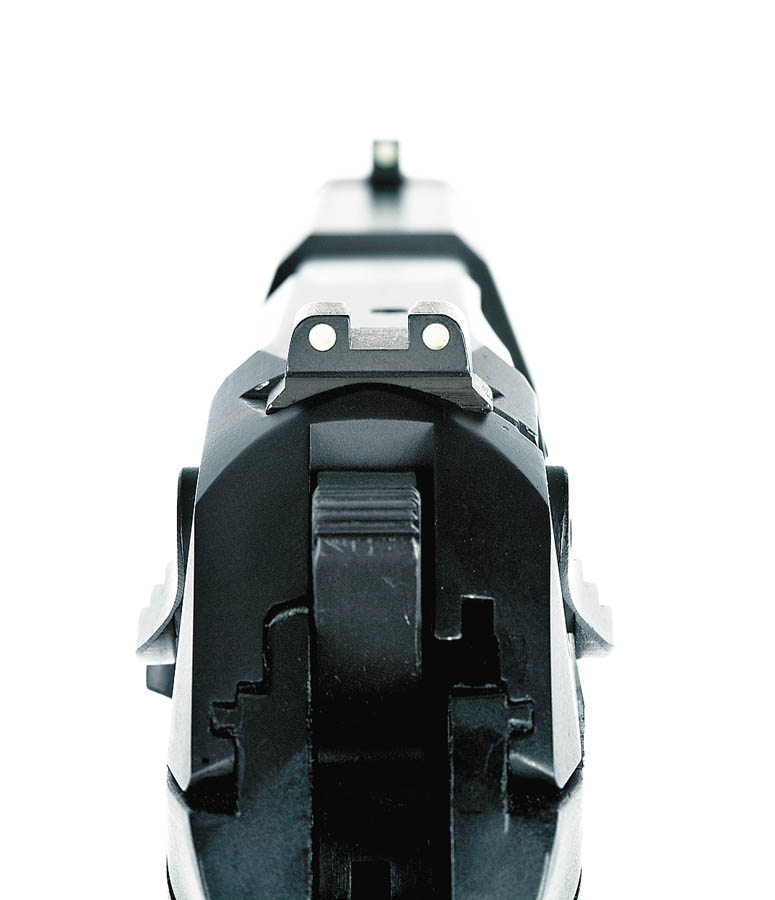 The frame, made a material Beretta calls technopolymer, is fiberglass reinforced for strength, rigidity and longevity. An accessory rail on the dustcover is something of a spoiler to the looks, and I'm not talking ground effects. It barely covers an inch of real estate, hardly enough to hold a sponsor's sticker. So if you plan on using it, make sure that light or laser is compact enough to avoid getting too far in front of the barrel.
Stylish indents on the frame provide a spot for your forefinger to index when not on the trigger. The grip has good texturing, but with my pinky only making half contact when I hold the gun, I thought getting a good shooting grip on anything bigger than a 9 mm would be a concern.
Then I discovered the SnapGrip Magazine Extender on the second magazine that came with the gun. It's an awesome design and once you see it you'll say, "Why didn't I think of that." Basically, a section of the floorplate toward the front of the magazine can hinge down, adding 1⁄4 inch of grip—call it a rear spoiler to get a little more adhesion. It feels good on your hand, locks solidly in place regardless of position and it survived my multiple beatings without a single scratch.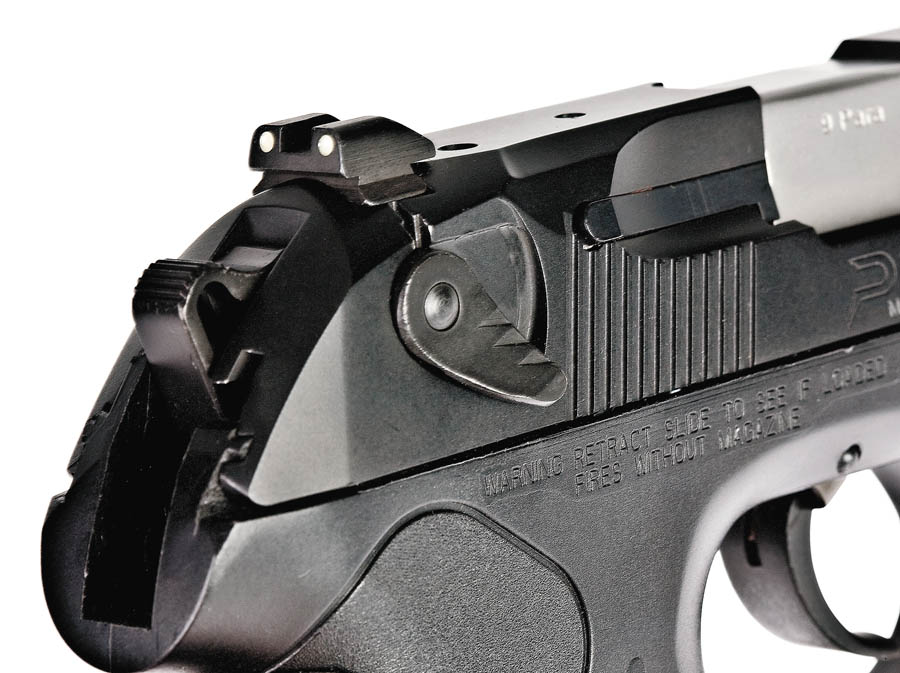 Tuning your Italian machine to your tastes is easy. The gun ships with three different-sized grip inserts and installation is a snap. Southpaws will be comforted to know the decocker is ambidextrous and the magazine release is easily reversed.
Magazines dropped cleanly without complaint or hang-up, although insertion is so smooth that it's easy to fail to secure it fully. Make sure you hear that positive click and you won't inadvertently drop one as I did.
Despite all the cosmetics, it's what's inside that's really different on the Px4 Sub-Compact. Takedown is a snap. Pull the slide back, engage the slide lock, twist the magazine-release lever—which is captive so there's one less piece to lose—counterclockwise and pull it out as far as you can. Now, while holding the slide, depress the magazine lock and pull the slide forward. You don't need to drop the hammer to field strip the gun and I'd argue it's a lot easier than field-stripping a 1911.
The 3-inch barrel found inside is what makes the Sub-Compact's 6.2-inch length possible. The guide rod is surrounded by a pair of recoil springs, but unlike other Px4 Storm handguns, this one uses a cam-operated, tilting barrel instead of a rotating barrel. Both, however, operate with a locked breech.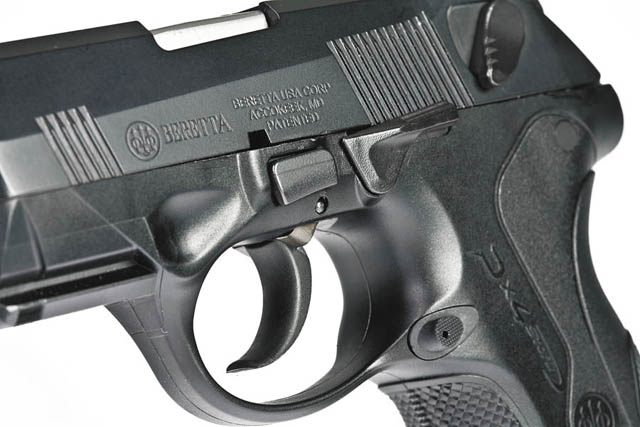 How well does it shoot. The ammo shortage left me with a meager supply of 9 mm, but there were no failures to feed or fire through 75 rounds. It showed a preference for Hornady's 147-grain JHP/XTP loads, printing an average group size of 1.4 inches at 7 yards offhand. With a pair of sub-inch groups, the handgun's accuracy potential is obvious.
Beretta has a winner in this handgun, with all the performance and handling it takes to handle the twisted chicanes of today's concealed carry. I'd be confident with the Px4 Storm Sub-Compact on my side and would gladly take one home. Now if I could only figure out where to put those racing stripes.
Manufacturer: Beretta; (301) 283-2191
Action Type: Recoil-operated, semi-automatic
Caliber: 9 mm (tested), .40 S&W
Capacity: 13+1 (9 mm); 10+1 (.40 S&W)Frame: Polymer
Slide: Stainless steel, bruniton finish
Barrel: 3 inches
Rifling: 6 grooves, 1:9.84-inch RH twist (9 mm), 6 grooves, 1:15.75-inch RH twist (.40 S&W)
Sights: Three dot, Suerluminova
Trigger Pull Weight: 10 pounds, DA, 5 1⁄4 pounds SA
Length: 6.2 inchesHeight: 4.8 inches
Weight: 26.1 ounces
Accessories: Hard case, manual, two magazines, three grip inserts, cable lock
MSRP: $600