Photos by Bob Boyd
When the U.S. entered World War II following the attack on Pearl Harbor, not only did it have its work cut out for it as far as creating an intelligence network from scratch, it also had to create weapons specifically designed for use by its operatives.
Historically Significant Sidearm
Time was of the essence, and within six months of the U.S. entering World War II the Office of Strategic Services (OSS) was formed on June 13, 1942. Its leader, Col. William J. "Wild Bill" Donovan, who previously held a position of importance within the intelligence community and reported directly to the President Roosevelt, patterned OSS activities after the British Special Operations Executive (SOE).
Donovan envisioned the OSS as serving a dual role: intelligence gathering and waging clandestine warfare. To accomplish this, he created a number of branches within the OSS, each with specific objectives. One was the Research and Development Branch. Its director, Stanley P Lovell, came to work for the OSS from an organization named the National Defense Research Committee (NDRC)—an organization created prior to the U.S. entering World War II, "…to coordinate, supervise, and conduct scientific research on the problems underlying the development, production, and use of mechanisms and devices of warfare."
By October 1943, the Research and Development Branch consisted of four divisions: the Technical Division, which served as liaison between the NDRC and SOE; the Documentation Division, which was responsible for creating all manners of papers necessary for the establishment and protection of an agent's cover; the Camouflage Division, with the role to effectively conceal the accessories and devices necessary for special operations and the Special Assistants Division, responsible for providing equipment to agents not within the purview of the other divisions—including weapons specially designed for clandestine operations.
In addition to creating such items as knockout drops, suicide capsules and a matchbox camera, the division was also responsible for creating some truly unique weapons including the Smatchet, the Liberator, a suppressed version of the M3 Grease gun and the Stinger, a single-shot .22-caliber pistol that resembled a fountain pen.
Interestingly, the origins of one of the Special Assistants Division's most successful albeit later creations, the Hi Standard HD Military or HDM suppressed .22 LR pistol came from an unlikely source—Bell Telephone Laboratories (and you thought the company only manufactured telephones).
The HDM  proved quite effective for covert operations, so much so that following World War II, it was used extensively by CIA operatives and military special operations personnel for the next three decades in operations during the Korean War, Vietnam and the times of political turmoil and military tension that defined the Cold War. While reference to the latter may conjure romanticized images of spies clad in black Borsalino hats and overcoats plying their clandestine craft throughout the Eastern Bloc, perhaps the most famous documented Cold War incident associated with a Hi Standard HDM pistol involves CIA pilot Francis Gary Powers, who was captured with one in his possession when the U2 aircraft he was flying was shot down during a reconnaissance flight over the Soviet Union in 1960.
Undoubtedly, there are HDMs still in use today. In fact, some online sources allude to the pistol's service life spanning to the early 1990s during Operation Desert Storm.
Who says History Doesn't Repeat Itself?
Thankfully Arms Tech Limited offers a near-exact reproduction in the form of its OSS Hi Standard Pistol. Though not blessed with the same heroic lineage, it is designed to the same authentic specifications as the World War II-era HDM and provides both history buffs and NFA enthusiasts the opportunity to own one of the most popular and historically important handguns ever to be used in clandestine warfare.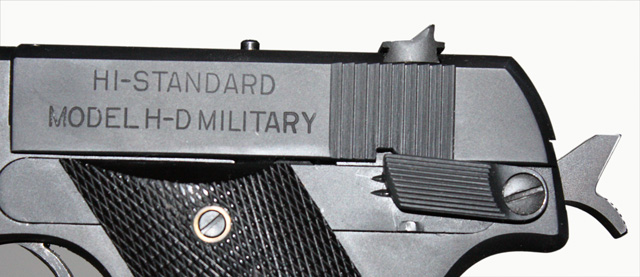 Having seen numerous photos of the HDM over the years, the dimensions of its one-inch diameter, 7.75-inch functional suppressor gives the pistol an unbalanced appearance, leading me to anticipate it feeling front heavy. The moment the pistol was in hand, however, I was quick to dismiss my preconceived notions. At slightly more than 2 pounds and boasting nicely contoured checkered walnut stocks along with a grip angle and thumb safety placement similar to a M1911A1, this contemporary classic proved lightweight and comfortable, despite its integral suppressor.
The Inside Story
The tube screws onto the pistol's perforated barrel where it joins the frame and secured by a spring-loaded detent and forward endcap. Its internals consist of a rear screen consisting of 20-mesh, tin-plated bronze screen soldered into a tightly wound tube encircling the barrel.

Finer tin-plated bronze screens occupy the muzzle end and are combined with more than 100 disks. When fired, the tube's sound-suppression level is more than 20 decibels—excellent design and performance for something more than six decades old. While the suppressor is removable for cleaning and maintenance, it should be pointed out that the unit was designed to be disposable and cannot be disassembled. Accordingly, the tube's service life is estimated at approximately 250 rounds before the internals need replacing—a service available through the manufacturer.
The Quest for Perfection
In keeping with the company's quest for historical accuracy, the same exactness is apparent on the Arms Tech HDM's exterior. In addition to possessing same matte-colored milspec phosphate finish, the words "Hi-Standard Model H-D Military" are found on the left of the slide. Model H-D was the factory designation for the U.S. Property Model HDM, and as a means of setting it apart from its wartime predecessor, the recreation is respectfully devoid of the "Property of U.S." roll mark. Further distinction exists in the form of Arms Tech's logo discretely located on the underside of the suppressor.
Atop the tube, the fixed-front sight possesses a forward-sloping contour along with serrations on its face. The square-notch rear assembly is adjustable for windage and elevation, providing shooters with fine-tune adjustment capability—a welcome feature given the large variety of .22 LR  loads available today. Given the HDM's service record, I have no doubt its sights are more than capable of getting the job done. Still, given the numerous advances in handgun sights in the 67 years since HDM was pressed into service (ramp inserts, white-colored dots, fiber-optic pipes and tritium ampoules) and the frequency with which I use them in my line of work, the fact I felt the HDM's serrated front blade provided me little contrast from its lackluster grey-on-grey sight configuration was hardly surprising. Nonetheless, I refused the benefits of modern innovation to compromise journalistic objectivity, reminding myself the true test was yet to come.
The Chance to Put History to the Test
Range time with the HDM was comfortable and smooth, like savoring a fine single-malt. The presence of the suppressor not only proved beneficial in quieting its report, its weight, although negligible, offset the remnants of recoil. Realizing its use was going to generate velocities within 700- to 900-fps range, I found myself more curious with other issues—specifically whether the HDM's perforated barrel affected accuracy, so I opted forgo firing up the chronograph.
Shooting Illustrated handgun-testing protocol typically requires 25 yards, and although the pistol had sufficient sight radius to accomplish the task, the distance strikes me as impractical for a .22 LR—especially within the realm of self-defense. I suspect an OSS operative would close the distance to maximize lethality prior to taking a shot, so I settled on 15 yards instead. The presence of 1911-style ergonomics, combined with an extremely crisp sear release at less than 3 pounds, I soon found myself having fun.
My complaints about this pistol are extremely few. Before I knew it, it was time to reload. Shipping any .22 with only a single 10-round magazine should be a crime. Any spy worth is salt would want a least two. Thankfully, knowledge that the HDM's 10-round magazine is interchangeable with that of a Colt Woodsman is no longer classified, making replacements much easier to procure before your mission.
My second concern was the pistol's magazine release. Not only did I find actuation cumbersome, it's appearance and design is disturbingly similar to one found on the World War II-era German P38. (If that's not a byproduct of espionage, I don't know what is). Nevertheless, being original to the HDM's design, it functioned flawlessly, and with practice, I have no doubt rapid reloads are possible. 
Each load grouped extremely well, with sizes ranging from .92 inch to just more than 1.5 inches. However, as enjoyable as my time with the HDM was, one stovepipe occurred with the CCI subsonic load, which suggested a lack of sufficient impulse to completely cycle the slide. Regardless, printing a .92-inch group with a single stoppage is certainly acceptable. Interestingly , the other subsonic load used during testing functioned flawlessly, and despite being a slightly lighter-weight  bullet  it still managed to produce a .92-inch group compared to the standard-velocity group of 1.5 inches. When you consider the difference, subsonic ammunition obviously provided more than a benefit with regard to noise reduction. The reduction in pressure enabled the bullets to stabilize quicker to produce noticably tighter groups. Best of all, using subsonic ammunition lessens wear and tear on the suppressor, thereby extending its service life.
For gun collectors or World War II buffs who appreciate history and the firearms that take part in shaping it, the Arms Tech OSS Hi Standard Pistol is absolutely worthy of consideration.
Specifications:
Manufacturer: Arms Tech Limited; (623) 936-1510
Action Type: Blowback-operated, semi-automatic
Caliber: .22 LR
Capacity: 10 rounds
Slide: Steel with matte-colored milspec phosphate finish
Frame: Steel with matte-colored milspec phosphate finish
Barrel Length: 6.75 inches (including chamber)
Rifling: 6 grooves; 1:16-inch RH twist
Trigger Pull Weight: 2 pounds, 8.2 ounces
Sights: Fixed front; windage and elevation ajustable rear
Grips: Checkered walnut
Length: 13.8 inches
Height: 5 inches
Weight: 47 ounces (unloaded)
Accessories: One 10-round magazine, TM-22-HIS Technical, Operational and Maintenance Manual
MSRP: $2,495
Shooting Results:
Smallest Group: CCI Sub-Sonic 40-grain lead hollow point: .92 inch, Remington Subsonic 38-grain hollow point: .92 inch
Largest Group: Winchester Super-X 40-grain lead round nose
Temperature: 80 degrees Fahrenheit. Accuracy measured for three consecutive, five-shot groups from a sandbag rest at 15 yards .