Anderson Manufacturing, based in Hebron, KY, was ranked as the No.1 manufacturer of miscellaneous firearms in the ATF's 2018 Annual Firearms Manufacturing & Export Report—the latest available. It was the second year in a row the company claimed the top spot.
Miscellaneous firearms, according to the report are those "…not specifically categorized in any of the firearms categories defined on the ATF Form 5300.11 Annual Firearms Manufacturing and Exportation Report. (Examples of miscellaneous firearms would include pistol grip firearms, starter guns, and firearm frames and receivers.)"
Anderson Manufacturing produced 322,546 miscellaneous firearms in 2018. In 2017, the first year the category was included in the annual report, it also claimed first-place honors with a total of 211,382. The company has been in operation for more than 30 years and has introduced a variety of innovative products to the market.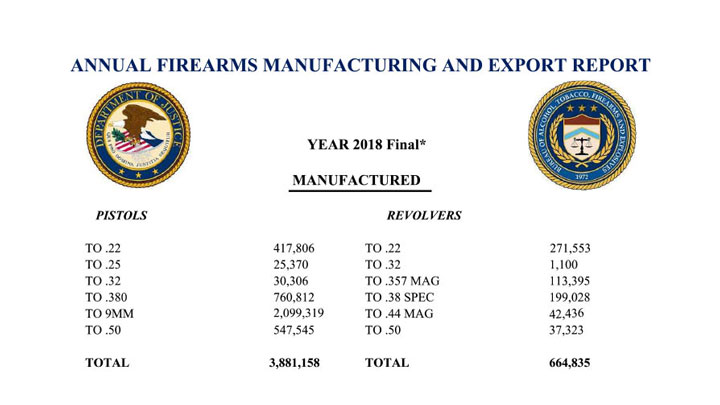 Other category leaders noted in the annual report include Smith & Wesson producing the most pistols in 2018 at 886,917. The company also came away with the revolver title at 210,336.
In long guns Ruger produced the highest volume of rifles (447,736). Maverick Arms, Mossberg, led the way in shotguns with 249,183.
Figures included in the annual report also detail handgun chamberings manufactured in 2018, an indirect indication of consumer preference. In semi-auto pistols 9 mm led by a wide margin: 2,099,319 compared to the second-place category of "up to .50 cal.," which includes .45 ACP and .40 S&W. The later totaled only 547,545.
In revolvers .22-caliber and below took top slot at 271,553. Those chambered in .38 Spl. claimed runner-up. Semi-auto pistols outnumbered revolvers by a margin of nearly 6:1.
Experts estimate the total number of firearms sold in 2018 in the United States was 13.1 million. By comparison, 2019 improved to a total 13.9 million and already through June of this year more than 10 million guns have been sold to law-abiding Americans.