When other companies were running away from the idea of a .17 HMR semi-automatic rifle, Bill Alexander charged in headfirst. But then, that's typical of Alexander—where others see problems, he sees opportunity.
Bill is the "Alexander" in Alexander Arms, a company that makes AR-15-style rifles designed for hunting. He engineered his .17 HMR from the ground up for the AR-15 rather than try to make the cartridge work in an existing rimfire platform. Attempting to fit the cartridge in an inadequate rifle is what he believes resulted in some of the problems other companies experienced.
For detailed photos of the Alexander Arms .17 HMR, click here.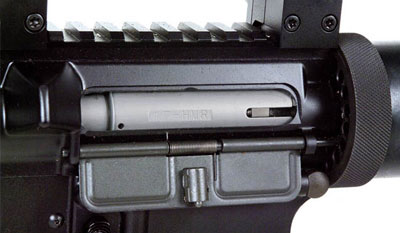 One thing Alexander stresses about a semi-automatic .17 HMR is to have a lot of steel around the case for safety. The AR-15 was designed for the 5.56 NATO cartridge, so if anything, it's overkill for a rimfire. Other important parts of his design are a large firing-pin "footprint" and an oversize extractor that do not stress the case rim as much some other designs. Moreover, Alexander says the recoil spring is also important, so his is wound to aerospace specifications. It fits in a "recoil cassette," which contains the spring and buffer. This fits into the rifle's buffer tube and is designed to block a standard centerfire upper from operation until the cassette is removed from the buffer tube.
The result is a blowback action, semi-automatic rifle that seems to work. I ran several hundred rounds through the .17 HMR rifle and did not experience any of the problems that caused other companies to abandon chambering their semi-automatic rifles for the cartridge. Sure, it's a high-maintenance cartridge and can be a bit finicky. Show me a .17-caliber that isn't. It jams more than I would like when it's dirty and you need to keep any .17-caliber bore clean to maintain accuracy. But keep the gun clean and lubricated and it will reward you with reliable performance and superb accuracy.
So why cover a .17 HMR in a tactical magazine? Well, I could say there is a tactical application, but my mother taught me not to lie. I suppose if the bad guys were kicking in the door and this rifle was the only gun available, I would use it to stop them, but the truth is, the .17 HMR is not a world-renowned man-stopper. Nor is it a target cartridge, but chambering an AR for it speaks volumes about the platform's versatility.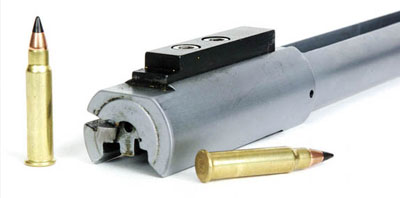 One of the hardest things for a new shooter to learn with an AR-15 is a precision shot at close range—say 0 to 30 yards. The design of the platform keeps the sights well above the bore, which means the bullet path and line of sight are well separated, particularly at close range.
One sure sign of an inexperienced AR shooter is when they try close-range, precision head shots. The "A" zone on the USPSA target is only a couple of inches tall. A lot of shooters aim right at it, thinking they can't miss, and wind up hitting too low.
For all intents and purposes, the close-range bullet path to line of sight relationship is the same for the .17 HMR as a .223 Rem. With a 100-yard zero, the difference is only a few tenths of an inch at most. If you spend some time hunting small game like squirrels and rabbits with the .17 HMR, particularly if you stick with head shots, you will master the holds.
For hunting, you don't have set ranges and there is no time to run the numbers, so you must learn to do the math in your head and on the run, just like in real life. In the end, there are two benefits: squirrel pot pie—which is delicious—and learning the holds on small, precision targets, which translates to your full-size AR-15.
The Alexander Arms .17 HMR rifle I have for testing has an 18-inch, fluted barrel. The barrel is button rifled with a 1:10-inch twist. The muzzle is threaded for 1⁄2-28 accessories. Mine has a birdcage flash hider, but you could add a brake easily enough or even a suppressor where legal.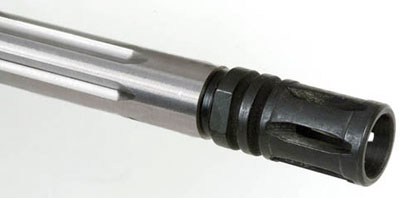 Its free-floating fore-end tube is lightweight G10 composite with several embedded nuts to add accessory rails. Of course, there is no gas block or gas tube on the rifle.
As for the lower receiver, the magazine well contains an aluminum insert held in place with a setscrew. It also uses a proprietary, longer magazine release, which allows the use of the 10-round acrylic .17 HMR magazines that are much smaller than a standard AR magazine. Its fixed ejector sticks up off the top of this magazine insert. The bolt is a blowback design, and the charging handle is standard. The rifle has an adjustable buttstock and a standard plastic A2 grip.
Unfortunately, the trigger on my sample was a bit tough and crusty, so I replaced it with a popular target model. In doing so, I learned a valuable lesson: Some brands of ammo had a very high incidence of misfires with the new trigger. I spoke with Alexander, and he told me it's important to use a full-power hammer spring with rimfire guns as they require more firing-pin energy than a centerfire.
Alexander Arms sells complete rifles or you can buy an upper receiver assembly, which comes with the conversion parts for the lower.The .17 HMR cartridge is well established in the hunting world and this chambering in the Alexander Arms AR-15-style rifle is a good choice for training or small-game hunting.
Manufacturer: Alexander Arms; (540) 639 8356
Action Type: Blowback-operated, semi-automatic
Caliber: .17 HMR
Capacity: 10 Rounds
Barrel: 18-inches, stainless steel
Rifling: 6 grooves; 1:10-inch RH twist
Trigger Pull Weight: 7 pounds
Sights: None; Picatinny rail for mounting optics
Length: 37 1⁄8 inches
Weight: 6.88 pounds
Accessories: Two 10-round magazines, manual
MSRP: $1,175